HAPPY INTERNATIONAL WOMEN'S day everyone. Many companies are celebrating the day, to varying levels of success.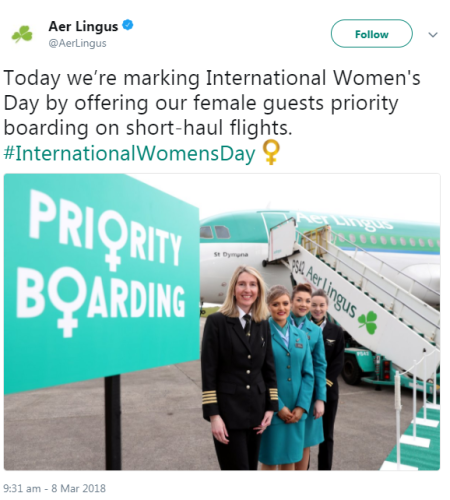 Twitter Twitter
Aer Lingus decided to celebrate with a small gesture of priority boarding for women in Dublin Airport, and it was kinda sweet for the day that was in it
Of course, Aer Lingus have form in celebrating the day and their female staff.
What a pleasant little reminder that we have a whole day to dedicated to celebrating how wonderful women are?
Some people though, weren't overly delighted
The replies to Aer Lingus' lovely tweet make for some odd reading.
Oh dear, I hope this is a joke? That's blatant discrimination, unless you're planning on holding international male day and letting all male passengers have priority boarding? Someone really didn't think this one through!
They didn't do it for international men's day and also people pay extra for priority boarding, now all of a sudden the extra they paid is worthless because priority boarding is crowded. Not only is it blatant gender discrimination (and illegal) it is unfair on those who paid.
During international men's day can you return the favour by banning women from driving for the day? Thanks.
'Thanks'.
When do you have the day planned for men?
Who's gonna put all their carry-on cases up in the luggage bins???
The comments didn't get any better over on the Facebook post.


In the interests of balance, some men were fully supportive of the idea
Namely, rugby player Jamie Heaslip.
And some other sound lads, who realise that we might just leave them some baggage space and the world will continue to turn.
The airline seem happy enough with the stunt though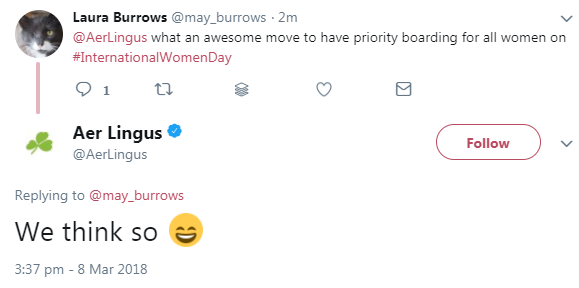 And made a lovely little video honouring their female staff.
Lovely.
DailyEdge is on Instagram!