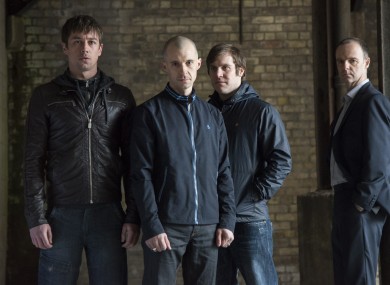 THE LATE LATE TOY show was the most-watched TV show in Ireland in 2013, according to new figures.
Ryan Tubridy's annual workout was watched by more than 1.54million people – almost 70 per cent of the TV audience at the time.
The second most-watched show, the Love/Hate finale, reached 1.12million viewers, for a 55 per cent audience share.
Of the top 20 TV shows in 2013, 19 were RTÉ broadcasts. Only one – Coronation Street, at number 17 – was shown on TV3.
Here are the top 20:
20. Ireland vs Austria World Cup qualifier (629,900 / 37pc share)
19. The All Ireland Hurling final replay / The Saturday Game Live (638,200 / 54.4pc share)
18. At Your Service (651,500 / 33.9pc share)
17. Coronation Street (667,100 / 35pc share)
16. The Rose of Tralee (669,700 / 46.3pc share)
15. The Late Late Show, January 25 2013 (685,300 / 43.5pc share)
14. Raw finale (689,800 / 38.7pc share)
13. Fair City, January 2 2013 (691,300 / 37.9pc share)
12. Operation Transformation (691,500 / 52.4pc share)
11. Ireland vs England in the Six Nations (719,400 / 52.4pc share)
10. RTÉ Six One News, March 16 2013 (724,100 / 51.2pc share)
9. The Voice of Ireland blind auditions (759,700 / 42.3pc share)
8. RTÉ News at Nine O'Clock, January 20 (763,800 / 39.9pc share)
7. The Eurovision Song Contest (809,500 / 48.9pc)
6. The All-Ireland Hurling Final / The Sunday Game Live (889,400 / 64.1pc share)
5. Mrs Brown's Boys Christmas Special (913,100 / 44.3 pc)
4. Mrs Brown's Boys (1.03m / 52.5pc share)
3. The All-Ireland football final / The Sunday Game Live (1.064m / 74.3pc share)
2. Love/Hate finale (1.117m / 54.7pc share)
1. The Late Late Toy Show (1.547m / 69.82 per cent share)