WE DON'T NEED TO tell you that Irish fans are having the time of their lives at the Euros – it's obvious.
But how do the French feel about us invading their turf, roaring Westlife songs? Well, as it turns out, they pretty much love us.
BuzzFeed France listed the Irish supporters' good-natured high jinks as 'proof that Irish fans have already won Euro 2016′:

Buzzfeed France Buzzfeed France
They are absolutely marvellous… Fair play until the end, they even sing for players from other teams, like Zlatan Ibrahimovic.
Writing for Slate, reporter Robin Panfili praised Irish fans' 'exemplary behaviour',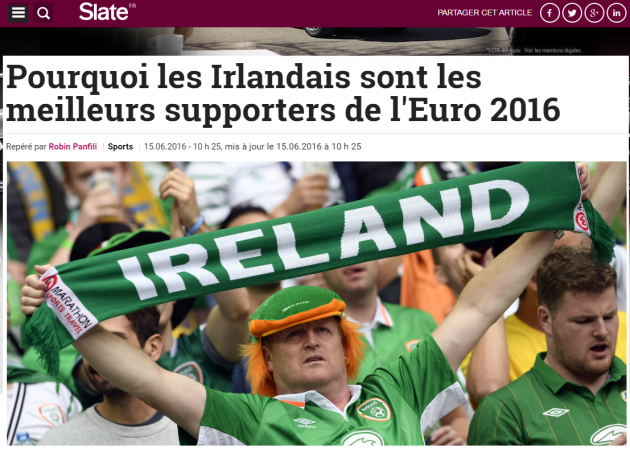 Slate Slate
Le rois de l'ambiance. (The kings of atmosphere.)
And French football website SoFoot.com asked if Irish fans were the best in the world, not just at the Euros. Look, if you say so…
SoFoot SoFoot
Meanwhile, the French seem to be absolutely fine with the Irish invading their home turf. Here's some of what they have to say:
The Irish are really the best supporters of this Euros, nothing more to say!
The Irish supporters are among the best of the Euros! And I don't say that because the majority of them are red-haired…
The Irish supporters win the trophy of the best supporters of the Euros. They are huge!
I don't think there are better fans than the Irish. They are awesome, fascinating, funny, smiley.
Well lads, you're doing us proud. Keep it up.
DailyEdge is on Snapchat! Tap the button below to add!