THIS REJECTION EMAIL to an Irish woman in Korea is going viral due to its rather blunt stereotyping of Irish people.
The woman in question, Kate Mulrennan, applied for a teaching position in a private school in central Seoul on Craigslist Korea. She received a rejection email shortly after, which explicitly cited they do not hire Irish people due to "the alcoholism nature of your kind".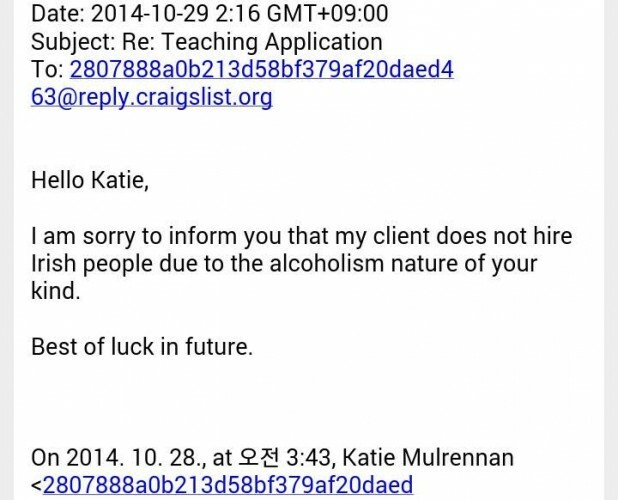 Katie Mulrennan Katie Mulrennan
Mulrennan told DailyEdge.ie that was was "thoroughly in shock" when she received the response.
It takes a lot to shock me, but I was genuinely in disbelief upon receiving this email.
She replied to the recruiter but has heard nothing back.
I understand your clients sentiments. However, I do not drink alcohol nor do I consume animal products.
I hope your client can realise that stereotyping a nation is not a wholesome disposition to have.
Thank you for contacting me. Have a lovely day!
While the school and recruiter remains anonymous through Craigslist, Katie says that she's considering contacting Craigslist to report the "outlandish and prejudice" email.
Korea can be a most frustrating place to live in at times. I recently came across another poster on Craigslist Korea advertising for 'attractive teachers'. Alot of things don't even surprise me in Korea any more, which is worrying!
The Craigslist ad is still up, and cites North American only (Only Canadian or US Citizen) Caucasian female as a requirement for the job.