FROM #RepealThe8th to #MeToo, it has undoubtedly been a landmark year for women. As 2018 draws to a close, we decided to celebrate the women both at home and abroad who left their mark and made a difference. 
From actors to chefs and activists to hockey players, these are the women for whom we're grateful this year. 
Samantha Barry
Few people can claim to have had a better year than Samantha Barry. In January, the Ballincollig native was appointed editor-in-chief of Glamour. Since then, she has been helping steer the title's focus towards digital and rubbing shoulders with heavyweights like Hillary Clinton, Kamala Harris and Chrissy Teigen at the Glamour Women of the Year Awards. 
Laura Brennan
After receiving a diagnosis of terminal cervical cancer at the age of just 25, Laura Brennan contacted the HSE and pledged to campaign publicly in favour of the HPV vaccine. It was her hope that any parent with misgivings about the vaccine would hear her story first.
Since then, she has appeared in national media time and time again to promote the vaccine. This year, Royal College of Physicians of Ireland awarded her the Patient Advocate Medal in honour of her tireless work. 
Jessie Buckley
Having first made a splash on BBC's I'd Do Anything a decade ago, Jessie Buckley's star has been building for quite some time now. Over the last few years, she has landed starring roles in salubrious television shows like War & Peace, Taboo and The Last Post. This year, she won rave reviews for her performance in Beast and won a British Independent Film Award for Best Newcomers. Stardom awaits.
Sinead Burke 
From appearing on the cover of Business of Fashion to landing a role as contributing editor at British Vogue, Sinead Burke has had quite the twelve months. The activist and writer has spent the year educating the world on the need for greater inclusion in design, taking her message to Davos, the Green Carpet Fashion Awards and the hallowed pages of The New York Times. 
Anna Burns 
The Belfast native was awarded the Man Booker Prize for her novel Milkman, becoming the first Northern Irish author to win the prestigious award. Since then, the book has topped the bestsellers chart and Burns has won praise for speaking frankly about the economic reality of being a writer having written the book while in receipt of disability benefits.
Suzy Byrne 
Earlier this year, Suzy Byrne was one of five people with direct experience of disability issues to be appointed to a public transport board. The longtime disability rights campaigner was appointed to the board of Irish Rail having previously leveled criticism at the transport operator for their failure to improve accessibility for people with disabilities.
Su Carty 
Having previously overseen the growth of women's rugby in her role as World Rugby Women's Development Manager, Su Carty was appointed as one of the IRFU's representatives to the World Rugby Council. She is the first Irish woman to hold such a role.
Karan Casey
Last year, singer Karan Casey spoke out on stage against folk and traditional music's women problem. She teamed up with peers from the trad music world to form FairPlé, an initiative that seeks to achieve gender balance in Irish traditional music.
This year, FairPlé hosted several events, gigs and sessions aimed at highlighting the lack of gender equality in music. Their work is set to continue next year with a symposium on women and traditional music due to be held in NUI Galway in February.
Erica Cody
From doing the rounds at the festival circuit to supporting Jessie J and Mahalia on their respective Dublin dates, Erica Cody has already had a whopper twelve months. The singer has established herself as one of the country's most promising R&B stars and is set to make a splash next year with the release of her debut EP. The future looks bright for this one.
Georgie Crawford
In October 2017, Georgie Crawford was diagnosed with breast cancer. Following her diagnosis, the radio reporter took it upon herself to document her journey and treatment on social media in order to raise awareness of breast cancer in young women.
In November of this year, she was given the all clear and that same month she launched her wellness podcast The Good Glow, which has topped the podcast charts. What a difference a year makes, eh? 
Erin Darcy
Eric Darcy is the woman responsible for In Her Shoes, a Facebook page and grassroots movement devoted to sharing anonymous stories from women directly affected by the eighth amendment. The page helped shed a light on the pain and suffering caused by Ireland's laws and helped promote empathy and understanding for those harmed by them. Thanks, Erin. 
Sinead Diver
In October, Sinead Diver won the Melbourne Marathon in 2:25:19. Not only did the Belmullet woman set a course record, but she beat her own personal best by a whopping six minutes. It was the second fastest marathon ever run by an Irish woman. Though she represents Australia at international meets,  she is nonetheless the fastest Irish female marathon runner right now.
Mary Fitzgerald  
Earlier this month, Mary Fitzgerald was named Volunteer of the Year at the Volunteer Awards. The reason for the accolade? Fitzgerald was responsible for setting up a refuge for victims of domestic abuse in Co. Clare having previously welcomed families fleeing domestic violence into her home. Twenty five years on and Clare Haven Services continues to support families suffering from domestic abuse.
Aisling Franciosi 
Best known to Irish viewers for her role in The Fall, actress Aisling Franciosi is making waves in the film world. Not only has she received universal praise for her performance in arthouse horror The Nightingale following its world premiere at the Venice Film Festival, but she was recently named as a European Shooting Star at the Berlin International Film Festival. One to watch.
Dr. Sidhbh Gallagher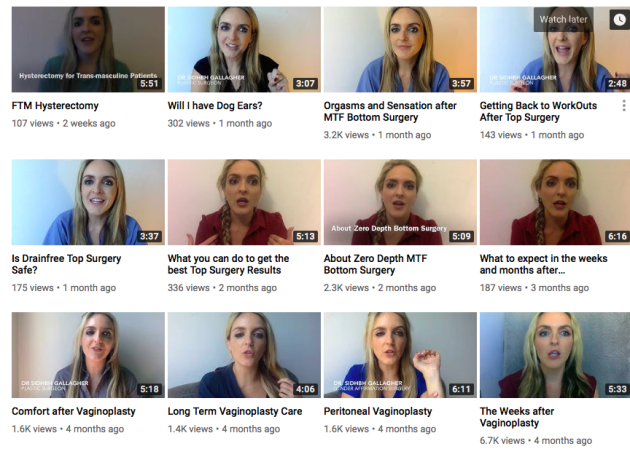 YouTube YouTube
Originally from Co. Louth, Dr. Sidhbh Gallagher is a plastic surgeon specialising in gender confirmation surgery for the transgender community. She runs a programme in the decidedly red state of Indiana – one of just a handful of such programmes in the Midwest region – and has performed an estimated 200 surgeries since she started. That's 200 lives changed for the better!
Simone George
Earlier this autumn, Simone George and her partner Mark Pollock delivered a powerful Ted Talk entitled, 'A love letter to realism in a time of grief'. The couple discussed what happened when Pollock broke his back and was left paralysed, and how they learned to cope with and accept their new reality. The talk has since been viewed over 1.2 million times.
Denise Gough
Theatre queen Denise Gough completed the double this year when she performed on both the West End and Broadway in the seminal Angels in America. For her performance, she won an Olivier Award (her second) and was nominated for a Tony Award, two of theatre's highest accolades.
Sarah Greene 
This year was a marquee year for Irish film with the likes of Dublin Oldschool, Black 47 and Rosie all proving a hit with audiences. The common thread between the three films? The effervescent Sarah Greene. Next year will see her take the lead in the television adaptation of Tana French's Dublin Murder Squad series.
Kellie Harrington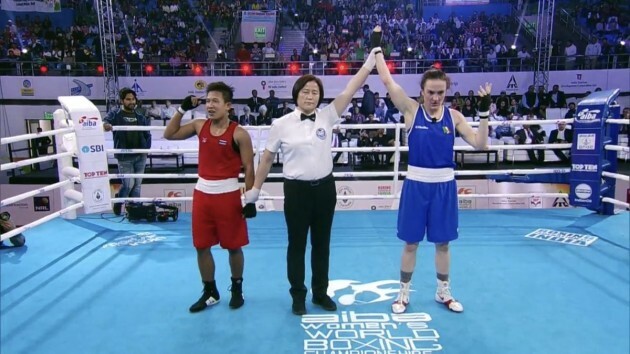 After medaling at previous international championships, Kellie Harrington picked up an elusive gold medal in the lightweight division at this year's World Women's Boxing Championships. Next on the to-do list? Tokyo 2020.
Sally Hayden 
Sally Hayden is an award-winning foreign affairs journalist who focuses on migration, conflict and humanitarian crises. This year, she has fearlessly covered everything from the refugee crisis in Libya to Uganda's social media tax and written for the likes of RTE, The Irish Times, Washington Post, Al Jazeera, Elle, New Statesman and many, many more.
Mary Nolan Hickey
Mary Nolan Hickey has run in a whopping 38 (!) Dublin Marathons. Earlier this year, the veteran runner embarked on her 'Lap of the Map,' which saw her run around the entire coast of Ireland and raise over €56,000 for the RNLI. Did we mention she did it at the tender age of 65? Legend.
Maeve Higgins
Maeve Higgins is a woman of many talents. Let's run through some of her greatest hits this year, shall we? She wrote an acclaimed collection of essays entitled Maeve in America. She was signed up by The New York Times to be a contributing opinion writer. She co-hosted a podcast about climate change with Mary Robinson. She teamed up with Reese Witherspoon's media company to host a podcast about breakups. 
All that and she somehow found time to shoot and star in Extraordinary, a highly anticipated supernatural comedy coming out next year. Whew!
Irish women's relay team
It's not often that Ireland wins an athletics medal, but a relay medal? Practically unheard of. In July, our women's 4x100m relay team won silver at the World U20 Championships. Molly Scott, Gina Akpe Moses, Ciara Neville and Patience Jumbo-Gula sprinted home in 43.90, finishing just behind Germany. (Sprinter Rhasidat Adeleke also ran a leg in the heats.)
Who run the world, eh?
Irish women's hockey team
2018 will go down in history as the year we all caught hockey fever. At this year's Women's Hockey World Cup, our girls in green made it all the way to the final, treating us to quality matches and heart attack penalty shootouts along the way. In the end, Netherlands proved too tough to beat, but the jubilant scenes at the team's homecoming ceremony on Dame Street proved it didn't matter. G'wan Ireland!
Sindy Joyce
Sindy Joyce is a human rights activist who has spent her career speaking out on behalf of the Traveller community. Recently, she was part of the team behind the IFTA-winning documentary John Connors: The Travellers and completed her PhD in sociology at UL. A vital voice. 
Ellie Kisyombé  
The Our Table co-founder has spent the last few years raising awareness of the plight of asylum seekers in direct provision through food. She recently announced that she will contest next year's local elections for the Social Democrats, becoming the first asylum seeker to do so.
Saoirse Long 
Before this summer's landmark referendum to repeal the eighth amendment, FM104's Saoirse Long recorded a powerful video in which she spoke of her experience of being forced to travel abroad to access an abortion.
Later, she found herself at the centre of one of the more galling moments of the abortion debate when Senator Ronan Mullen told her she deserved love and respect "despite what you may have done". Throughout it all, Long demonstrated remarkable courage and resilience. A hero in every way.
Becky Lynch
Even if you aren't a wrestling aficionado, chances are you have seen the GIF of a bloodied and defiant Becky Lynch beating Ronda Rousey with a chair. After five years with WWE, the Limerick native has come into her own in a big way this year and proven herself to be one of the organisation's most popular stars. Known as The Man, she now has her sights set on a bout with Rousey at next year's Wrestlemania. Get the popcorn out.
Evanna Lynch
Best known for playing Luna Lovegood in the Harry Potter series, Evanna Lynch has had quite the year. From wowing judges and finishing in a very respectable third place on Dancing with the Stars to speaking frankly about recovering from anorexia, she has made Ireland proud in every way.
Kirsten Mate Maher 
Back in August, the Waterford Rose became the first African-Irish woman to be crowned Rose of Tralee. The hockey enthusiast wowed viewers with her rendition of Feeling Good and won the nation's hearts with her mantra 'just be sound'.
Salome Mbugua
Earlier this year, human rights activist Salome Mbugua became the first African woman to be appointed to the Irish Human Rights and Equality Commission. Since arriving to Ireland in 1994, Mbugua has spent her career working with women, children and migrants, and founded AkiDwA -The Migrant Women's Network. 
Erin McGathy 
Since relocating to Ireland from Los Angeles, comedian and podcaster Erin McGathy has sought to leave her mark on Dublin's comedy scene. This year, she helped found MOB Theatre, a comedy theatre and school aimed at nurturing and developing the city's next generation of comedians, improvisers and writers. No better woman for it.
Lisa McGee 
Cooked up by Lisa McGee and loosely based on her experiences growing up during The Troubles, Derry Girls became Channel 4's highest rated sitcom in five years with over two and a half million people tuning into the first episode.
McGee's series struck a chord with viewers all over the UK and Ireland and it wound up becoming the most watched television series ever in Northern Ireland. As if all that weren't enough, she was named by Radio Times as one of most powerful people in British television. 
Mona-Lxsa
As a DJ, Mona-Lxsa has performed at the likes of Longitude and Electric Picnic. Earlier this year, she decided she wanted to set up a collective for young women seeking to break into creative industries like music, graphic design or fashion.
Enter Gxrl Code, which describes itself as a 'creative collective and platform for females across the Industry'. It now has a roster of 23+ young women and is growing by the day. Empowering women to be creative? That's a vision we can get on board with.
Nuala Moore 
In April, endurance swimmer Nuala Moore achieved a world first when she became the first woman to ever swim off Cape Horn, which is where the Atlantic and Pacific oceans meet. The Dingle native completed a 1.7km swim in 7°C waters approximately one mile south of Cape Horn. Some woman for one woman.
Ena Norris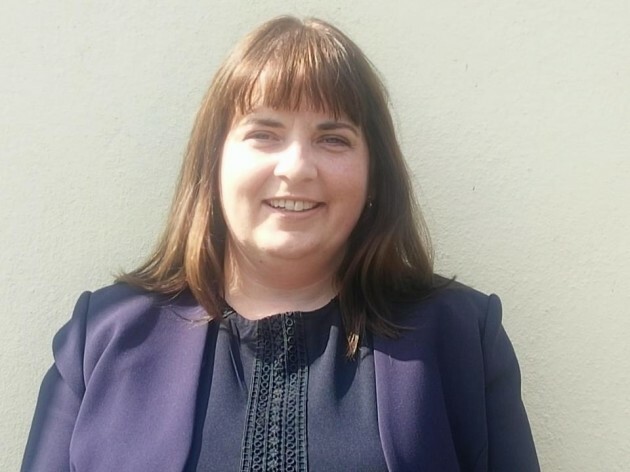 Facebook Facebook
Ena Norris was appointed CEO of Daisyhouse, an incredible organisation dedicated to supporting women out of homelessness. Norris has worked with homelessness and addiction services her whole life, having previously worked with Dublin Simon, Merchants Quay Ireland and COPE Galway, among others.
With more and more women facing homelessness, Daisyhouse is more important than ever. Luckily Norris is more than equipped to deal with the task at hand. 
Jess Murphy
As owner and head chef of Kai, Jess Murphy is one of the most respected figures in the food industry in Ireland. Earlier this year, the New Zealand born chef solidified her reputation as one of the country's best chefs when she won top honours at the Restaurant Association of Ireland Awards. 
Outside of her day job, Murphy has helped organise the Irish Refugee Food Festival earlier this year and been outspoken about the need for gender equality in the culinary arts. 
Melatu Uchi Okorie
Melatu Uche Okorie moved from Nigeria to Ireland twelve years ago. She spent eight and a half years living in direct provision and that experience informed her debut book, This Hostel Life, which was released to widespread acclaim earlier this year and received glowing endorsements from the likes of Marian Keyes and Roddy Doyle.
She is also one of the founders of Skein Press, an independent publisher focused on publishing underrepresented voices. 
Natalya O'Flaherty
The young poet and spoken word artist has spent the year making waves, performing at  some of the country's most illustrious venues. She recently performed her piece Not Like Other Girls on The Late Late Show. Watch it for yourself and you will see why she's destined for big things. 
Gillian O'Sullivan
Gillian O'Sullivan took over the family farm following the death of her brother Vincent. A vet by trade, she moved down to Dungarvan, Co. Waterford with her now husband to help her father around the farm. Over a decade on, she seems to have mastered it – this year, she was named Zurich Farm Insurance/Irish Independent Farmer of the Year. 
Pillow Queens
The pop-punk quartet have been on a steady ascent since they formed in 2016. This year saw the release of their sophomore EP, the brilliantly titled State of the State, as well as the anthemic banger Gay Girls. If they continue on their current trajectory, who knows what heights they will scale. 
Vicky Phelan
 In April, Limerick woman Vicky Phelan revealed how an incorrect smear test result led to a diagnosis of cervical cancer. "The women of Ireland can no longer put their trust in the Cervical Check programme," she told reporters. The fallout was swift. The revelations that followed were devastating. Were it not for the courage and sacrifice of Vicky Phelan, we would still be in the dark. We owe her an enormous debt. 
Sanita Puspure
It's been somewhat of a golden age for Irish rowing with the O'Donovan brothers picking up title after title in recent years. This year Sanita Puspure got in on the act and convincingly won gold in women's single scull at the World Championships. A 'dominant' performance, if ever there was one. Isn't that right, Minister Shane Ross? 
The women of #RepealThe8th
It was an historic year for Irish women with the country voting to repeal the eighth amendment by a margin of almost two to one. This was a women-led grassroots movement thereby making it impossible to single out any one individual for praise.
So here's to the activists who ploughed a lonely furrow for so long and helped lay the groundwork for this battle. Here's to the women and couples who told their personal stories and helped change so many hearts and minds. Here's to the people the length and breadth of the country who spent their free evenings knocking on doors, handing out leaflets, and organising via Whatsapp. You did this. 
Nadine Reid
Nadine Reid has been on a bit of a rollercoaster since moving to Dublin three years ago. Working as a makeup artist, she caught the eye of Xposé producers and was immediately signed to work as a roving reporter for the entertainment show. Did we mention she is super glam? Something tells us we're going to see much more of this bubbly Brummie going forward. 
Sally Rooney
Having broken through last year with her debut novel Conversations with Friends, Sally Rooney has continued to go from strength to strength. This year, her novel Normal People was shortlisted for the Man Booker Prize. A television adaptation is in the works with Lenny Abrahamson set to direct. A dream team if ever there was one. 
Lynn Ruane
Since being elected to the Seanad in 2016, Lynn Ruane has established herself as one of the most passionate and energetic politicians in the country. This year she published her acclaimed memoir People Like Me, detailing her journey from Tallaght to Dáil Eireann. It's a story of class and the transformative power of education – the type we need to hear more of in this country.
Saint Sister
If you've ever been lucky enough to see Saint Sister live, it's likely you have been entranced by their dulcet tones and otherworldly airs. This year, the duo released their debut album Shape of Silence, a collection of bewitching bangers that ended up being one of the most acclaimed Irish releases of the year. 
Angela Scanlon
2018 was something of a monumental year for Angela Scanlon. Not only did the broadcaster welcome her daughter Ruby, but she also secured her very own Sunday morning radio show on BBC Radio 2. Throw in a regular hosting gig with The One Show and we'd say that was a fairly successful twelve months.
Tara Stewart 
From DJing the coolest launches in Ireland to having the world's most enviable wardrobe, it's safe to say that 2fm's Tara Stewart is basically living the dream. Whether she's extolling the virtues of Ariana Grande or drooling over sneakers, she is invariably a delight. If you don't follow her on Instagram, you are missing out big time.
DailyEdge is on Instagram!