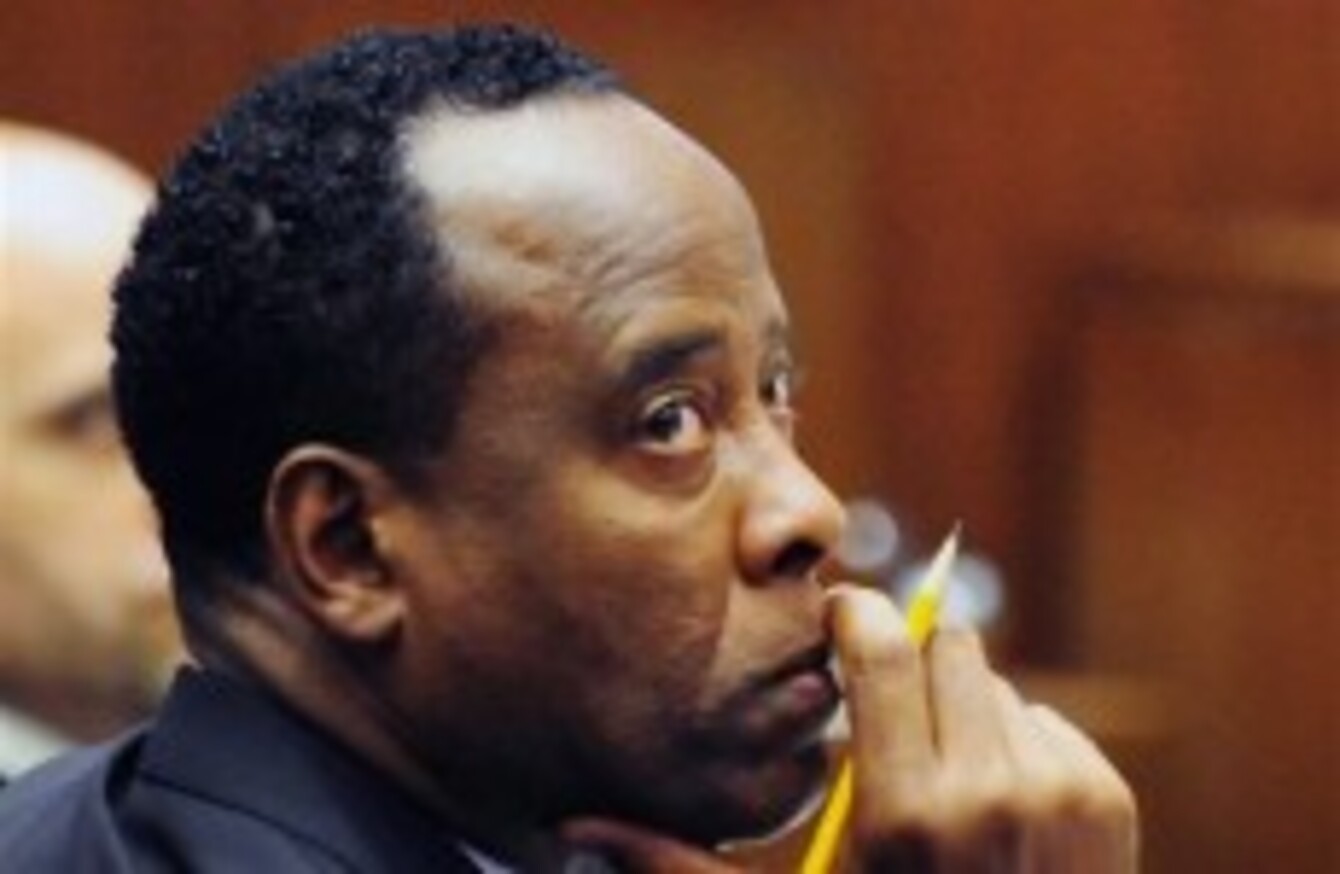 Dr. Conrad Murray
Image: AP Photo/Robyn Beck, Pool
Dr. Conrad Murray
Image: AP Photo/Robyn Beck, Pool
A SLEEP EXPERT from UCLA described Dr Conrad Murray's use of a cocktail of drugs on Michael Jackson as "unethical, disturbing and beyond comprehension."
The combination of drugs used as Jackson struggled to fall asleep on the day he died was a "recipe for disaster" and ultimately caused his death, Dr Nader Kamangar testified yesterday.
Under questioning by Murray's attorney, J Michael Flanagan, the witness was asked to tell jurors what he knew about the events of 25 June, 2009, the day of Jackson's death.
"To summarise, Mr Jackson was receiving very inappropriate therapy in a home setting, receiving very potent therapies without monitoring," Kamangar said.
He said diazepam (Valium), lorazepam (Ativan) and midazolam (Versed) were given to the sleepless star during a 10-hour period throughout the night and morning.
Noting the addition of propofol (Dipravan), a powerful anesthetic used in surgeries, Flanagan asked: "Could this have caused death?'
"Absolutely," Kamangar said. "Absolutely."
Authorities say Murray gave Jackson a fatal dose of propofol. Murray has pleaded not guilty to involuntary manslaughter.
The witness, one of the experts who evaluated Murray's actions for the California Medical Board, expressed dismay about the drugs Murray gave the pop star, his failure to immediately call 911 for help, and his lack of monitoring and record-keeping.
Murray was unable to produce any written records on his treatment of Jackson, Kamangar noted.
"There were no records whatsoever," he said. "It's very easy to forget details. We do not rely on memory."
"So it's your opinion that there's no way he could have remembered what he did if he didn't write it down?" Flanagan asked.
"It is an egregious violation of the standard of care when you are using sedatives like propofol and you are not writing it down," Kamangar answered.
The defense lawyer pressed on, asking, "Because he didn't write down the pulse rate, oxygen saturation, heart rate … that didn't kill Michael Jackson, did it?'
"It's a combination of factors," said Kamangar.
"But not the cause of death?" asked Flanagan.
"It's a contributing factor," said the witness.
Kamangar was the third prosecution expert to criticise the conduct of Murray. He said his first mistake was using propofol to treat insomnia, calling it an unacceptable application of the drug.
Murray could face up to four years behind bars and the loss of his medical license if convicted.