EVERY WEEKDAY MORNING, the Daily Edge rounds up the best of the day's celebrity dirt – from the top to the very bottom.
#OBAMA ON A UNICORN So who sent her fellow celebs a picture of Obama on a unicorn in the wake of yesterday's Oscar nominations?
Well, it was only actress of the moment (and my future best friend) Jennifer Lawrence.
She's revealed that her parents woke her up to tell her she'd been nominated for a best actress award for her role in Silver Linings Playbook.
The film was also nominated for best film, best director, best actor for Bradley Cooper and best supporting actor for Robert de Niro, so naturally Lawrence sent them all a celebratory picture of Obama with his unicorn pal. (Entertainment Weekly)
Cooper meanwhile has said that he was so excited for his co-stars that he failed to notice that he'd been nominated, and his mother had to roar it at him a few times. (Hollywood Reporter)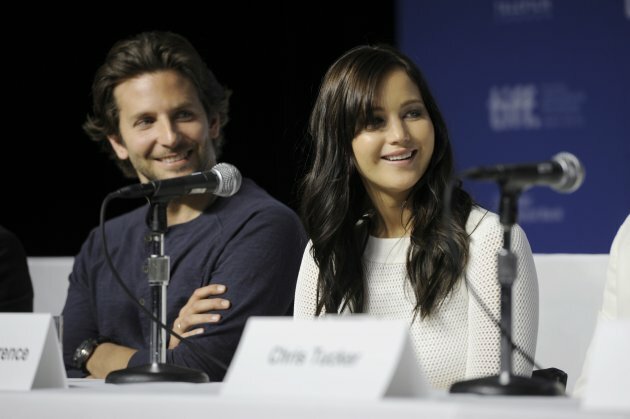 Bradley Cooper and Jennifer Lawrence. Call us. (Evan Agostini/Invision/AP)
#STOP TRYING TO MAKE YOUR CAREER HAPPEN, IT'S NOT GOING TO HAPPEN Lindsay Lohan was hired, fired and then rehired for her latest film The Canyons, according to a whopping 11-page profile in the New York Times.
The film, which includes a four-way sex scene, was reportedly held up several times by Lohan, who only agreed to go nude at one point after the director Paul Schrader shed his clothes too.
Former porn star James Deen also stars in the movie, while Lohan was paid just $100 a day to appear in it. (Daily Mail)
YouTube/MovieClipsTrailers
#WRONG DIRECTION So Taylor Swift is back in the studio. Which can only mean one thing…
Here come the tunes about Harry Styles and that breakup.
Meanwhile some bright spark thought it would be a good idea to play One Direction's Live While We're Young when Swift walked out to collect an award at the People's Choice Awards in LA on Wednesday night. (Mirror)
Someone's getting a P45.
Harry son, you were punching well above your weight. You pup. Ian West/PA Wire
And the rest of the day's celebrity dirt…