JENNIFER LAWRENCE HAS spoken out for the first time about the celebrity nude photo leak, which saw hackers post dozens of private photos belonging to her online,
In an interview due to be published in the November issue of Vanity Fair, Lawrence describes the leak as a "sex crime" and speaks candidly about how she felt in the wake of the leak.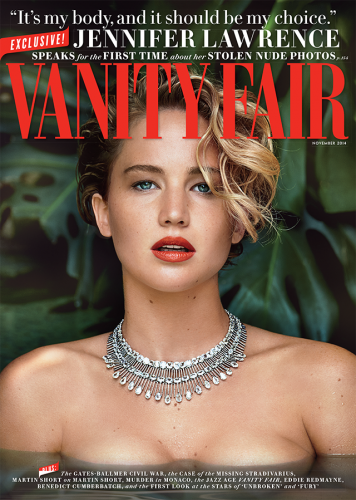 Vanity Fair Vanity Fair
The Hunger Games star told journalist Sam Kashner that she initially feared the photos would affect her career and described how angry she felt following the incident.
Just because I'm a public figure, just because I'm an actress, does not mean that I asked for this. It does not mean that it comes with the territory. It's my body, and it should be my choice, and the fact that it is not my choice is absolutely disgusting. I can't believe that we even live in that kind of world.
She also pointedly stated that the incident is "not a scandal", but rather a "sex crime" and had strong words for anybody who viewed the images online.
Anybody who looked at those pictures, you're perpetuating a sexual offense. You should cower with shame. Even people who I know and love say, 'Oh, yeah, I looked at the pictures.' I don't want to get mad, but at the same time I'm thinking, I didn't tell you that you could look at my naked body.
Prior to this interview, Lawrence declined to comment, leaving her publicist  to comment on her behalf.
On her decision to not address the incident in a statement, Lawrence noted that she didn't have anything to apologise for and stated that the photos were for her boyfriend of four years, Nicholas Hoult.
…every single thing that I tried to write made me cry or get angry. I started to write an apology, but I don't have anything to say I'm sorry for. I was in a loving, healthy, great relationship for four years. It was long distance, and either your boyfriend is going to look at porn or he's going to look at you.
Lawrence also described telling her father about what had happened.
When I have to make that phone call to my dad and tell him what's happened … I don't care how much money I get for The Hunger Games. I promise you, anybody given the choice of that kind of money or having to make a phone call to tell your dad that something like that has happened, it's not worth it.
Lawrence was among dozens of public figures targeted by a group of hackers who stole photos from iCloud accounts belonging to female celebrities. The saga is ongoing with photos belonging to the likes of Winona Ryder, Zoe Kazan and Erin Heatherton leaked in the last week.
The full interview will be available to read in the issue of Vanity Fair, which hits shelves on October 14th.