LAST MONTH, THE trailer for David O. Russell's Joy was released.
The biopic tells the story of Joy Mangano, a single mother who became a self-made millionaire when she invented the Miracle Mop.
It stars everyone's dream BFF Jennifer Lawrence in the title role alongside Robert DeNiro, Bradley Cooper and Édgar Ramírez.
The film has already generated serious hype, partly because of its slick trailer (seriously, watch it here) and partly because it is already being viewed as a leading Oscar contender.
But some people have also queried Jennifer Lawrence's casting.
In real life, Joy Mangano was 34 years old when she invented the Miracle Mop. Jennifer Lawrence, meanwhile, was just 24 years old when she shot Joy. Edgar Ramirez, who plays her love interest, is 38 years old.
As a result, many have called out director David O. Russell for not casting an older actress in the role.
This is not the first time that David O. Russell has come under fire for casting Jennifer Lawrence in his films.
Lawrence was just 22 when she played a widow in Silver Linings Playbook. (In the book on which the film is based, the character Lawrence plays is significantly older.)
And last year, many critics argued that, at 23, she was simply too young for her role in American Hustle.
Writing for The Film Experience after American Hustle's release, Matthew Eng described it as "stunt casting" and feared that it would enable further "age-inappropriate casting".
…if there is any one viewer who can honestly say that they believed –  even for a second – that Jennifer Lawrence was ever really that woman, unhappily married for years to that man, counting the days in that house, and nearly burning down that kitchen, can he/she please stand up?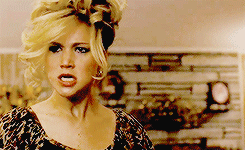 smoknzh / Tumblr smoknzh / Tumblr / Tumblr
So, will J-Law face similar criticism when Joy is released later this year?
Well, it seems that David O. Russell has sidestepped the whole age issue by simply rewriting J-Law's character as a 27-year-old.
The movie tells the story of a family over four generations, and the woman (Lawrence), who emerged as the matriarch of her family at age 27 to create a dynasty.
Oh.
That said, the whole thing has still been described as "ageist" in some quarters.
Ageism is a real issue in Hollywood, and like dry land, it is not a myth. Middle-aged actresses struggle to find roles suitable for their talents every single day, while younger actresses are constantly cast as the romantic interest for men twice their age. Russell is part of the problem. Lawrence is ten years younger than Mangano, and there are numerous actresses that could have played the role just as well as Lawrence – actresses who are of appropriate age.
Looks like it won't be the last we'll hear of this.
What do you think? Is Jennifer Lawrence too young? 

Poll Results:
Ah yeah, she is, in fairness.
(977)
No, she's an amazing actress and she can play whatever age she likes!
(576)