BBC BBC
THIS WEEK, UK politics has been dominated by a deepening row over sexual abuse and harassment at Westminster – which led to Conservative Michael Fallon resigning as defence secretary.
It was obviously going to be top of the agenda on Friday night's Have I Got News For You.
But following a comment that not all the allegations are "high level" crime, host Jo Brand explained to the panel why it doesn't have to be for women to feel "under siege in the House of Commons"
B Heard Media / YouTube
Speaking about the headline "Tory MP takes his personal trainer to the cinema", long-standing captain Ian Hislop said:
Some of this is not high level crime, is it, compared to say Putin or Trump?
Brand interjected:
If I could only say that as the only representative of the female gender here today, I know it's not high level but it doesn't have to be high level for women to feel under siege in somewhere like the House of Commons.
And actually for women, if you're constantly being harassed even in a small way, that builds up and that wears you down.
A massive round of applause followed.
"Sorry, I thought I was on Question Time for a minute"
BBC BBC
Hislop conceded that it's perfectly OK for them to take a backseat on this one:
"No, and as you point out with four blokes sitting around you we're hardly in a position to say, 'That's rubbish'."
BBC BBC
Brand has been winning plaudits for her clear and concise explanation
Here's the moment Jo Brand had to explain to the #HIGNFY panel that they should take sexual harassment seriously. pic.twitter.com/4cc4J3ocOw

— Rob Williams 🐝 (@BobJWilliams) November 3, 2017
If you can't see the video, click here. 
It was the standout moment, and particularly relevant given the panel were all-male
@LouiseRidley @LouiseRidley

@SamBaker @SamBaker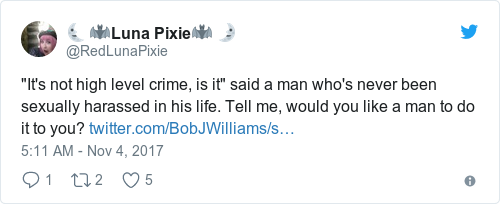 @RedLunaPixie @RedLunaPixie
It was quite the comeback

@LMMyles @LMMyles
Given the week that was, people questioned whether such a panel was really going to give you as much insight into sexual harassment in politics as was necessary
Jo Brand, the saviour HIGNFY needed last night.
DailyEdge is on Instagram!