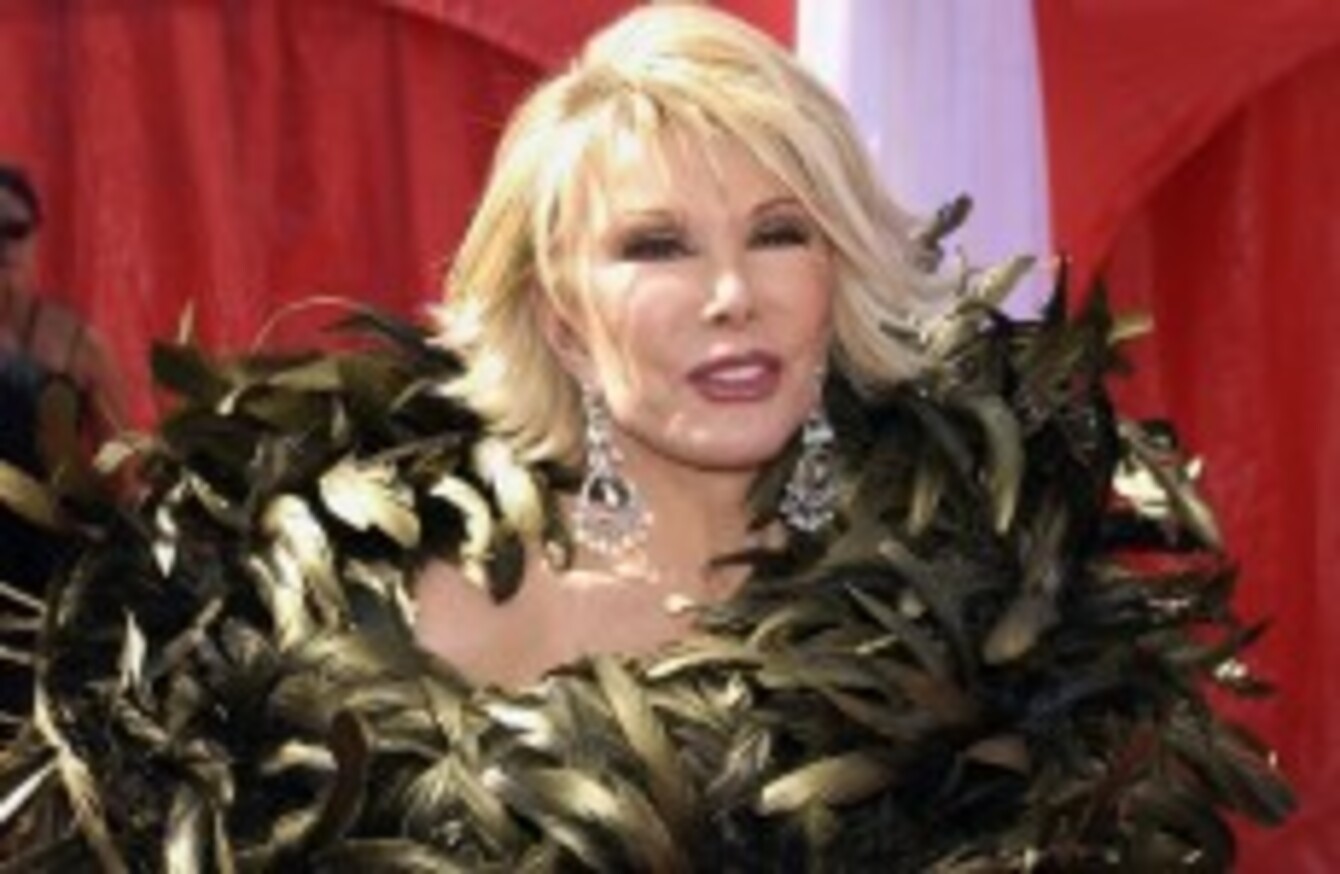 Image: AP
Image: AP
JOAN RIVERS DIED of brain damage from low blood oxygen during a medical procedure to check out voice changes and reflux, the medical examiner's office ruled Thursday.
The comedian, who was 81, died Sept. 4 after she'd been hospitalized for about a week when she went into cardiac arrest during the procedure at a doctor's office.
Rivers died from "anoxic encephalopathy due to hypoxic arrest" during a procedure to scope her upper gastrointestinal tract and vocal folds, said Julie Bolcer, spokeswoman for the city's medical examiner.
The death was classified as a therapeutic complication. The classification is not commonly used; more deaths are certified as accidents, homicides, suicides or natural causes. Negligence is not suspected. Had it been, it would have been listed as a contributing cause.
The classification means the complication was a known risk of the procedure, a risk that patients say they understand when they sign waivers before surgery, a malpractice attorney said.
"I always tell my clients when they come through here, every time you have surgery you're playing Russian Roulette. And the more surgery, the more the numbers can catch up with you, and as we know, Ms. Rivers had a lot of surgery," said medical malpractice attorney Steven Harris.
Rivers had been sedated during the procedure with propofol, the medical examiner said. Hypoxia and cardiac arrest are rare potential side effects from use of propofol, the anesthesia drug that was implicated in Michael Jackson's death.
Medical experts say propofol can be safely used during an upper gastrointestinal endoscopy, but it should be administered by a doctor or nurse trained in its use. The patient should be continuously and closely monitored by someone not involved in doing the diagnostic or surgical procedure, experts say. To avoid complications in elderly patients, the drug should be started at a lower dose and more slowly than in younger adults.
Ventilators or other breathing support should be immediately available in case of complications, experts say.
The state Health Department also is investigating Rivers' death.
The medical examiner's ruling doesn't precludeRivers' family from filing a lawsuit, Harris said. "You can find another doctor who would give a different opinion," he said.
Rivers' daughter, Melissa Rivers' said she had no comment on the ruling.
"We continue to be saddened by our tragic loss and grateful for the enormous outpouring of love and support from around the world," she said in a statement.