EARLIER THIS WEEK, it was revealed that Jordyn Woods would be giving an interview with Jada Pinkett-Smith for her Facebook series 'Red Table Talk' in the aftermath of supposed cheating scandal with Tristan Thompson.
If you're not up to speed, here;s the short version. Jordyn is Kylie Jenner's best friend. Kylie is Khloe Kardashian's sister and was previously attached to Tristan. It was reported that Jordyn and Tristan lobbed the gob at a recent house party, from which she did not leave until 7am. So far, so dodge.
Jordyn went on Red Table Talk to tell her truth. Makes sense, given that the Woods and Smith families are close – Jordyn's late father worked with Will Smith on The Fresh Prince of Bell Air.
In fact, he even Skyped in from the set of Bad Boys 3 to give the reality star some sage advice prior to her interview, as you do. 
"The world attacks. We support you. I got you and we got you," he said, grinning from the laptop screen.
"Take your medicine and tell your truth. This is a part of what growing up is. This is a part of what learning is." 
(Fair, but I don't remember this ever being on the curriculum when I was in secondary school?)
He finished by addressing the social media backlash Jordyn has faced: "This world is not going to break you we won't allow it."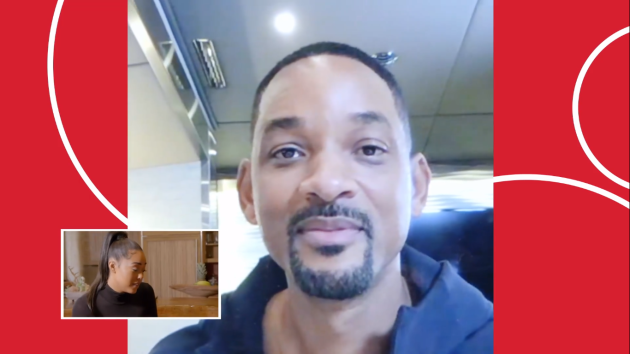 Red Table Talk Red Table Talk
Jada carried her husband's sentiments into the interview: "If you feel holier than thou, this might not be the place for you." (Cue hundreds of priests simultaneously logging off.)
From here, Jordyn explained her side of the story.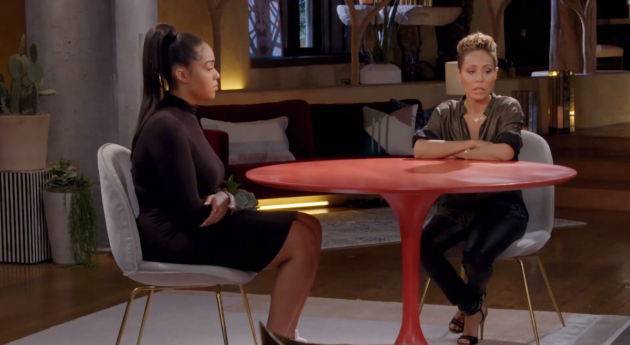 Red Table Talk / Facebook Red Table Talk / Facebook / Facebook
Jordyn explained that she had gone to dinner with some friends, before going on to a bar, in which the partook in the practice of drinking and dancing. tristan also happened to be at the bar. She then tried to explain the concept of a house party to Jada.
"Normal LA culture when you're young, go to the bar, go to the club, it ends early, we all go to a house after. We're not thinking about who's house … We're in the moment."
Funnily enough, the house ended up being Casa de Tristan Thompson but Jordyn stressed that she was not personally invited by him to the gaff.
"I wasn't thinking 'I shouldn't be here'," she said. "That's the first step where I went wrong. I shouldn't have ever been there."
She went on to say that she never asked for phones to be taken away, nor was she aware of anyone else doing so (as had been previously reported.)
Then, she got into the nitty gritty of herself and Tristan's supposed tryst(an).
"Never once was I giving him a lap dance, making out with him, sitting all over him," she said, explaining that she was actually sitting on the arm of the chair that he was sitting in, with her legs placed over his lower leg. (This was her legitimate description of events.)
There was no lap dance, but I can see why people would think we were getting cosy … My butt was never sitting on him."
An important clarification. As to why the girls she had initially gone out with haven't back her up on this version of events, Jordyn said: "I want people to stand up and be accountable but I don't want anyone to feel how I'm feeling. Why do they owe me that much?" (In an extremely profound statement, Jada replied: "facts".)
Jordyn denied sleeping with him, putting her late exit down to the fact that she's simply been on the sesh over the last few weeks.
I had been on a bit of partying binge. That wasn't the first place where I stayed until six in the morning."
Yeah, I remember my first pint too.
However, her exit is also where things get a bit "tricky", according to Jordyn herself. While saying that she did not want to point fingers, it's heavily implied that Tristan made the first – and only – move.
"I tell everyone I'm leaving, I tell Tristan I'm leaving… I was drunk but not to the point of no recollection.
On the way out, we did kiss. There's was no passion, no tongue kissing, no making out … It was a kiss on the lips."
People make dumb moves, people get caught up in the moment. I didn't know how to feel."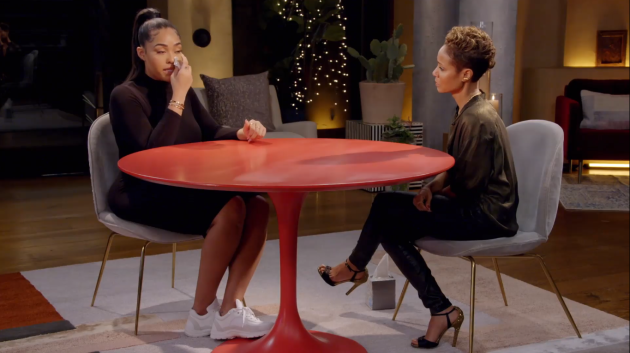 Red Table Talk / Facebook Red Table Talk / Facebook / Facebook
Jordyn admitted that she did not initially tell Khloe and Kylie about the kiss, so as not cause any drama.
"I had talked to Khloe and Kylie in the morning, I'd told them I was there," she said. "[Khloe] asked me what was going on."
I was honest about being there but I wasn't honest about the actions that had taken place [...] I was trying to protect Khloe's heart."
When asked by Jada whether she felt she was the reason for Tristan and Khloe's split, Jordyn was adamant about her position.
"I'm no homewrecker," she said. "I know I'm not the reason that Tristan and Khloe aren't together. This situation might have made it harder for her to want to be with him but I know I'm not the reason."
Jada decided to get to the crux of the issue by asking, outright, if Jordyn rode Tristan.
Never a thought, never a consideration, never will I."
On dealing with the backlash, Jordyn got visibly upset discussing the details of the death threats she's received, including comments about her late father.
"They're putting their focus on a young black woman who made a mistake and not a mistake that's worth public crucifixion," she said. "It's a mistake that should have been dealt with internally."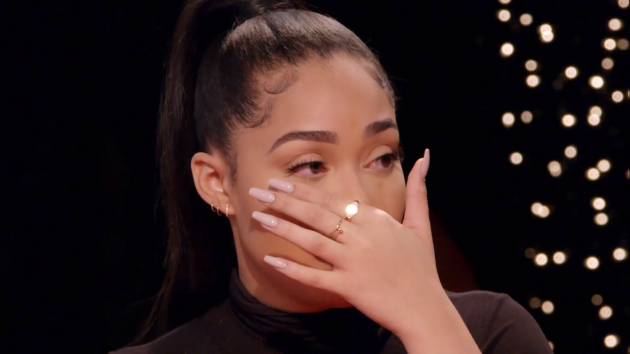 Red Table Talk Red Table Talk
At this point, Jada goes off on a tangent about "the power of truth", saying she only realised after telling "many lies". Interesting.
Is it a publicity stunt?
Answering a viewer's question, Jordyn said the incident was not a false narrative drawn up in Kris Jenner's work room in a bid to drum up publicity for the upcoming season of Keeping Up With The Kardashians.
This is real life. It's been real."
Indeed. Jordyn goes on to reaffirm her position of innocence, saying she is willing to go on record and take a lie detector test to prove to Khloe and Kylie that she did not sleep with Tristan.
"There was no malicious intent," she said.
"I'm not asking for you to forgive me overnight, I'm just asking you to hear me and to feel me," she concluded, in what came across as a public plea to KarJenners at large.
"I did do as much apologising as I could do over the phone and over text."
Jada wrapped up the show by saying: "I ask for compassion and that we raise this young lady up with love and kindess. She is learning and growing from this particular incident
I ask that we support her in this journey of guilt."
Eh, any word from Tristan Thompson this weather? He could probably do with joining her on that roadtrip.
Following the interview, Khloe sounded off on twitter, denying that Jordyn ever contacted her to give a private apology.
However, the responses to this tweet were fairly savage, criticising the reality star for only going after Jordyn during this whole incident.
The backlash prompted her to follow up with this:
Hmm. Now seems like a good time to end on some Oprah wisdom.
(In the event that you *are* actually arsed watching, you can do so by clicking here.)
DailyEdge is on Instagram!