EVERY WEEKDAY MORNING, DailyEdge.ie rounds up the best of the day's celebrity dirt – from the top to the very bottom.
YouTube/ClevverNews
#OH JOSH: Josh Duhamel is clearly making his pitch to become one of our favourite people. Here's how:
He is married to Fergie, who can sing about her lovely lady lumps with a straight face.
He recently led an entire Dublin cinema in a spirited rendition of the Harlem Shake (see above), while suffering the commentary of these girls sitting next to him.
And finally, he dressed up as Taylor Swift for the craic: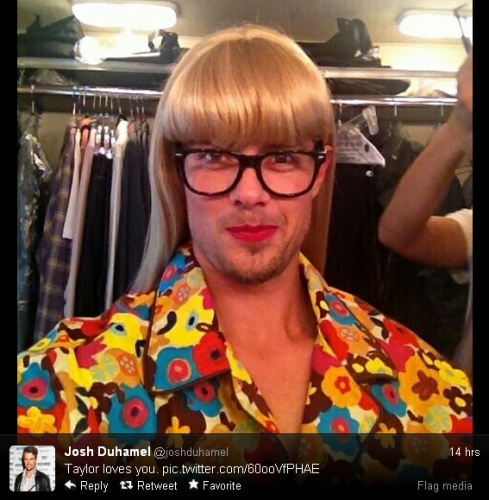 (Nailed it.)
#C'EST LA VIE: Are you sitting down? OK, here's the thing. B*witched are thinking about releasing some new material.
They hooked up again for The Big Reunion and have patched up their 'artistic differences' from back in the day. "Of course we are talking about doing new material," said one-of-Shane-Lynch's-sisters-who's-in-B*witched Keavy.
She added:
I can't believe how much people want to see the denim again!
ARGH.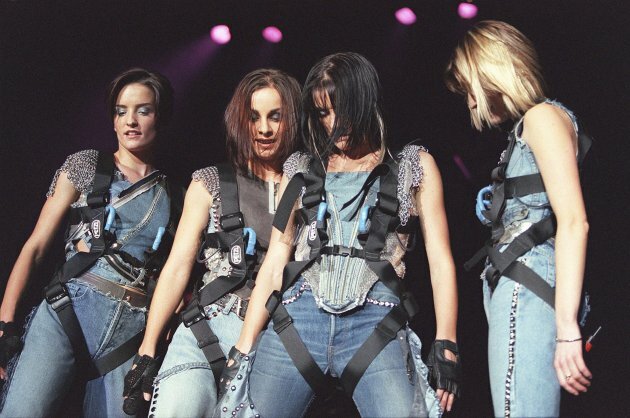 They're like cowboys from the future on a charity skydive. Except they're just on stage.(Simon Meaker/EMPICS Entertainment)
#DIRTY HARRY?: Harry Styles is facing (and/or enjoying) unproven claims that he tried it on with a former Blue Peter presenter 25 years his senior.
Yvette Fielding, who now presents Most Haunted, said she and her husband took wee Harry and his mum – his mum! – out for a Chinese when he was just 16. Literally a schoolboy.
While Mrs Styles was enjoying the kung pao chicken, Fielding said,
Harry was sending me disgusting texts from across the table. I can't even repeat the words, they were so rude!
Her story is disputed though. A spokesperson said: "Harry has never sent any rude or inappropriate texts to Yvette Fielding." (Mirror)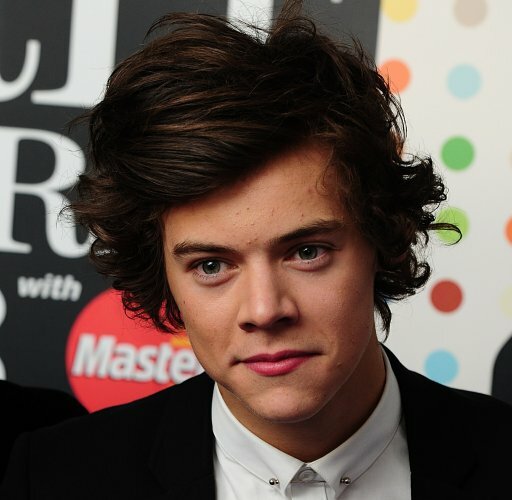 That mouth is a potty mouth. (Ian West/PA Wire/Press Association Images)
#BIEBZ: Justin Bieber definitely, definitely isn't letting the media suggestions of declining ticket sales get to him:

And the rest of the day's dirt…
George Clooney, Matt Damon, Bill Murray and John Goodman went on what was surely the best boys' night out of all time, ever. (Mail Online)
Liam Gallagher got chucked out of a pub for being too drunk on Mother's Day. (The Sun)
Brad Pitt and Angelina Jolie have built their kids an entire petting zoo. (Heatworld)
Tom Cruise threw the crew on his movie a €100k party, then missed it. (Mail Online)
Jay-Z, Beyoncé, Mel Gibson, Kim Kardashian, Ashton Kutcher and Paris Hilton have all had their personal finances hacked and posted online. (TMZ)
Does anyone want to see my personal finances? I've got about 80c and shares in a bag of Royal Gala apples.
No?
OK then.