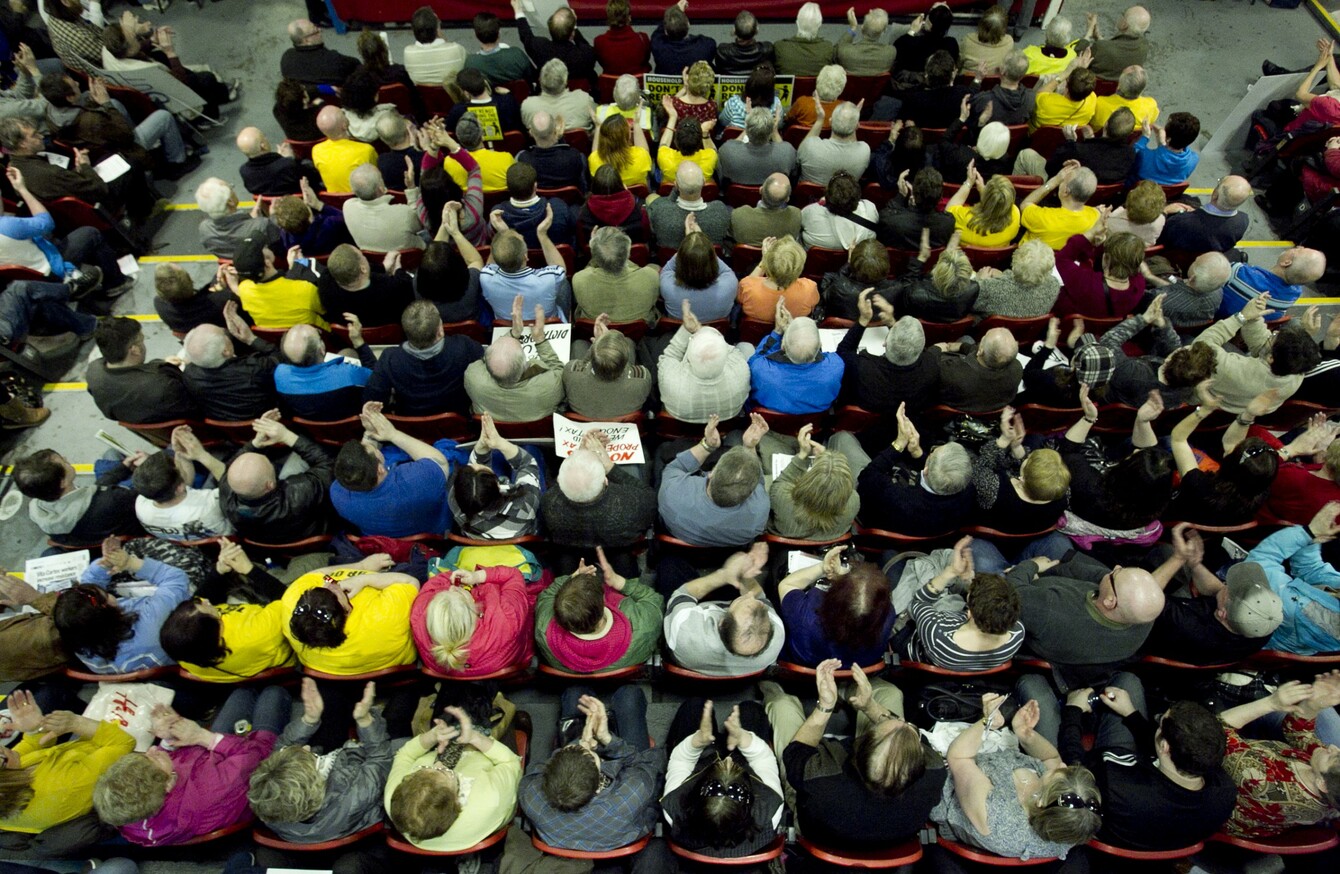 Image: Leon Farrell/RollingNews.ie
Image: Leon Farrell/RollingNews.ie
HERE AT TheJournal.ie, we have always understood comments to be part of the lifeblood of our users' experience.
Online news consumers expect meaningful engagement with the issues of the day. From our inception in 2010, we have encouraged our users to have a proactive relationship with the news agenda. Central to that is our comments section.
Our commenting community is at its best when its members add to the sum of the conversation with their personal experiences and insights.
We don't expect users to agree on everything. We don't expect all commenters' interests to reflect the editorial choices made by our journalistic team. We don't expect everyone who comes to Journal Media publications to have the same outlook on the world. It would be a very dull public platform if there was no debate, no feedback, no new information brought to the table.
We do, however, expect those with commenting privileges on our publications to subscribe to our standards in taste, decency and civility.
For our part, Journal Media is today rolling out a series of changes to the comments section to enhance your experience there.
New comments tools
These new features are designed to allow you more control over your comments section. Our iOS and Android app users will be able to use these tools as soon as they update to the latest version of their app.
The first important change you may notice is that we are putting more context in place around commenters themselves. Members who have been logged in as part of the comments community for six months or more will be given a time badge to indicate their longevity on site (these will read 6m, 1y, 2y, 3y and so on).
In this comment for example, you can see that Gillian has been in the community for four years, and the app user has chosen to favourite her comments so they appear more prominently in their feed (denoted by the megaphone symbol, next to the '4y' badge):
We are also empowering our users to see more of the content they like, and less of the content they don't enjoy in the comments section:
If you want to reward good commenting behaviour, you will continue to be able to give individual comments an 'upvote'. These upvotes will be one of several factors taken into consideration in the ordering of comments underneath a post.
We have also partnered with a Google Jigsaw start-up called Perspective on a 'toxicity-rating' project. This helps our system identify and downgrade comments which contain elements – foul language, generalised abuse – that have previously been flagged as a block to good debate.
The more activity from our commenting community on these tools, the more consistent and accurate the feedback to our system on what kind of content you value most on the comments section.
In the new-look comments section, you will also notice an arrow on the right of each individual comment. Clicking on this will lead to a dropdown menu. In here you can choose 'favourite commenter' to see that particular commenter's contributions more often in your comments threads.
If you see commenting behaviour that you do not like, we want to better equip you to take action. TheJournal.ie users already frequently demonstrate that if they see something they don't enjoy – either on the site itself or on our comments platform – they do not let it go unchallenged.
That is a welcome trait and we have been working on some new features to better focus your feedback in this area.
You will notice that the old 'downvote' thumb has disappeared. In its place are three options to diminish comments you feel flout our community guidelines.
Using the dropdown menu mentioned above, you will now be able to choose to either hide an individual comment so it disappears from your view.
You will be also able to mute a commenter entirely so that you will no longer see their contributions.
We have also given increased prominence to our 'report comments' tools by moving them into that same menu. You can flag a comment as defamatory or you can flag a comment as offensive – you will be asked to outline how you think the comment flouts our comments community guidelines so that our team can assess the situation.
This is what the new dropdown menu looks like:
Just the beginning
Journal Media sites - TheJournal.ie, The42, DailyEdge and Fora - attract 3,000+ comments on a daily basis. The community represents a wide range of opinions and outlooks and we think that diversity is vital to debate.
We also want people to feel included and respected. Today's announced changes are just the beginning of ongoing development and research into making our comments platforms an inviting, entertaining and, sometimes, we hope, enlightening space.
We welcome all feedback to hello@thejournal.ie – it all helps towards our common goal of having more enjoyable and informed conversations.
Commenting guidelines
This is the point at which it is worth reminding you of the commenting standards to which Journal Media expects its users to observe.
Play the ball, not the player: Do not make personal remarks about the author of a story, about individuals mentioned in stories, or about other commenters. We encourage committed and passionate debate, but ad-hominem insults or insinuations are not part of this.
Be the voice of reason: If all commenters agreed with each other, a comments section would be a dull and unenlightening space. But there are ways to phrase dissent without resorting to foul language, incivility and SHOUTING. Even if you believe what another commenter is saying is unreasonable, express that in a reasonable fashion. Respect each other as human beings.
No hate speech: Do not make comments which are racist, sexist, homophobic, offensive on the grounds of religion, nationality or demographic group. This includes generalising about an entire group of people, based on the real or perceived action of individuals from that group. Do not make comments which are threatening or harassing or which could be perceived as such.
Do not post defamatory content: Users who are found to have posted defamatory content on any Journal Media comments section will have their commenting privileges withdrawn.
Stay on topic: Of course we want discussion to be as wide-ranging as possible, and we understand that conversations can take unexpected turns. But we'd like to make our comments areas a place for people to talk about the topic in front of them. Resorting to generalisations or dragging the comments off on a tangent that is not pertinent is boring and repetitive and kills insightful debate.
Don't be a troll: Having a different viewpoint to other commenters or holding views that are not palatable to all-comers is not trolling if those views are sincerely held. However, don't be provocative just for the sake of it. Equally, if you feel someone else is being deliberately provocative, don't respond – it only encourages them. If you feel strongly that comments made by another user are deeply offensive as outlined in these guidelines, let us know by reporting the comment in the dropdown menu detailed at the top of this document.
Safeguard personal information: Don't post sensitive personal information or the personal details of others in our comments section. Be privacy- and safety-mindful at all times.
This is not a marketplace: We welcome links in our comments sections which add context or extra information to the debate at hand. Do not use comments to promote commercial products or services.
These guidelines, and other information on our comments policy, are publicly available here.
Written by Adrian Acosta and posted on TheJournal.ie