SKILLET IS A section of the web giant LifeHacker that covers cooking, recipes and all things grub-related.
On Wednesday it published an article entitled "These Fancy Butters Are Actually Worth Your Money".
And their main recommendation looked very familar
The review lavished praise on our most traditional of butters, saying it:
creeps up on you and builds like a rich, creamy crescendo as it melts in your mouth.
Oh yes. And the commenters were in agreement:
I absolutely agree with the review about how the taste builds. It's amazing. Cold Kerrygold and a baguette is heaven.
But Irish people quickly caught wind of them calling it "fancy"
Imagine, Kerrygold is considered fancy by a portion of the world's population
It's obviously more expensive over in the US, but there was just something hilarious about them calling it "fancy butter"
Kerrygold is pure notions Stateside, then
The contrast between fancy and how we perceive Kerrygold is stark.
We let them know with some swift responses
Sure look, if it's good enough for Chrissy Teigan to be (presumably) lashing on to her and John Legend's toast, it must be something of a status symbol across the Atlantic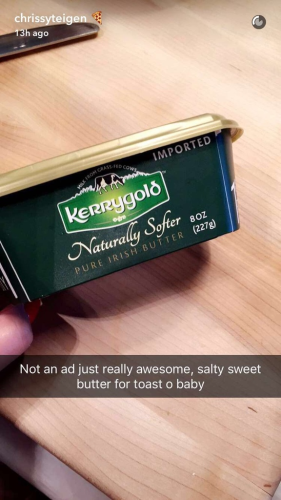 Let's face it though, the standard of butter over there would make any half decent offering be considered seriously fancy.
Enjoy it lads.
DailyEdge is on Snapchat! Tap the button below to add!