ONE OF THE most awkward moments of 2017 so far came earlier this week, in the most unexpected of circumstances.
It was when Kesha, on the red carpet, went up to Jerry Seinfeld completely out of the blue and asked for a hug. Seinfeld denied her three times, and it was a mortifying scene for everyone involved:
USA TODAY / YouTube
Noooooo.
The clip went so, so viral, sparking discussions on high profile American talk shows about his reaction, the concept of personal space and whether Kesha should have been going in for a hug in the first place.
So much so that Jerry had to come out and explain in an interview what happened
extratv / YouTube
Seinfeld said:
I'm 63, I don't know every pop star… I don't know everyone
When you get to be my age and you've done a couple things, you have your own reality, in my reality… I don't hug a total stranger. I have to meet someone, say 'hello.' I gotta start somewhere… hug isn't first moment of a human, two humans. I never did that.
I'm sure I would've liked her. But I need to know who are you.
Fair points, all.
Kesha hasn't responded to the hug denial seen around the world – except for sending out a photo of herself on the red carpet with a cryptic caption
And, just to add the cherry on top of this saga, an Australian street artist called Mike Larry has immortalised the moment in a mural in Melbourne
Brilliant.
Once shared on Reddit, the image started picking up momentum and it's now just another strand to the most awkward celebrity encounter of the year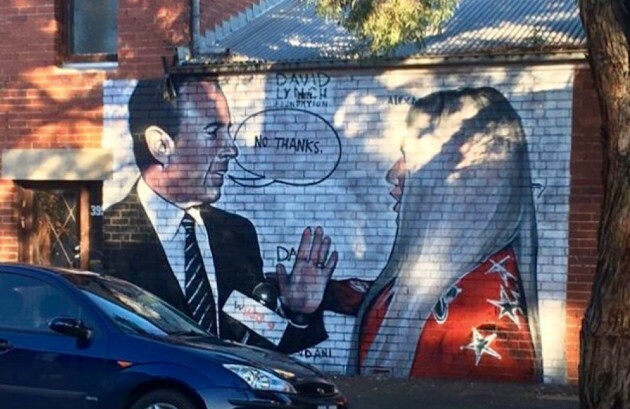 Reddit Reddit
"No thanks."
"Yeah, no thanks"
"No… thanks."
You could watch it on loop forever just for the pure, distilled cringe on show.
DailyEdge is on Snapchat! Tap the button below to add!