BLOGGERS OFTEN GET things for free in exchange for a mention or a shout out.
It happens all the time, it's part of how things work. If you work hard to amass a large following, why not enjoy some perks along the way?
One restaurant in Kilkenny might agree with that, but what they're not too fond of is the expectation that they might get something for free.
Campagne in Kilkenny town, a michelin-star restaurant, tweeted a blogger request earlier in the week and it initially stirred up a reaction of disdain
A blogger they refuse to name got in touch hoping to sample a vegan meal for two in order to provide 'significant online exposure' on both their 'blog and social media accounts'.
It's that same old story again


The tweet was picked up all across the globe, with the likes of Mashable, The Huffington Post and the San Diego Union-Tribune.
Mashable Mashable

San Diego Union Tribune San Diego Union Tribune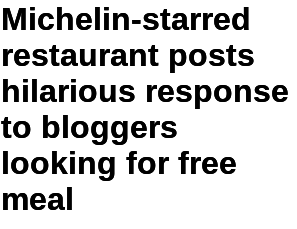 Yahoo! news Yahoo! news

Huffington Post Huffington Post
In fairness to Campagne, the bloggers did manage to get them some online exposure in the end.
DailyEdge is on Instagram!