KIM KARDASHIAN DOES not come to play on social media.
Yesterday, Lindsay Lohan was on the receiving end of one of her infamous disses.
Kim posted a photo of herself with braids, captioning it Bo West (a nod to Bo Derek, who wore the braids in the movie 10).
Besides the fact that a white woman, namely Bo Derek, didn't create this look, Lindsay Lohan piped in to say 'I'm confused'.
Kim had a comeback for her.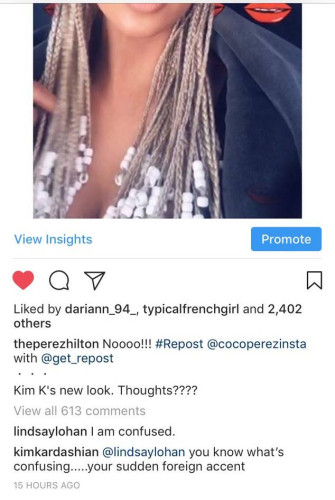 Perez Hilton, via E! Perez Hilton, via E!
This comes shortly after Kim dragged her sister's ex-husband Lamar Odom when he made a joke about the amount of basketball players his ex-wife Khloe dated after they separated.
Lamar claimed he knew the marriage was completely over when Khloe was on her second or third player, but Kim quote-tweeted the article line with the burn of the century.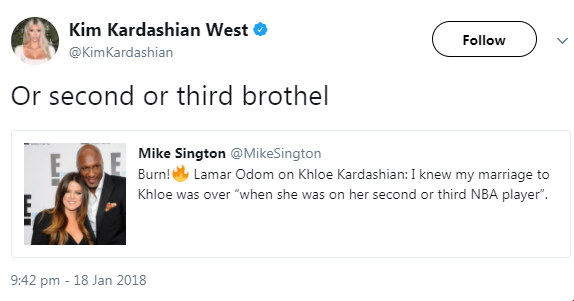 She is just giving absolutely no f*cks at the moment
So, here's some more. Kim's best Twitter clapbacks.
1. When she wasn't letting Harper's Bazaar come for her
When Harper's posted a story about Kim's supposed response to Kylie Jenner pregnancy rumours in their infancy, she quickly dismissed it.
2. When she ATE Chloe Grace Mortez
Chloe spoke out about Kim's nude selfie, telling Glamour that it "was done in a slightly voyeuristic light, which I felt was a little inappropriate for young women to see".
Kim clapped back with this, now historic, tweet.
3. And Bette Midler
Bette also spoke out about the nude selfie, and she possibly got her even harder
4. She didn't stop there
5. When she basically shaded each and every single one of us
6. Then there's this comeback to a commenter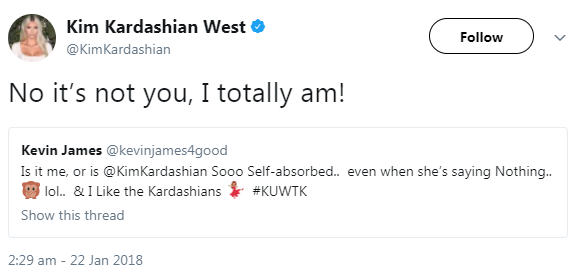 7. Then, there was the SnakeGate incident of 2016, when this killer tweet was unleashed
DailyEdge is on Instagram!