WE GUESS THAT Krispy Kreme petition worked, because according to a report by the Irish Times, the doughnut chain is currently hunting for its first Irish outlet.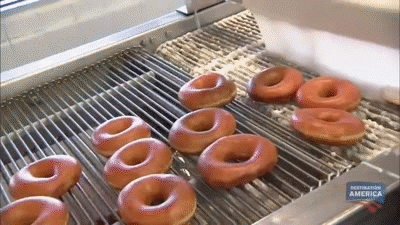 Makeagif Makeagif
OMG.
DailyEdge.ie have reached out to Krispy Kreme for comment on the reports that a drive-thru outlet is imminent, with Blanchardstown and Liffey Valley shopping centres named as potential sites. Until then, we present this mouthwatering evidence that this is the best news we'll get all week.
1. Tell us this doesn't look like the perfect breakfast
2. You can't, because it is
3. We'll no longer have to wait until trips to London and the States to eat this sugary, doughy, goodness
4. All this will be at your doorstep
5. Make them our wedding cake tbh
6. They have perfected the humble glazed doughnut
7. Their seasonal stuff is to die for
8. Don't forget how the strawberry glazed is basically prettier than all of us
9. Krispy Kreme, we've been waiting so long
10. Point that conveyor into our mouths
11. We need it
12. We're getting a sugar high just looking at them
13. Beautiful
DailyEdge is on Snapchat! Tap the button below to add!