EVERY WEEKDAY MORNING, DailyEdge.ie rounds up the best of the day's celebrity dirt – from the top to the very bottom.
#POKER FARTS:  Lady Gaga has a problem.  A farting problem. (Sunday World)
According to a report, she revolted all in her presence at a performance last week at New York Pride with the stink she was emitting.
Apparently she had no shame about it either.  One crew member said:
…some of her farts were really loud, so there was no pretending she wasn't the source.
As for the smell?
…really foul.  Like a dumpster of rotting food.
Yeesh.  Hope you're not eating your breakfast.  Sounds like Gaga needs to take a long hard look at her diet.
#MOVES LIKE JAGGER: Harry Styles may look like Mick Jagger, but apparently that's not enough for him. (The Sun)
Nope, he wants to move like him as well, and is set to take up ballet to make it happen.
According to The Sun, he got talking to Mick's physio at a recent Rolling Stones gig and when he heard that ballet was part of his fitness regime he was mad for it.
We hope he doesn't dilute his own signature moves though.  They're something else.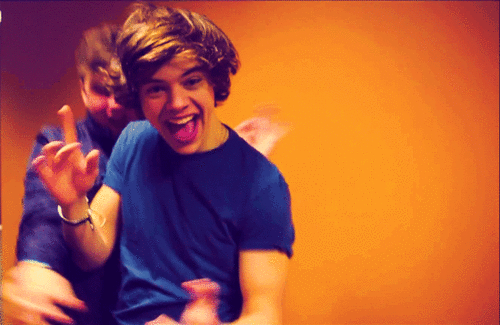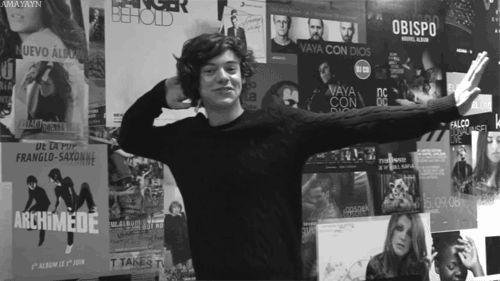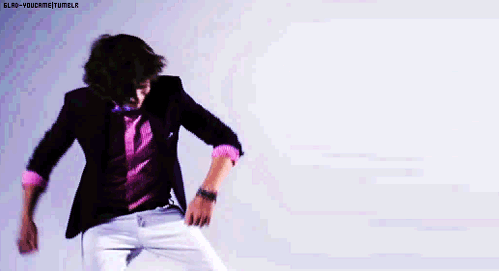 #DESPERATE TIMES: UB40 may have played at the Groove Festival in Bray over the weekend, but the band's saxaphone player Brian Travers has had to look beyond their own gigs to pay the bills of late. (The Sun)
In fact, he's been gigging with UB40 tribute bands, most recently, UB42.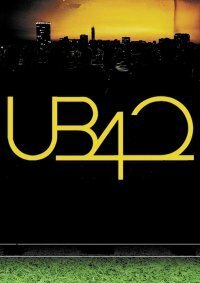 Apparently the original band have had a bit of down time recently, and with the collapse of their record label and his bankruptcy he had to pay the bills somehow.
Fair play to him.  That Red, Red Wine doesn't come for free, eh?  HA? GET IT???
#BROMANCE:  Andy Murray may have won the Wimbledon men's title yesterday afternoon, but Bradley Cooper and Gerard Butler's bromance was the real winner.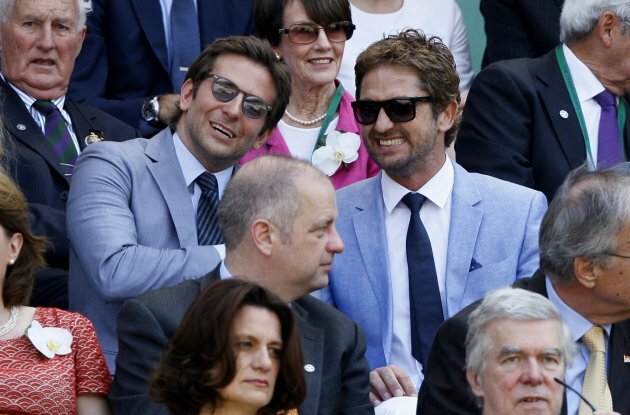 AP Photo/Kirsty Wigglesworth
The match was attended by loads of celebs, including Wayne and Colleen Rooney, Victoria Beckham, and Ronnie Wood, but the dapper pair stole the show.
TV cameras regularly cut to them for reaction to key moments during the match, and they were clearly having a ball.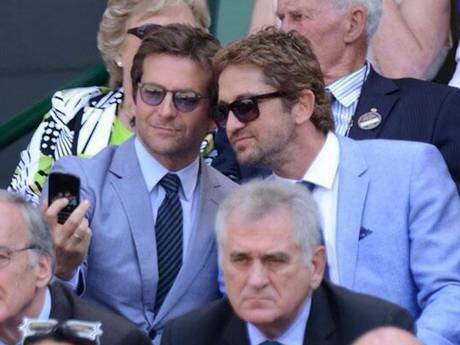 Screengrab
The matching outfits, their facial expressions, the selfies…that's entertainment folks.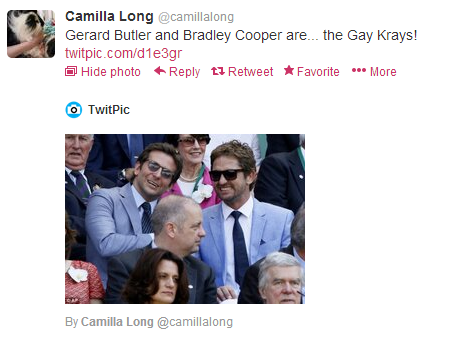 And the rest of the day's celeb filth…
Avril Lavigne has told all about her Goth wedding to Nickelback's Chad Kroeger. (Hello Magazine)
Kanye loves his daughter, but hasn't changed any nappies yet. (Heatworld)
Chris O'Dowd spent $872,500 on a house in L.A. (TMZ)