IT'S HARD TO know who to trust on the internet.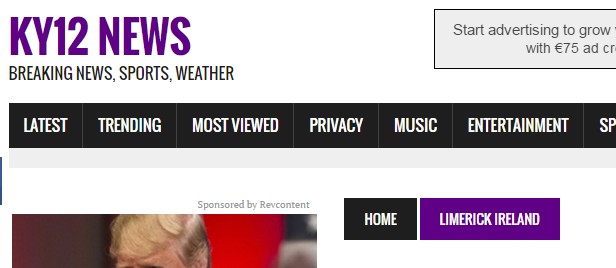 No one, is a good start.
News has been spreading today that Leonardo DiCaprio himself has had some nice things to say about Limerick ladies.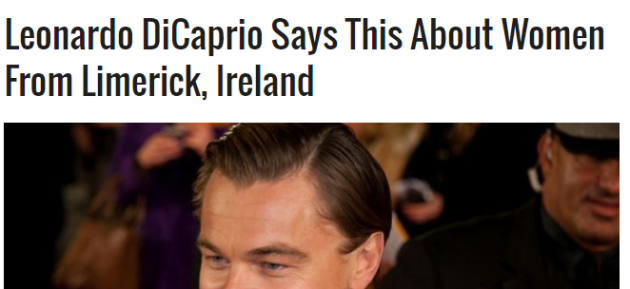 The website ky12news.com reported that the Oscar-winner had this to say:
I used to know a woman from Limerick, Ireland. Very beautiful woman. I visited her there years ago and met her sisters and some friends and I'm telling you… they were all beautiful. I don't know what it is about this place but they're gorgeous in Limerick. And I'm not saying they're more physically beautiful than all of the other women in the world but when you factor in their great personality, sweet nature, and natural beauty.
But they don't quote where or when he said this, just saying that he "was being interviewed this morning".
* Alarm bells*
So no, of course Leo didn't say this, despite the story being picked up by various Irish entertainment sites and newspapers.
The website also claims that Leo said these exact same words about women in Lorain, Ohio.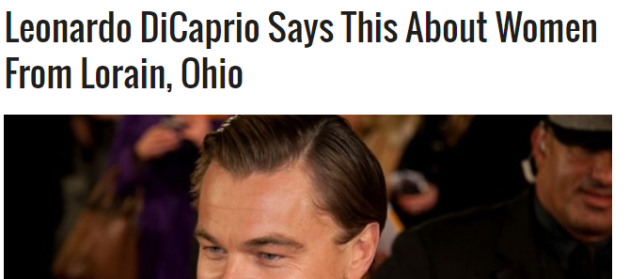 The cheek!
It appears this specific website caters their articles to your location, so it's a catch-all for your interests.
Johnny Depp apparently said the EXACT same words about women in Nanaimo, British Columbia.
The site itself has a pretty obvious disclaimer, stating:
ky12news.com is an entertainment website composed mostly of articles containing fantasy news or satire. Though some articles on ky12news.com contain actual events, none of the articles on ky12news.com should be considered true and are simply meant for entertainment purposes.
There are a couple of these sites out there, like Landrypost.com, who claimed Tom Hanks was praising Waterford a few months ago.
Surprise, he said the exact same thing about Minnesotians.
Snopes debunked the trend earlier this year, so safe to say, Hanks isn't mad about Waterford.
So there you have it, ladies of Limerick. Leo hasn't spoken about you, but we still think you're lovely.
DailyEdge is on Snapchat! Tap the button below to add!