A LEOPARD SPARKED panic in a north Indian city when it strayed inside a hospital, a cinema and an apartment block while evading captors, an official said Monday.
Authorities closed schools and colleges in Meerut, 60 kilometres northeast of the Indian capital, after the leopard was discovered prowling the city's streets on Sunday.
"Despite our best efforts, we have been unable to track the leopard down. We have launched a massive hunt for the beast," said additional district magistrate S.K. Dubey.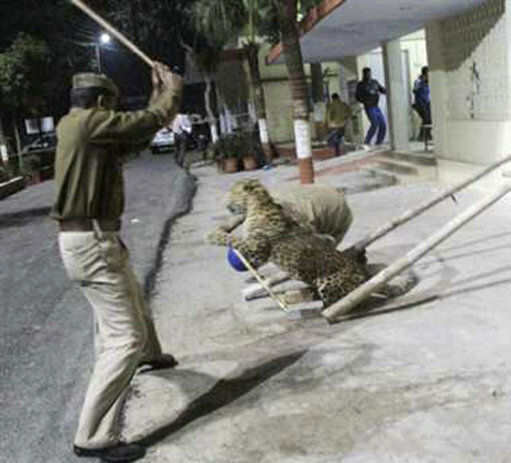 AP / Press Association Images AP / Press Association Images / Press Association Images
The cat was found inside an empty ward of an army hospital on Sunday before wildlife officers were called and managed to fire a tranquilliser dart into it, Dubey told AFP.
"But despite that he managed to break through the iron grilles and escaped. He then sneaked into the premises of a cinema hall before entering an apartment block. After that we lost track of the cat," he said.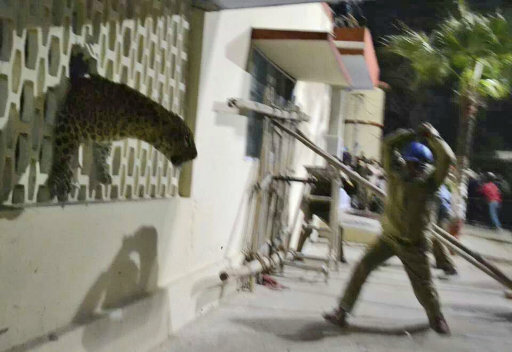 AP / Press Association Images The leopard pushed its way through a lattice wall at the hospital as a policeman in riot helmet, stood ready to hit it with a baton. AP / Press Association Images / Press Association Images
Authorities have urged the closure of markets in the city of 3.5 million until the animal, which has left six people injured, was captured, according to the Press Trust of India.
Police, soldiers and wildlife officials were trying to hunt it down but their efforts were being hampered by large crowds keen to catch a glimpse of the cat, PTI said.
AFP news agency