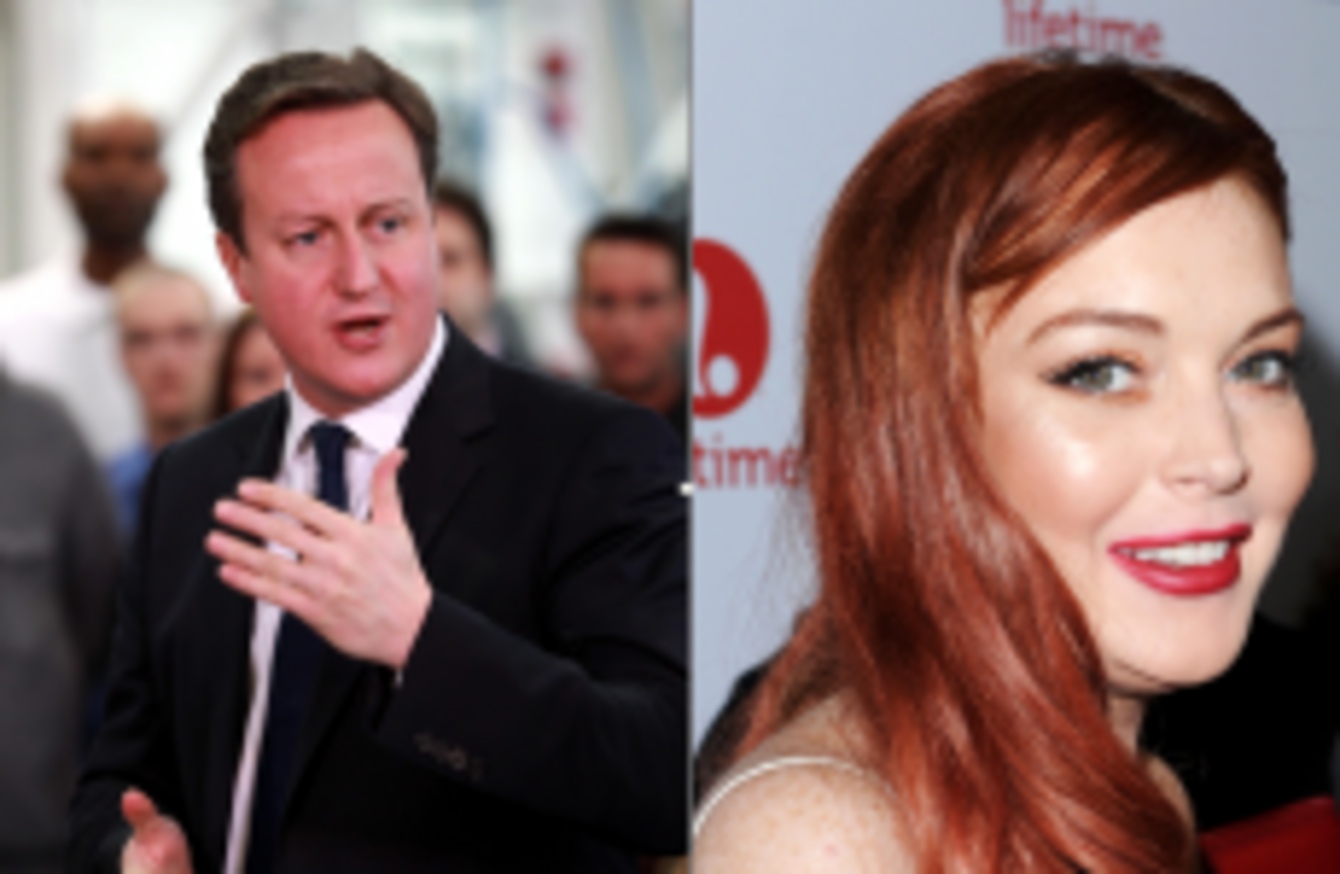 Image: David Jones/PA Wire - Vince Flores/AFF/AFF/EMPICS Entertainment
Image: David Jones/PA Wire - Vince Flores/AFF/AFF/EMPICS Entertainment
EVERY WEEKDAY MORNING, the Daily Edge rounds up the best of the day's celebrity dirt – from the top to the very bottom. Here's The Dredge.
#NOT WANTED In a toe curling series of events, Max George from British boyband The Wanted has called Lindsay Lohan a "groupie", just as she tweeted a picture of herself holding his hoodie with the message "missing something?". (Mirror)
Remember when Lindsay got into that scrap last month in New York? Well that was over Max. Since then she's been hanging around with the band and travelled on their tour bus for a while.
We don't know who we're more embarrassed for… him for being a prat, or her for being a prat.
Hmmm, actually, it could be a match made in heaven. Watch this space.
#POP FACTOR? David Cameron doesn't know the difference between Pop Idol and X Factor, and also doesn't seem to know when his daughter was born.
He's said that his daughter Nancy once made him vote for Will Young to win the X Factor. (Telegraph)
Couple of things Dave:
Will Young was never on the X Factor, he was on Pop Idol
Will Young won Pop Idol in 2002, two years before Nancy was born
X Factor has only been going since 2004
Will Young. Never voted for by Nancy Cameron. (Nigel French/EMPICS Sport)
#DREGS This year's X Factor winner James Arthur has said that he was a "dreg of society" before he went on the reality TV show.
Arthur says he used to steal food and sleep on park benches, and that he spent his life getting "wasted". (The Irish Sun)
Meanwhile James' dad has said that he had a good old cry when his son was revealed as the X Factor winner (Scottish Daily Record) and rumours abound about Arthurs' relationship with Xtra Factor 'hottie' Caroline Flack. (Daily Mail)
James Arthur, from dreg of society to writing songs for One Direction… (Owen Humphreys /PA Wire)
And the rest of the day's dirt…
Want to see Kim Kardashian in her smalls… again? Here you go (Daily Mail)
Ridey actress Emma Stone says she has suffered from an from pretty awful spots in her time. See? She's not perfect. (She is perfect. Call us Emma)
Brian (neé Bryan) McFaddden has apologised after coming under fire for some tweets about domestic violence (NineMsn)
Beyoncé has signed a €37 million deal to be the face of Pepsi. THIRTY SEVEN MILLION EURO! (Irish Sun)
Demi Moore's daughters are said to be concerned about her bizarre behaviour. She showed up at a BBQ in Miami recently with a stray cat. (Radar Online)