IF YOU'VE ever driven through Dublin 8, you've likely passed this eye catching piece of street art.

Live & Love was created by street artist Maser and commissioned by mental health arts festival First Fortnight in 2013. It was erected on Kevin Street in January 2013, where it remained until this morning.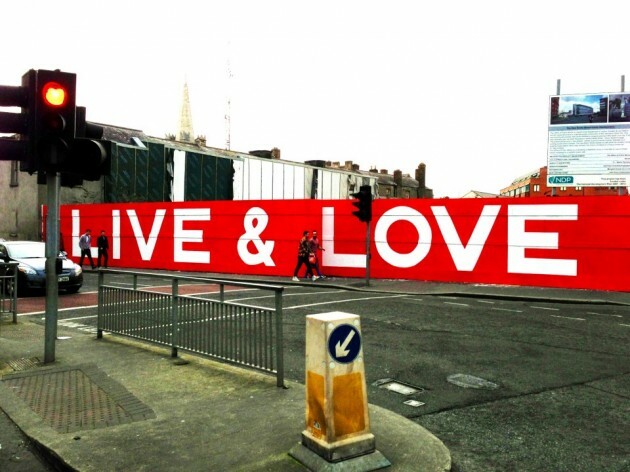 Maser / Facebook Maser / Facebook / Facebook
This photo shows how the piece has now been dismantled and taken down due to construction work that appears to be taking place on the site.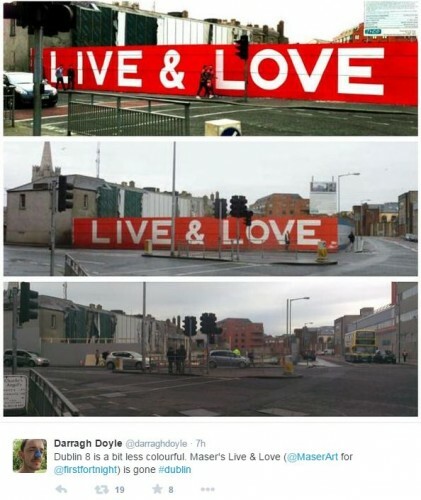 Darragh Doyle / Twitter Darragh Doyle / Twitter / Twitter
Today, JP Swaine of First Fortnight confirmed that the piece had been "sadly taken down".
The festival's co-founder stated that the aim of Live & Love was to force members of the public "stop and think about their mental health".
It was clear that the public fell in love with the piece as intended — Swaine writes that the piece remained intact even in instances of bad weather, largely thanks to the generosity of the public.
Even when high winds got the better of the hoarding, members of the public gathered spontaneously to put the piece back together such was the attachment to the big red wall with the high white letters.
Despite everything, Swaine was careful to note that people shouldn't mourn its loss.
Instead, he suggested that they seek comfort from the fact that it remained in situ for so long.
In cynical times, it is good to know that a bunch of volunteers who run a mental health arts festival, persuaded both the Gardai and the Office of Public Works to allow large scale graffiti in the centre of town all in the name of better mental health in Ireland. Keep living and loving.
"Keep living and loving."
<3