HAPPY MELODRAMA DAY!
This morning, Lorde released her latest album, Melodrama, and solidified her status as the most infuriatingly cool 20-year-old on the planet.
And now everyone is wondering the same thing: how can I become best friends with Lorde?
Sure, she was born in 1996 (*turns green with envy*) but she's cool and mature!
So cool and mature that some people didn't believe that she was born in 1996. (Lorde birthers were a thing, you know.) After all, how could someone so young be so poised and sound? But she is!
She's of Irish descent!
Fun fact: Lorde's real name is Ella Yelich-O'Connor. Sure, she's practically one of the lads.
The Hairpin The Hairpin
She's an onion ring connoisseur!
Earlier this week, Lorde was unmasked as the person behind an Instagram account named @onionringsworldwide, which was devoted to reviewing and rating onion rings. This is the kind of social media content we can get behind.
amy amy
She's not afraid to eviscerate people who diss her mates.
In 2014, Diplo shared a Kickstarter to "get Taylor Swift a booty".
*eyeroll*
And here was Lorde's response…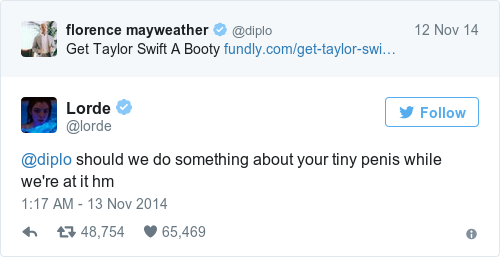 Well played, girl.
She was able to shut down creepy interviews at the tender age of 17.
Case in point? The time she shut down a shock jock who made weird references to her friendship with Taylor Swift.
stuff.co.nz stuff.co.nz
She's not afraid to embrace her acne.
She might be a massive pop star, but Lorde is as susceptible to problematic skin as the rest of us. And she's not afraid to show it.
She once wore a cast to the Met Gala and got people in attendance to sign it!
Imagine being pals with Lorde and the parties you'd get to go to.
She's humble and down to earth!
This tweet :')
Goddamnit, we'll never be as cool as her.
DailyEdge is on Snapchat! Tap the button below to add!