Welcome to Skin Deep with Louise McSharry, my opportunity to put years of obsessing over beauty products and techniques to good use. I won't tell you something is good if it's not. I won't recommend products I haven't actually tried. As the magical sitar in Moulin Rouge said, I only speak the truth. 
I've had a rough couple of months, in the way that we all have a rough couple of months from time to time. Nothing major, just enough shite to deal with that you don't really feel like yourself and can't be arsed with anything that isn't sitting on your couch in your pyjamas.
For a while there I was finding it hard to wash my face in the evening, let alone put on makeup, so when I had an occasion to dress for this week I decided to push the boat out and try something new. I knew, deep down, that putting on makeup would make me feel better as it always does. I find the process very soothing, and the result gives me a little boost.
You know yourself, if you're feeling rough, and you look in the mirror and you're looking rough, it's hard to pull yourself out of it. If you're feeling rough, but you're looking great, you can just about fake it 'til you make it!
I was right, a full face of slap, carefully applied, did the trick. Having said that, this look doesn't take long. It doesn't need many products, and it doesn't require too much skill. The result, though, is impressive.
This makes it the perfect look for party season, when we all find ourselves in the jacks at work trying to pull something together/doing our makeup at the last minute because we're still hanging from the night before. I'm talking about a halo eyeshadow.
The mechanics of a halo eyeshadow look are simple. You are creating dimension by placing a light colour in the centre of your eyelid and surrounding it by darker shades. The result is a smokey but ethereal effect, which opens your eyes up rather than making them look smaller, as many dark eye makeup looks do. What colours you use are up to you, but a matte darker shadow and shimmery lighter shadow (or even a highlighter) are best.
For this look, I started with my eyes, as I knew it might get messy.
I looked at shadows I already had, and chose the shades Punk (a dark, matte, warm brown) and Big Sky (a shimmery light green), from the Urban Decay Born to Run palette. These happen to be the colours I had to hand, but whatever dark, matte shadow and light shimmery one you have will work. I don't always use a primer on my eyes, but on this occasion I applied a little concealer to my lid before applying to ensure even application, and then began applying Punk. Using a dense, flat eyeshadow brush I packed on the colour on the inside and outside of my eye on my upper lid and on my lower lash line, leaving a gap in the middle where Big Sky was going to go. I then used a fluffy blending brush in a circular motion to blend out the edges of the shadow. At this stage, it looked a little messy. That's ok! This isn't a perfect look, it's a little messy and murky, and can be evened out at the end if it's too much for you.
Next, I applied Big Sky to the centre of my eyelid and below my lower lash line, where I'd left a gap. I used my finder to pat on product until I was happy with the colour, and then used the same blending brush to slightly blur the transition between the two colours.
Finally, I lashed on loads of mascara, and a little black eye pencil along the waterline to complete the eye look. It really is a simple matter of optical illusion. The brightness of the centre opens the eyes up and makes them look bigger, and the smoke give it a bit of glamour. Two colours, lots of blending and a bit of shimmer.
For the rest of my face, I kept it simple. I applied Glossier Stretch Concealer in Light over the bits of my face which required help using a Heavenly Luxe No 7 brush from It Cosmetics, before dusting It Cosmetics Poreless Powder over the bits of my face I like to keep matte.
My blusher is Rimmel Maxi Blush in Third Base, and I used Charlotte Tilbury's Filmstar Bronze and Glow to lightly contour and highlight.
I like a dark enough brow with a dramatic eye, so I used some brow pomade (mine is discontinued, but any will do) and brow mascara to fluff them up. Finally, I used my favourite new nude lipstick, Shiseido's ModernMatte Powder Lipstick in Whisper. (I am borderline obsessed with this. It is incredibly light and comfortable, but delightfully matter. The shade is perfect for fair skin, despite me initially thinking it looked a little brown in the tube. Speaking of the tube, it's beautiful, and magnetic, in the way that all of my favourite lipsticks are these days. I can see myself buying it one hundred times.)
I can't encourage you enough to give this look a go. You probably already have products which will work for it, and even if you're not happy with it the first time, you'll probably get there the next time. Take the time to enjoy your makeup, if it's something that makes you feel good. You deserve it.
New Product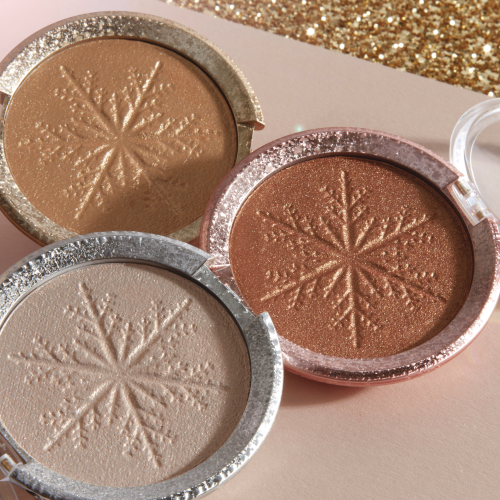 Penneys' P.S… Beauty range has been batting well above its average over the last year or so, with trend-driven cosmetics which pack a punch but don't break the bank. It's no surprise that it's continuing to deliver with its Christmas collection. From glitter liquid eyeshadows to beautiful palettes, you could easily get yourself a full party look for the price of one palette from another brand. My faves are the highlighters, both powder and liquid (€4-5), which are absolutely beautiful and just as good as some high end options. Don't forget that the entire range is Leaping Bunny certified too, meaning it's truly cruelty-free.
Want to get a notification every week when Skin Deep is published? Of course you do! Just send us a WhatsApp saying 'Skin Deep' to 083 8120901, and add our number to your contacts as DailyEdge. (If you don't add us, we can't message you :( ) We'll never spam you or share your personal details with anyone, and you can unsubscribe at any time.
DailyEdge is on Instagram!