LOVE HAS OFFICIALLY gotten out of hand. A bridge in Paris partially collapsed on Sunday as a result of thousands of romantic padlocks.
Since 2008, The Pont des Arts has been a bridge thousands visit every year to attach a symbolic lock containing their names to the railing, before throwing the key into the Seine. Police were forced to evacuate the area after 2.4 metres of railing collapsed under the weight, according to AFP.
But WHY?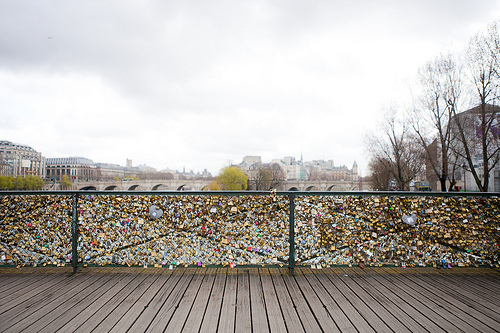 Flickr The Pont des Arts bridge Flickr
So… what are love locks?
Not to be confused with the Locks of Love hair donation charity, Love Locks are padlocks that couples lock to a structure to symbolise their unbreakable love. Think of it as a kind of modern tree-carving or scribbling on a school desk. Bridges are the most popular places to attach a lock as lovers can throw the key into the river below to show that their love is now out of their control but can never be broken.
arripay arripay
Why is this a thing?
The custom is said to have originated from a Serbian tale surrounding World War I. A school mistress named Nada fell in love with a Serbian officer, Relja. He soon went to war in Greece and fell in love with a woman from Corfu, breaking off his engagement to Nada, leaving her devastated. She eventually died of a broken heart. So the story goes, young girls from her village Vrnjačka Banja, started writing down the names of their loves on padlocks and putting them on the railings of the bridge the two lovers used to meet on, in an attempt to secure their own relationships.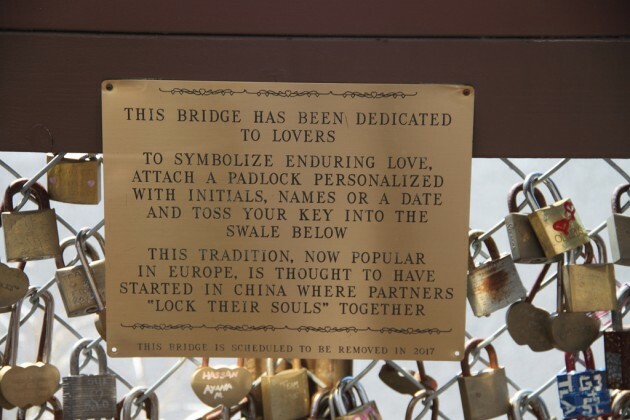 ArturoYee A California railings erected especially for Love Locks ArturoYee
How did it spread?
The custom began to spread all over the world in 2000. One of the largest and earliest sites is in China, with Mount Huangshan being one of the most popular spots to hang a padlock. Mount Huanghan is a majestic climb, with the tradition being that if lovers put a lock on the railings and then throw the key into the abyss below, it can never be broken. Their love is also thought to be blessed by Yue Lao, a Chinese God for relationships and marriage.
Squnches Huangshan, China Squnches
In Rome, the bridge Ponte Milvio became a sanctuary for love padlocks, inspired by the book Three Meters Above the Sky by Italian author Frederico Moccia. During a popular scene, two teenage lovers write their names on a padlock and attach it to a Ponte Milvio lamppost, throwing the key into the Tiber River below.
What's on the lock?
Locks can be engraved by many many professional Love Lock retailers, or simply drawn on with a permanent marker. They can be as fancy or plain as the lovers please. They can even be celtic.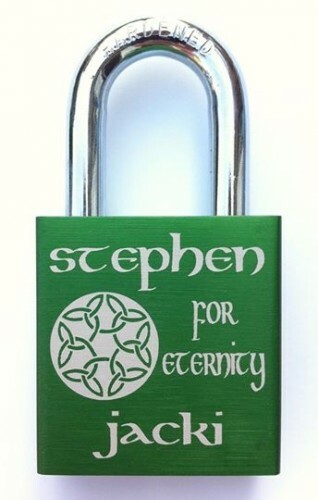 LocksOfLoveEngravedPadlocks LocksOfLoveEngravedPadlocks
Have they made it to Ireland?
Why, yes. A few began to pop up on the Millennium and Ha'penny bridges, but were removed in 2012 due to fears they could cause damage to the protected structure. That's not so unfounded now, it seems. However, a few strays can still be seen on bridges all over Ireland, but none has become a traditional hub.
infomatique infomatique
They sound sweet. Why are they being destroyed?
As evident by the collapse in Paris, the locks have the potential to damage bridge structures with their weight, as well as causing further damage with bolt cutter removal if they are forced to be removed. Almost all of the locks were removed from the Pote Milvio in 2012 after fears of a collapse.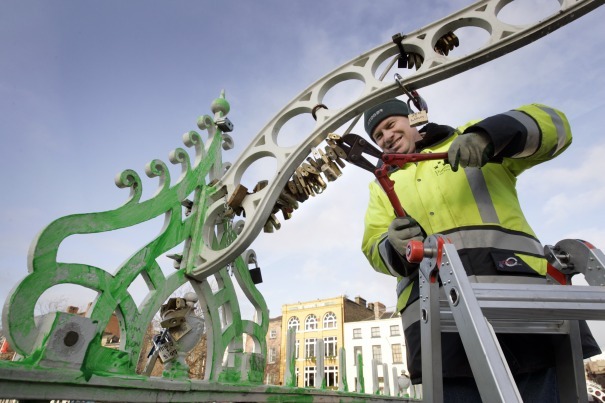 Photocall Ireland! Photocall Ireland!
In many cities, the locks are also considered vandalism and an unsightly addition to the city's landmarks, but areas such as Bamberg in Germany have left the locks to rust after public outrage at their intent to remove them.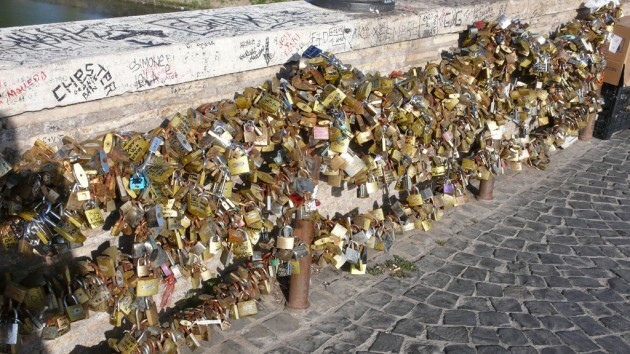 kvanhorn Ponte Milvio, Italy. On September 2012 the authorities decided to remove all padlocks by force. There was an increasing risk that the bridge would collapse under the weight kvanhorn
Unbreakable love? Maybe not so much.