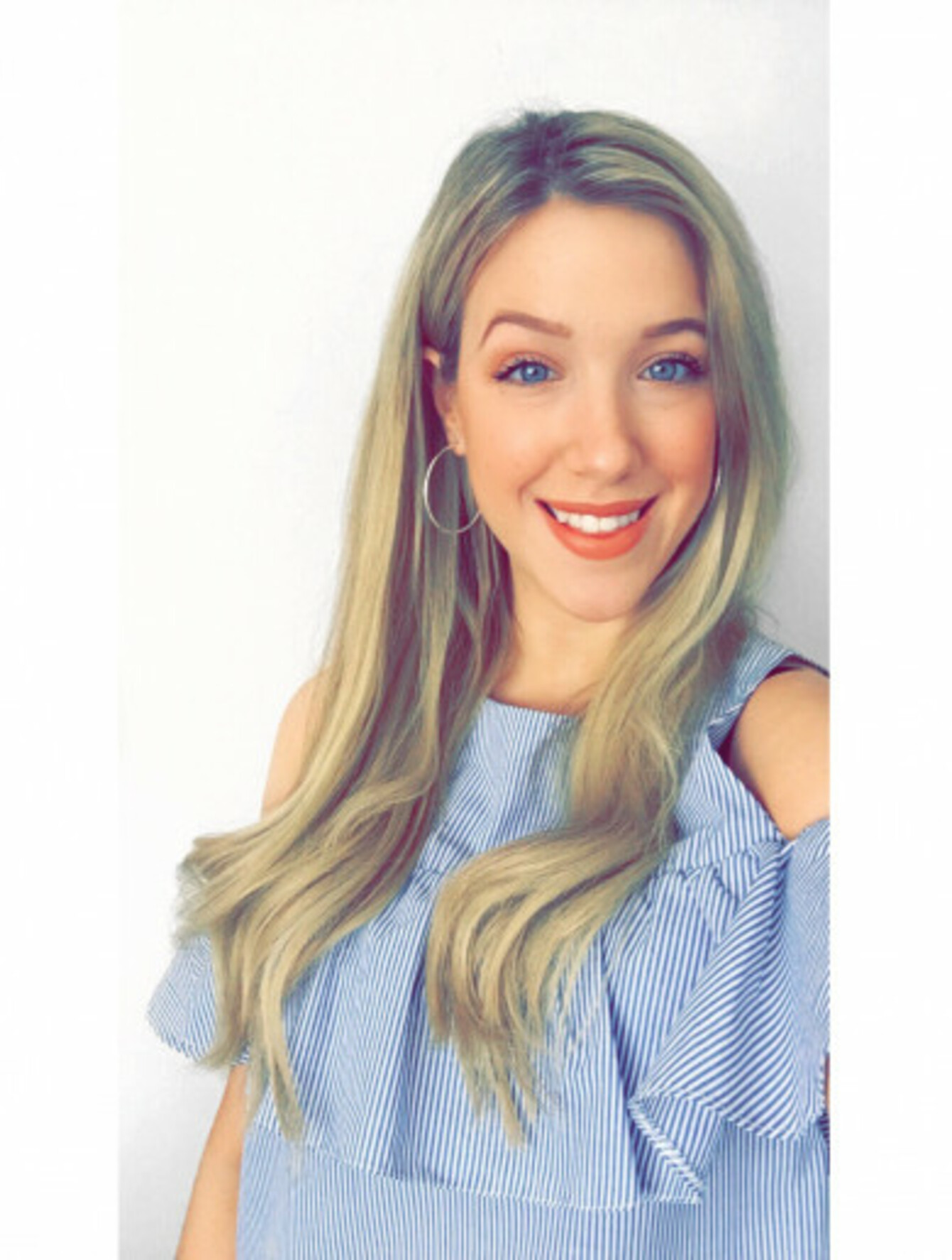 Each week, we'll be taking a peek into some of our faves' makeup bags to see their must-have products, because we're nosey. This week, it's the turn of Amy Mulvaney, journalist and blogger at What She Does Now (www.whatshedoesnow.com)
Her earliest makeup memories
"Like a lot of people, my earliest makeup memories come from my mam. She had a beautiful wooden dresser and a carefully curated collection of makeup, and I was always so intrigued by how she used it. She had a very natural but glamorous makeup look, and I used to love sitting and watching her as she got ready and, as I got older, 'borrowing' her expensive lipsticks and foundations.
I used to beg her to let me use her Clinique foundation, paired with blue mascara I bought in Superdrug. Needless to say, it wasn't a great look.
"My mam was very beautiful with and without makeup, so I suppose I learned from her that makeup is a way of enhancing your face, and it doesn't have to be a necessity. As I got older, I grew to experiment with makeup more and tried to replicate makeup tutorials on YouTube. "Now, I've grown into a fully fledged makeup junkie and have a collection that's a bit on the larger side. It's not hugely extensive, but there's definitely a bit more than one person needs. I've tried to reel in my makeup shopping tendencies over the past year, so now I only own products I know I'll get the use out of."
Her signature look
"I've had a terrible time with my skin recently, so I've come to appreciate makeup more than ever for the confidence it gives me. "Usually I keep it pretty simple; foundation, concealer, powder, cream highlighter, bronzer, eyeshadow, brows, mascara and lipstick. Although, now I list it like that it doesn't sound so simple! I can get my makeup done in 10 minutes, but if I've more time I can spend up to an hour and really enjoy the process."
Her makeup bag
"If I'm on-the-go I use this super cute avocado-print makeup bag I picked up for a fiver in Penneys. It's a decent size so I can fit skincare and a hairbrush in too.
"The NARS Sheer Glow foundation is by far the best I've ever used, nothing matches up to it. Despite the name, it gives really good coverage while still looking natural. The Collection Lasting Perfection concealer is super cheap and amazing for under-eye circles, I must have gone through dozens of these by now."
"At the moment I've quite a few spots and blemishes to conceal, and nothing does a better job than the Catrice Camouflage Cream concealer. Again, it's super affordable and lasts really well."
"Thanks to all of the concealing I do, powder is essential. A light sweep of the NYX Stay Matte But Not Flat Powder Foundation usually does the job at keeping me shine-free for the day. I use Real Techniques brushes that I've had for years to do my base makeup, they're super affordable and I prefer them to some high-end versions."
"I'm obsessed with Physicians Formula Butter bronzer – it smells exactly like holidays and gives such a nice, natural warmth to my very pale face."
"I usually skip blusher and go straight for cream highlighter. MAC Cream Colour Base in Hush gives a really nice highlight without being too dramatic. For a night out, I put The Balm Mary Lou Manizer on top and, bam, a glow you can see from space.
"Soap & Glory's Archery brow pencil is probably the best eyebrow product I've ever used. My brows are quite thin and fair, and this fills them out in less than two minutes. It also has a brow gel at the end, which is really handy for keeping them in place."
"Despite promising myself I wouldn't buy it, I recently bought the Urban Decay Naked Heat palette – and I'm so glad I did. The colours are so easy to wear and the pigmentation is insane. When I'm in a hurry (a.k.a. most days) I just sweep one or two of the colours over my lid and into my crease with a blending brush from Blank Canvas."
"The Charlotte Tilbury eyelash curler is expensive, but does an amazing job at keeping my otherwise straight lashes lifted and curled all day, although the Lancome Hynose Drama Mascara definitely helps. It's pricy, but the bottle lasts ages and it's totally worth it."
"I always keep MAC Liptensity lipstick in Doe in my handbag, it's super creamy but has great colour payoff and is really long lasting.
"That may sound like a lot of steps for day-to-day makeup, but I've gotten quite speedy at doing it so I still have time to scroll through Instagram before I leave the house – priorities, am I right?"
DailyEdge is on Snapchat! Tap the button below to add!