Each week, we'll be taking a peek into some of our faves' makeup bags to see their must-have products, because we're nosey. This week, it's the turn of makeup artist Serena Elliot. You can follow Serena on Instagram here.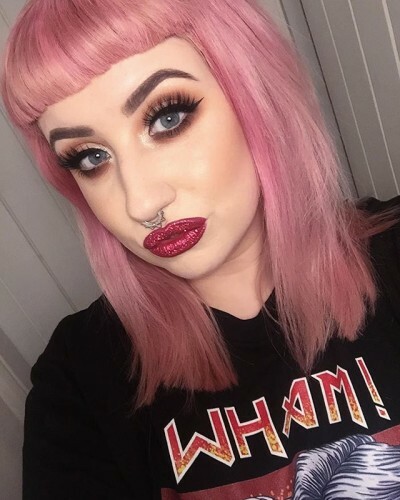 Her earliest makeup memories
"My mam is beautiful and effortlessly glamorous, and when I was small I wanted to grow up to look like her.
I always remember her collecting Clinique sets and letting me play with the mini samples. I used to tease her for wearing brown lipstick but these days I love an earthy-toned lip!
"As a teenager, I took my makeup inspiration primarily from Helena Bonham Carter as Marla Singer in Fight Club. I was obsessed with her pale skin, heavily shadowed eyes and sunken contour, and I layered matte brown eyeshadow from Natural Collection around my eyes to mimic her eye bags! To be honest, while my look has matured it hasn't really changed and I still love heavy grunge-inspired eye looks.
Her makeup bag and what's inside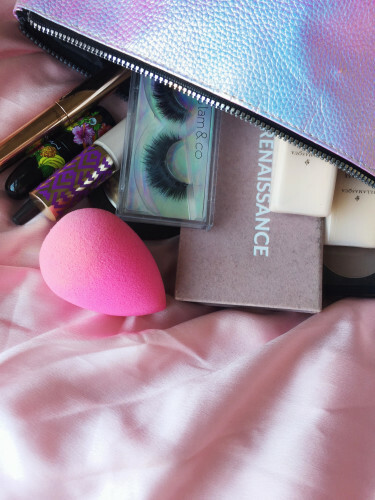 "I'm not particularly loyal to foundations and I'll go between MAC, Makeup Forever and Nars, but my all-time favourite is Illamasqua Skin Base. At the moment I'm mixing equal amounts of my winter (SB02) and summer (SB06) shades. I love skincare so I layer a lot of products under my foundation to look as glowy as possible, and Skin Base really complements that.
"I've yet to find a sponge that rivals the original Beauty Blender, it's expensive but it blends foundation so seamlessly. In terms of brushes, I use a lot of MAC in my kit but I go to Zoeva for my own use.
"I'm always looking to try new releases in concealer and the newest product in my collection is Tarte Shape Tape which my best pal sent me over from New York. It's a thick, creamy consistency which offers a lot of coverage and it makes a great eye base too.
"I have a custom MAC palette for contouring and 'Baby Don't Go' is my favourite shade for daily use. It's a nice neutral tone which is great for adding depth to my cheeks and toning down the pastiness of my skin!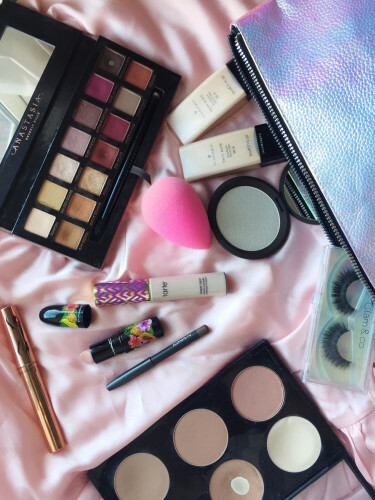 From top left - Anastasia Beverly Hills Modern Renaissance palette, BeautyBlender, Illamasqua Skin Base, Glam&Co lashes in the style 'Calabasas', MAC custom contouring kit, MAC lipliner in 'Stone', MAC lipstick in 'Calm Heat', Charlotte Tilbury , Tarte Shape Tape concealer
"Becca's Pressed Shimmering Skin Perfector is definitely my favourite highlighter formula, it has such a beautiful wet-look finish. I've already gone through an entire compact of the shade 'Pearl'. I'm lucky to have a boyfriend who is great at makeup shopping and he bought me a replacement for Christmas!
"I go dramatic for nights out and I normally wear really heavy glittery drag-inspired eye makeup. For every day, though, I like to wear a grungey look on the eyes, using warm tones to contour my lid and wrapping it underneath for smokiness. On a daily basis I use 'Raw Sienna' and 'Cypress Umber' from the Anastasia Beverly Hills Modern Renaissance palette to achieve my Marla Singer look!
"I can take or leave any mascara and I really don't have a preference, but I can't leave the house without false lashes on! My favourites are from Irish brand Glam&Co in the style 'Calabasas' (honourable mention for the style 'Anna' too), they're so full and fluffy and they last really well.
"I love a fluffy, brushed-up brow for everyday and to achieve this I layer the Charlotte Tilbury Legendary Brows to keep them in place. It has a really tiny brush so that you can be a bit more precise.
"Stone lip pencil by MAC has been my ride-or-die for a few years now! It has a retro grey-brown undertone and it's a great shade for over-drawing the lips. I always wear a nude and my favourite lipstick at the moment is 'Calm Heat' from MAC's Fruity Juicy collection (SS17), but it was limited edition so I'm going to need to find an alternative soon!"
L-R: MAC lipstick in 'Calm Heat', MAC lipliner in 'Stone'
DailyEdge is on Instagram!