EACH WEEK, WE'LL be taking a peek into some of our faves' makeup bags to see their must-have products, because we're nosey. This week, it's the turn of fashion micro-blogger Sarah 'Flozey' O'Brien (Sarah Floz Style File). You can follow her on Instagram here.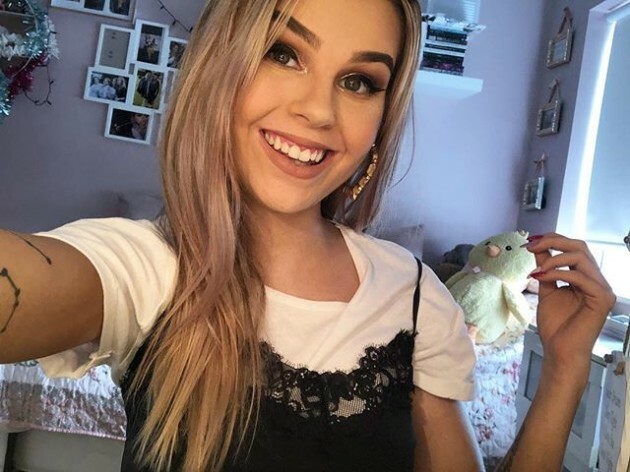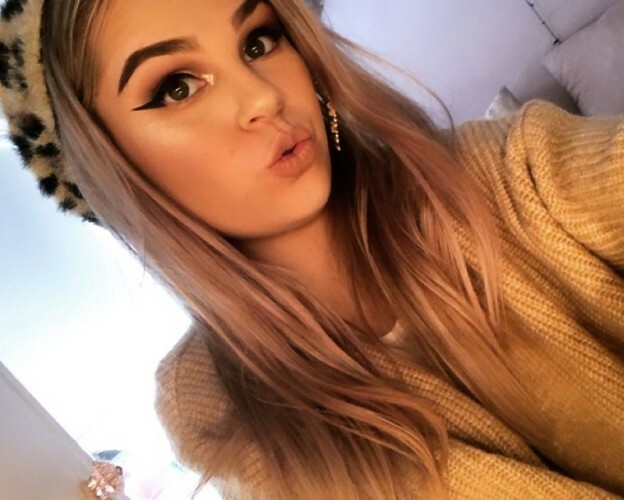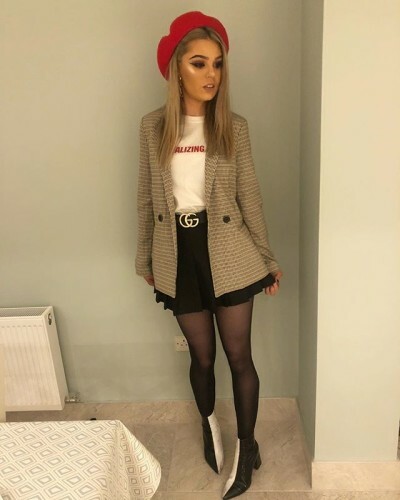 Her earliest makeup memories
"My earliest makeup memory trails back to 2003, when my babysitter gave me her old bits and pieces of makeup.
I arrived into school the next day with a plastic trio of mascara, lipgloss and blusher, thinking I was the coolest cat in town – only for it to get confiscated within ten minutes of me showing it off.
"From then on I was hooked; once I got to secondary school it was all about Dream Matte Mousse and Essence concealer sticks as lipstick. Luckily as I got older, my tastes changed and I've been rocking a strong brow and a winged liner every day for almost eight years."
Her makeup bag and what's inside
"Excuse the state of my makeup bag, it's not very often I use one!"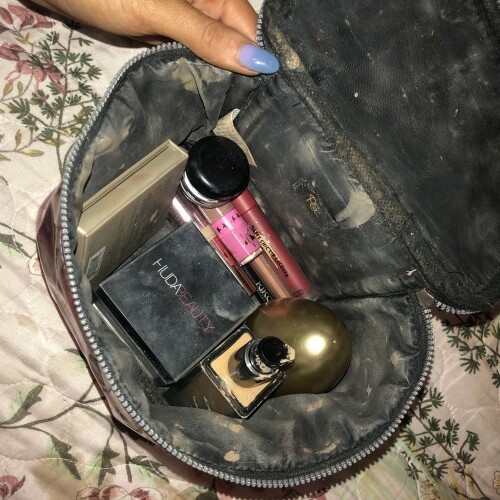 From top left clockwise: KIKO eyebrow gel, Tony Moly primer, P.S. Brunch Club highlighter, Huda Beauty Faux Filter foundation, Huda Beauty Easy Bake powder, Makeup Revolution Conceal And Define concealer, KIKO Ultimate Pen eyeliner, Etude House liquid lipstick in 'Irene Red', Huda Beauty liquid lipstick in 'Day Slayer' and Jeffree Star liquid lipstick in 'Celebrity Skin'.
"I never believed in primers until I tried the Tony Moly 'Egg Pore' Silky Smooth Balm. K Beauty is not just sheet masks – this stuff is to die for! I'm already writing my excuses for customs when I return from Korea next summer with five or six of these!
"If there's a full coverage foundation out there, nine times out of ten I have tried it. My personal favourite is the Huda Beauty Faux Filter foundation. The coverage is gorgeous, even with the smallest amount, and they have a huge shade range too so there's something for everyone. Also, I would risk it all for the Easy Bake powder. One of the girls I work with says I am Huda's biggest fan and to that I say yes absolutely!
"When people ask me about makeup, the first brand I will recommend to them is Makeup Revolution. They've really come on leaps and bounds over the years with the quality of their products. Their Conceal and Define concealer is my ride or die and it's cheaper than a naggin – if that's not enough to sell you I don't know what is.
"A friend of mine once coined the term "Floz Brows": a good solid brow with a cracking arch and a skinny tail. I however credit that to the unofficial queen of Vietnam, Tina from TK Nails on Amiens Street. Once the tint fades, I rely solely on brow pomade – ain't nobody got time for carving out brows and that!! I love the Kiko Eyebrow Gel or the NYX Tame and Frame.
"I won't lie – I can wing a liner better than I can count. I've been doing wings since I was a wannabe scene kid in 2009 and wouldn't dare wear eye makeup without a strong wing on top. Essence's Waterproof Dipliner is one of my all time fave products, but I'm currently trying the Kiko Ultimate Pen Eyeliner and I think I like it equally as much!
"Penneys Beauty has some of my most favourite products of all time, from their brushes to the SoSu by Suzanne Jackson line of lashes. But the product to end all products for me is the 'Brunch Club' highlight. It. Is. Everything. (P.S. – Penneys people, if you're reading this – please bring back the Jelly Primer and the gold glitter from the Kpop Collection!)
"My final makeup staple is a good liquid lipstick. I genuinely have not worn a regular lipstick since they came about, I just can't go back to them! I have three all time favourites – 'Day Slayer' by Huda Beauty, 'Celebrity Skin' by Jeffree Star and 'Irene Red' by Etude House.
DailyEdge is on Instagram!