YouTube YouTube
LAST FRIDAY EVENING, police were called to a basketball court in Seattle to free a man who had gotten himself stuck upside down in a basketball net.
Did we mention that he had a hammer as well, for some reason? Because he had a hammer.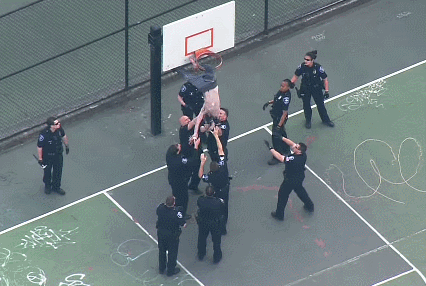 In this video from local news station KOMO, the man can be seen hanging from his feet from the hoop, writhing and generally being a nuisance to the many, many police who appeared on scene to help him.
So. Many. Police.
KOMO News / YouTube
Despite all those police, KOMO reports that it took ten minutes and two firefighters to free the man.
Seattle Police aren't above cracking jokes about the situation though:
We have so many questions:
Why did he climb

up into

the hoop?

Why is he flailing and thrashing so hard?
How come he brought a hammer?
Please let us know, Hoop Man.