LARRY SWILLING IS not a man who gives up easily.
Last year, 78-year-old Larry walked the streets of Anderson County, South Carolina in an attempt to find a kidney for his beloved wife, Jimmie Sue.
With a sandwich board over his shoulders simply saying 'Need Kidney 4 Wife', Swilling spent a year appealing for a donor using any space he could find. His wife of 57 years was born with only one kidney, and that had begun to fail.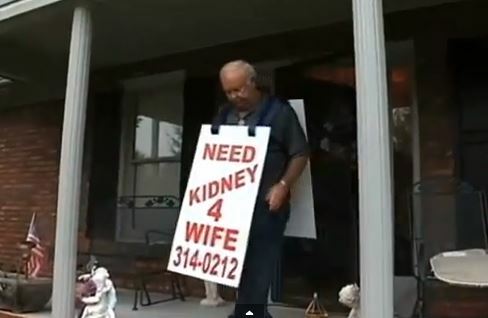 Speaking to CNN last year, a determined Larry said:
I love her more now than I believe when I married her, because, we're not two, we're one.
But fear not–there's a happy update to the story.
Despite hundreds offering to donate, they've finally found a match and Jimmie Sue could have a new kidney as early as next week.
Larry told Fox Carolina that he was so delighted with the news that he ran around telling anyone who would listen. But Jimmie Sue was always confident her husband would pull through.
I knew it was going to happen because I know him. He wouldn't have stopped until he got me one.
The couple were bombarded with tens of thousands of calls since Larry's search began last year and he said he's extremely grateful to every single one of them.
Jimmie Sue is also proud of her husband for raising awareness of the desperate need for lifesaving kidney transplants, and argued that his sign should have prompted people to donate their kidney rather than specifically looking for his wife.
Today's Breaking News