I'M GOING TO level with you here – if you're looking for some kind of in-depth analysis on Brexit, backstops and Boris, you've come to the wrong place.
Could I have predicted the drama that would unfold shortly after booking tickets to see The Streets at Manchester's Apollo Theatre eight months prior though? Certainly not. Not that it affected me too much anyway, bar that I spent a lot of time tracking the pound's decline every time Theresa May so much as breathed.
Anyway, my boyfriend missed out on Mike Skinner's Dublin gig, and was keen to see him on this comeback tour of sorts. I don't remember there being much debate where we'd go when the Manchester date was suggested, himself having been many times before whereas I had not.
Planes, trains and automobiles
Ryanair flies out of Dublin, and Aer Lingus flies out of Cork. It goes without saying you will pay more for Aer Lingus. 
Putting a SkyScanner price alert on a Ryanair flight is all well and good, but only if you check it. I assumed we'd get returns for €30ish return, but chose to bode my time as judging by the face of my emails, it regularly went lower than that, much to the chagrin of my boyfriend.
However, these only ended up for being awkward flight times, i.e. a crack of dawn trip over on Friday and a similarly early jaunt on Sunday, leaving us with very little time. Flying out late January, we booked early January because of my insistence that we'd get a better deal. Please do as I say and not as I do and just book the f*cking flights well in advance. We paid €61 each for a return flight. Let's not even go there.
The new baggage limitations meant I was too much of a Paranoid Paula to toe the line or pay for priority, so I just brought a JanSport packed with my handbag.
Once we landed, we had a ten minute walk to the train station, before a 20 minute train ride to our hotel. It's all fairly well sign posted, and Google Maps will steer you in the right direction when it comes to advising on what you need to take to get your accommodation. (A single ticket cost us €4.80 each.)
Innside, I'm dancing
I let my boyfriend book the accommodation given that I was strictly in charge of our eating itinerary for the weekend. I was recommended a few places on Instagram, including Motel One.
He went with Innside Manchester in the end. Advertised as a 'work tripper' destination, it's 4*, has a wellness centre (not that you'd want anything to do with that on your holidays, but anyway), and is as central as you can get. 
If you book through their website, you can get Melia points (that's the hotel group they're a part of), which you can build up to spend on hotel services. Alternatively, book through booking.com and see if any of your fave influencers have a discount code for €50 off – Aoibhe Devlin (of The Secret Obsession) is great for sharing hers on her Instagram story.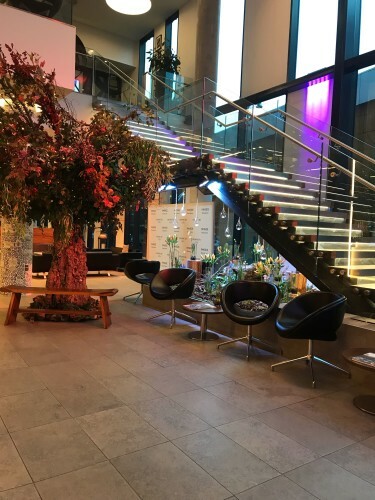 One part of the lobby of the hotel
The staff here were lovely, as was the room. I have to give brownie points because the mini bar was FREE (two waters and a Coke and Diet Coke, the thrill.) Breakfast is £15, which we actually availed of when we landed as it wasn't even 9am and there's nothing more appealing than a buffet at that time. As hotel breakfasts go, it was above average – you'd think I'd be tired of mini donuts given that I live in the European capital of them, but I'm not.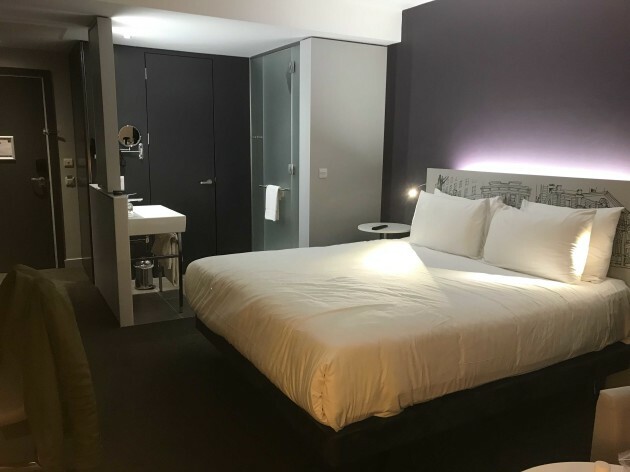 Our room
The only mildly annoying thing was the early check-in fee. The early flight knackered us and we didn't fancy halfheartedly doing touristy bits without a disco nap. With check-in time listed as 3pm, you can pay £30 to check in early – not the worst, certainly, but slightly aggravating when you know they have the room ready any way.
The beautiful game
After a snooze, we headed over to the National Football Museum – a 20 minute walk for us from our hotel (also very accessible via tram.)
My interest in and knowledge of football extends as far as me pretending to support Bayern Munich as part of a bizarre inside joke with myself that I don't fully remember starting. Regardless, I was told by several, non-sporty people that it was well worth a visit.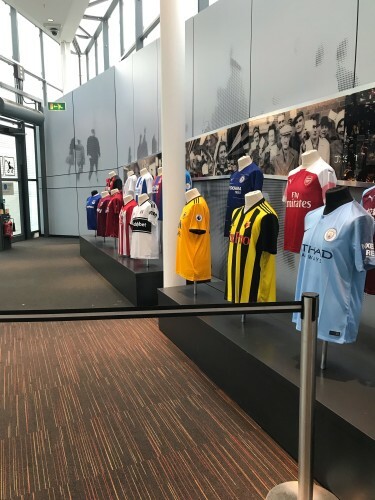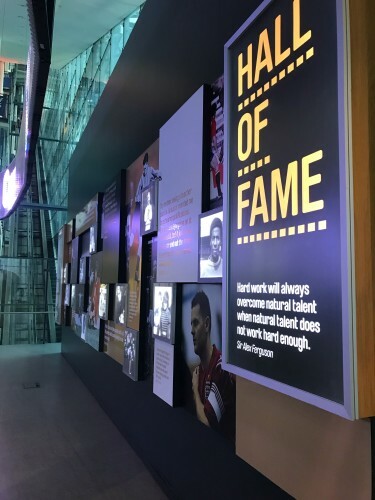 The Football Museum's Hall of Fame
There's loads of interactive games dotted throughout if you really can't bring yourself to get up to speed with the history of the assorted cups and crockery. I thoroughly enjoyed pretending to be on Match Of The Day with Gary Lineker, because I am a massive narcissist.
Having the time of my life pretending to be a commentator on Match Of The Day
A massive photo gallery of Stuart Roy Clarke's work takes up the top floor, providing fascinating look at the game on a local and national level from inside the turnstiles and beyond. We spent over an hour here milling around – my boyfriend who'd previously visited was impressed by the newer exhibitions. 
For me, the entire point of a holiday is eating at as many different locations as possible. Having two of the same meal is completely reasonable – in fact, it's getting your money's worth. With this mind, we went to Neighbourhood for pre-dinner – 'prinner', if you will.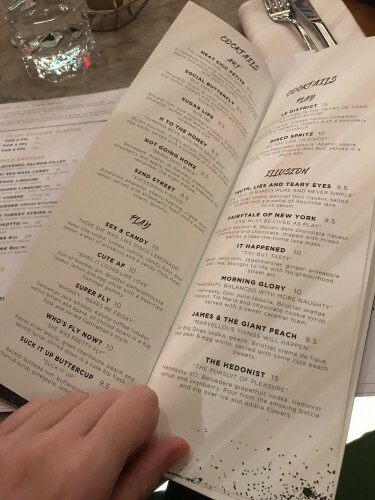 This is an Instagram wet dream decor-wise – all marble, neon lights and gold accents. It has an extensive cocktail menu (it was here I learned that they pretty much cotton candy on every drink in Manchester.) I went for pornstar martini (£9.50), himself got an 'It Happened' (£10), a concoction which tasted like liquidised biscuits – coming from me, this is very much a compliment.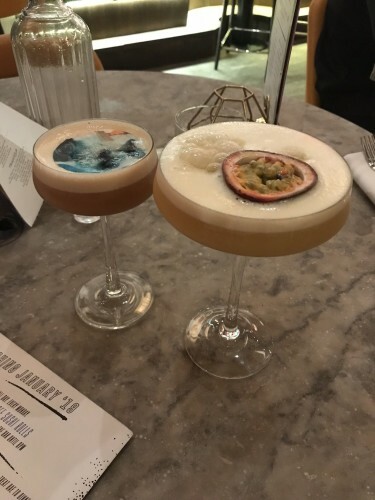 For eats, I ordered the Lil' Chick Burgers (£8) from the small plates menu. My bf went for chicken satay skewers. We shared broccolini and sweet potato fries (£4 each). It was all very tasty – I would love to go back for a slap-up meal in the future. (It's worth noting that it's 50% off your total food bill for the month of January too. You get little scratch cards at the end of your meal that give you offers on your next outing.)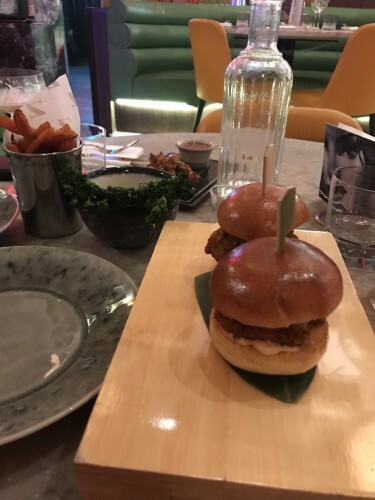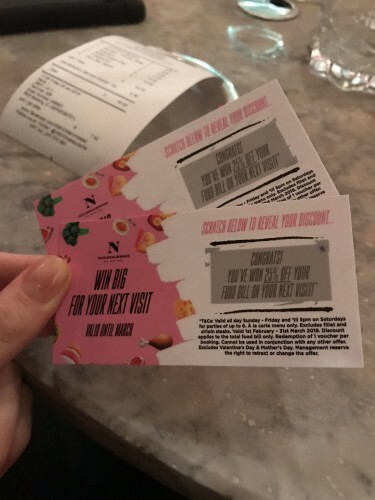 The scratch cards we got at the end
I was recommended Crazy Pedro's by a former local for its pizza. We are after something slightly fancier for my second meal, so we just opted for drinks. This is a definitely a 'post-work pints' place, so it was comfortably busy, with kitschy luchador mask artwork on the walls. I got a cocktail that was delicious and blew the head off me, while he settled for a Red Stripe. The two drinks came to £12.70 altogether.
I wasn't able to get an early dinner reservation for Fumo when I tried to book online, so I left it. However, it ended up being about 9pm by the time we hit the town for round two of food, so we chanced getting a table then. We succeeded after about a 10 minute wait. A buzz.
This place needs to be seen to be believed – it feels extremely luxe to the point where I was fearfully imagining my Revolut card melting in my pocket at the sight of it. However, Fumo were also doing 50% off for the month of January, and the way the menu's laid out makes it pretty reasonable. (You will end up arguing over whether the lights look like inverted mushrooms or arse holes, though.)
It's Italian tapas, essentially – you're advised to pick loads of plates of small things and share them. The menu advises 5-6 between two people. Obviously, as two Irish people, we panicked about wasting food and only ordered four, but we definitely could have gone for another two. We ordered the gnocchi special, spaghetti carbonara, mozzarella & 'Nduja piadina (flat bread, essentially) and Pugliese pizza. We finished with a lemon meringue pie and a baked cheesecake.
It was everything you could ever want in a roll out of carbs and cheese. The only let down of the evening was the drinks service – orders were consistently forgotten. First world problems, I know.
Altogether, the meal came to £53.31 including a gin and two beers.
Drinkin', dancin'
Albert's Schloss came highly recommended from a good followers on Instagram, who also told me that I was probably better off eating there and staying to enjoy the entertainment and be guaranteed a seat.
Reader, we did not do this (obvs) so we found ourselves rammed into corners or between other parties for most of the night (when we weren't up dancing, obvs.) There's an outrageously volatile atmosphere here, but if you're not someone who has a high tolerance for brashness, this is best avoided. (Check the free photobooth downstairs on your way out!)
We stopped in to one more place before heading home – the Peaky Blinders bar. Honestly? I wouldn't bother. You can't just blow up a picture of Cillian Murphy on a wall and call it a Peaky Blinders bar. Let's leave it at that.
Match day 
Before the gig, we decided to we'd make the most of the afternoon and go to a match. I'm all for committing to an experience, and if it meant I got a pie at half time, I was happy enough. He booked the tickets online for Manchester City v Burnley (£20 each) while we both prayed for goals so that sitting in the freezing stands wouldn't be in vain.
Before all that though, we went for breakfast in Home Sweet Home, a nine minute walk from our hotel. I made a reservation, which I would recommend doing if you're travelling of a weekend – people love brunch (and rightly so!) HSH also a vegan menu with unlimited refills on filter coffee before 12pm should you be so inclined.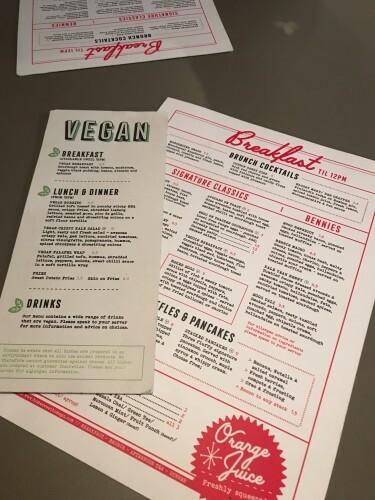 The breakfast menu at Home Sweet Home
I went for pancakes with banana, Nutella, and salted caramel and himself ordered the veggie breakfast. We ended up waiting about 30 minutes for our food, as we were told a large party had ordered before us. No matter – we weren't in any rush. In total, it came to £25.35, including coffees and hash browns that we split.
Pancakes, hash browns and a veggie breakfast
The Ethiad Stadium was a 10-minute taxi from the hotel, so we splurged to give ourselves a bit of time to get a drink before the game (£8.50 for the taxi). We were fairly high up, and thankfully covered as the heavens opened up during the second half. Man City fairly trashed Burnley as expected. I was mildly annoyed that Jeff Hendrick didn't score for the away side – Cian had put a £5 bet on it, so he did me out of smack-up dinner. Rude, TBH. (No matter though, I got my steak and kidney pie, which I think was £4?)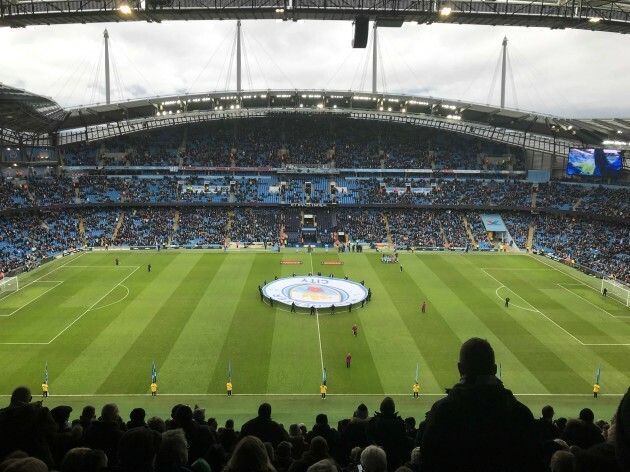 Manchester City v Burnley at the Ethiad Stadium
By the time ended, it was teaming. We could very easily have gotten public transport (hindsight remains a wonderful thing, ladies and gents), but we held out and flagged down an Uber (£15 back 'cause of the traffic.)
Given it was Saturday night, one of us should have had the brains to make a dinner reservation for one of the places I'd neatly lined up in my notes app. Did either of us, though? Of course not. Thus began a wild goose chase to find a place to eat before the gig. We walked 15 minutes to a place called Menagerie, which looks how I imagine the inside of the TOWIE cast's brain looks. For example, there's a bath filled with balls to get a pic in. Obvs.
We were politely told they were fully booked, so on we went on our merry way. nearby, Scene was also extremely busy, while the crowds in Slug and Lettuce were unpalatable. We settled on The Dockyard because we were under pressure for time – it's no frills pub grub that we both enjoyed (I ordered a chicken burger, himself got a vegetarian shepherd's pie, splitting sweet potato fries and onion rings.) However, the cleanliness of the place left a lot to be desired.
We got a cab to the Apollo and watched Mike Skinner encourage the crowd to throw their double pint glasses into the air and at each other for two hours – joyful, life-affirming experience. We didn't bother getting drinks here because the queues were like nothing I've ever seen – not worth it.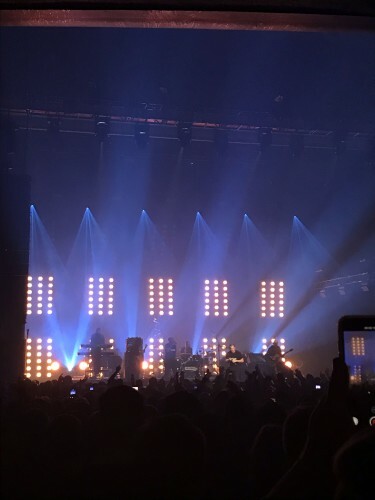 We accidentally got a bus back to town after (we were planning on walking the extra ten minutes or so, but we got caught up in a crowd singing), and headed for Jimmy's. Be warned that you will immediately feel intensely uncool upon entering. The clientale is made up of people emulating every style icon you ever had growing up going through your phases. Interior wise, it's not entirely dissimilar to a Cassidy's/Workmans lovechild, and the same can be said for the music – lots of Queens of the Stone Age, Arctic Monkeys and Duran Duran. We enjoyed.
This kicked off a mini pub crawl which next stopped at the Cane & Grain. Cain & Grain is made up of three parts – the main bar, the upstairs Tiki bar and a fancy sit-down cocktail joint called Science & Industry. We got one drink in Cane & Grain where I reminisced about the MTV show about former professional skateboarder Ryan Sheckler, before moving on to the boujee cocktail place. This is a really lovely spot, with a load of bespoke, interesting cocktail.
I got an Insect Hinges (£9.50) which was lovely and sweet. He got a Black Emerald (£9.50) – an espresso martini meets an Irish coffee. SO good.
Drinks menu at Cane & Grain
We then went on to Walrus, which was playing predominately hip-hop, grime and R&B – both to our tastes. Nothing I write here will adequate describe how the floor felt though Some parts were so sticky your feet would be immobilised, other parts would've seen you give JVN a run for his money on the ice.
Wanting somewhere more quiet to finish off, we headed to Convenience Store, a faux corner shop-turned-cocktail bar with drinks referencing episodes of The Simpsons. A buzz. (At this point, I had no idea what drinks were costing. I might as well have been hurling my wallet at the bar tender.)
So long, farewell
As a result of me breaking Dry January a week early, I was gifted an absolutely criminal hangover which meant we weren't up long before checkout. Armed once again with a list of brunch establishments as long as my arm, we eventually landed on Ezra & Gil, who's USP revolves around them stocking Barry's Tea.
It's a quaint little wood front gaff, with a doggy bowl out front for any four-legged visitors. Also, I'm convinced Gethin Jones was there, but was too scarlet to ask for a picture. I ordered the avocado on toast, a side of black pudding and bacon and a matcha latte, while himself got a full fry, a smoothie and a black coffee. Again, we were waiting for a bit but hey-ho, that's Sundays for you.
Altogether, it cost £25.50.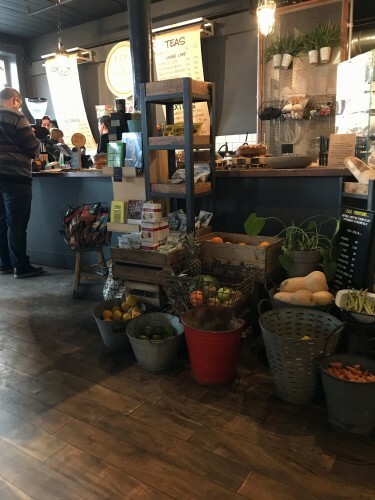 Ezra & Gil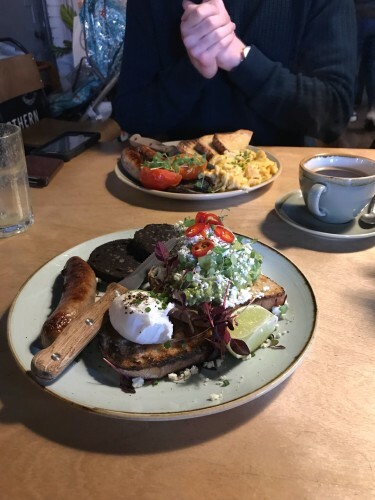 Our respective brunches
Dragging our over-stuffed non-priority luggage, we had plans to do the Joy Division walking tour or check out some new exhibitions at the Manchester museum. But we couldn't be arsed with the bags. When Google recommended the Royal Mills Market, we went thinking we would peruse at our leisure and have a coffee in from the cold. And while it's a beautifully converted mill, there's not much to marvel at bar some commercial units. ("A Deliveroo office! How picturesque.")
With that, we called it a day and headed back via train to the airport.
Things to note
There's a couple of free bus services that run that are worth looking in to. We were going to get one to Menagerie but left it too late.
The Curry Mile also came highly recommended, and is good a shout for any and all foodies reading.
When you're flying home, for the love of God check which terminal you're going out of. It will save you walking hurriedly past the security person who's already attempted to direct you twice.
If you're with AIB, you don't need to put a travel note on your card when you go to the UK.
Manchester Airport security is an absolute logistical nightmare. Allow yourself plenty of time to get through and make your flight.
Would you go back, though?
If the UK doesn't implode in the mean time, for sure. As I've said previously, there was loads we didn't get to do. Gig-wise, it's a fairly handy location, a short flight and less expensive than London. That's not to say we did it on the cheap, it's fairly obvious that we didn't. But you could, if you wanted to. 
I would love to go back and tick off my numerous missed brunch spots, check out Old Trafford and eventually do that walking tour. 
DailyEdge is on Instagram!