EACH WEEK, WE'LL be taking a peek into some of our faves' makeup bags to see their must-have products, because we're nosey. This week, it's the turn of makeup junkie Maria McKenzie (No Spring Chicken). You can follow her on Instagram here.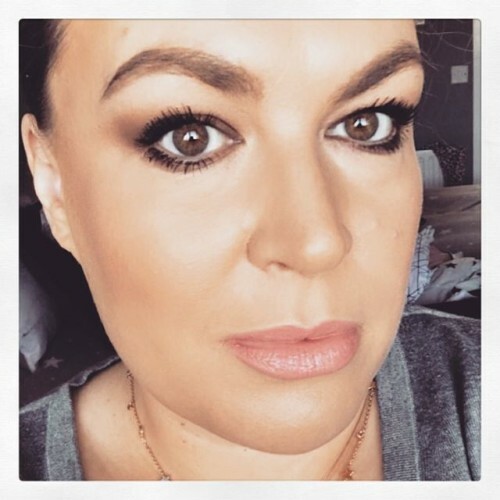 Her earliest makeup memories
"My earliest memory of falling in love with makeup was watching my mom's sister, my aunty Anne. She was so glamourous. She made her own clothes which were fab, wore 6 inch heels every day with a full face of makeup all while raising 6 kids! My mom was glamourous too but more into her clothes than makeup.
I bought my first product when I was 13 and it was a blue eye pencil which I wore in the waterline every day and thought I was fantastic!
"Later in life, I realised I loved a flawless base more than anything so I started to take care of my skin from a young age. I was the teenager in the late 80's early 90's slathered in white cream head to toe! As the years have passed I grew to love a smokey eye, a good base & pink/nude lips – so basically a full face of makeup!
I am all or nothing. It's either a bare face or full on.
"I'm looking for your absolute essentials, not your full collection – the stuff you frequently throw in your hand bag and can't make up your face without.
Her makeup bag and what's inside
"My essentials are probably most people's collection! But I genuinely wear all of them when I'm wearing makeup. All of this (and sometimes more!) will be in my bag. Hence I always carry a large bag … So you'll find foundation, concealer, powder, blush/bronzer, lipstick, lip-gloss, brow product, mascara, lipstick, an eyeshadow quad and of course brushes as I'm not a fan of using my fingers!
"Estee Lauder Double Wear Light has great coverage but is not as thick as the original so perfect for summer.
"Charlotte Tilbury Setting Powder – I have an oily t-zone and this powder is brilliant for taking away shine but not clogging pores
"Tarte Shape Tape concealer is honestly the best concealer I've ever tried! I get red around my nose and it covers it so well. I've yet to find one that tops it and I've tried them all!
"Hourglass Ambient Light blushers and bronzers are perfection, especially if you're a bit older like me (over 40) and don't want a powdery look to the skin. They don't contain talc and give such a beautiful glow. They're not cheap but worth it in my opinion
"Charlotte Tilbury Eye Quad in The Dolce Vita – these quads are so lovely. You can create several looks with them and they're long lasting
"L'Oréal Lash Paradise mascara – I look like an egg with eyes if I don't wear mascara! They just fade into my head… this mascara doesn't run on me and gives lovely full lashes
"Estee Lauder Pure Colour Envy lipstick are the most hydrating pigmented little tubes of joy I've ever planted on my lips! I'm a lipstick fiend and they are some of my favourites
"Lancôme lip-gloss – I always have a gloss in my bag as it's a great way to take a look from day to night and look a bit more glam
"The Real Techniques brushes created by the Pixiwoo girls, Sam & Nic are some of my favourite and they're not extortionate on price – I always use brushes, never my fingers to apply product
"My makeup bag is from Scamp & Dude – amazing little company in the UK that gives back to charity. They do sweatshirts & makeup bags."
DailyEdge is on Instagram!