"LOOKIT, I'M ONLY here for the craic."
Marian Keyes' opening line on her Twitter bio perfectly sums up what you're going to get if you follow her.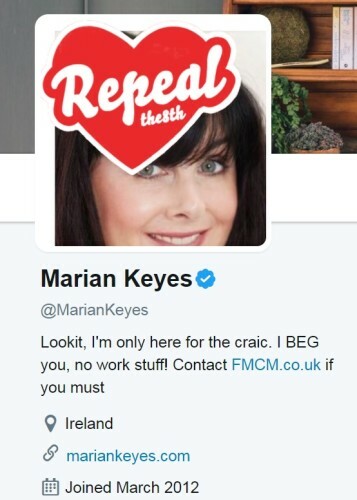 @MarianKeyes @MarianKeyes
With over 77,000 tweets to 143,000 followers, Marian's Twitter feed is one of the only places of solace you'll find on the festering troll island that can be Twitter dot com.
1. She's there for the biggest Irish moments – calling the HomeToVoters heroes
<3
2. She asks for advice in the most Irish way possible
3. And calls out her one hater in the soundest way
4. She's not afraid to reveal her struggles and successes to help others going through the same
5. She's also outspoken on the issues that matter
6. Calls it as she sees it, every time
7. She's introduced the concept of being "agin" a person to an international audience
Important.
8. And some choice Irish slang words too
GOM.
9. There have been photos of "himself" supporting the Repeal cause
10. And being sent away from the table
12. Marian is there for you through all your favourite shows
13. And her political commentary is razor-sharp and cutting
*applause*
14. Anything that happens, really, and Marian is there for you with some pearl of wisdom
15. She takes her deserved success in a lovely self deprecating way
16. And her Twitter account is a daily reminder of her being a bit of a legend
<3
DailyEdge is on Snapchat! Tap the button below to add!