IT'S ONE WEEK since the attacks in Manchester claimed the lives of 22 innocent people.
Martyn Hett, a 29-year-old PR manager and 'iconic' blogger, was among the victims. Since then, his friends have rallied to produce a t-shirt in memory of Hett and raise money for his bereaved family or an organisation of their choice.
Holly Shortall, an Irish illustrator and friend of Martyn's, designed the t-shirt. It features Martyn surrounded by glowing quotes from celebrities like Mariah Carey, Michelle McManus and Nick Grimshaw, as well as publications like Attitude and Daily Mail.
Shortall told DailyEdge.ie that she was introduced to Martyn by Snapchat star James Kavanagh a few years ago. "They became really good friends and I was introduced to the wonderful world of Martyn Hett," she said.
He was adored by thousands. Two of his lovely best friends, Liam and Steve, were over in Dublin for the Ariana concert just three days before it all happened and we spent the evening in town, drinking prosecco and talking about how fabulous Martyn was, which says it all.
Shortall added that Hett was "like nothing else".
Barely a day went by that I didn't see something hilarious on Twitter, Facebook or Instagram, instantly think of him, and tag him in it. 90% of the time he'd reply with 'you're the 32nd person to tag me in this today!' which really just shows how many friends he had.
Following Hett's tragic death, Shortall did a drawing in honour of Martyn. Shortly afterwards, she was introduced to another of Martyn's friend, Philip Normal, a designer and shop owner in Brixton.
"Philip and I didn't know each other before this and our mutual Twitter friend, Dr Declan Kavanagh, suggested the t-shirts," Shortall explained. "Philip is putting a huge amount of work into printing and posting all of these t-shirts and I am really grateful to him for that."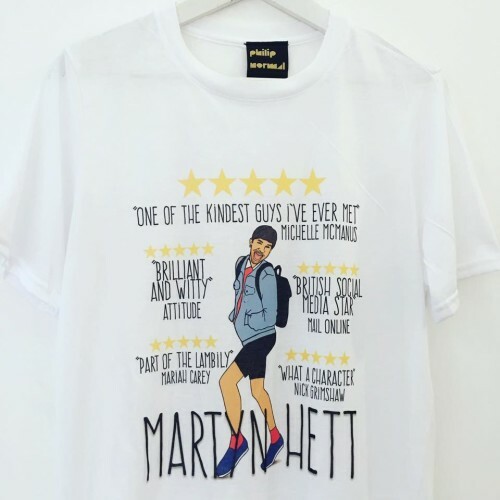 The t-shirts are currently available through GoFundMe and have raised £2,815 so far.
Shortall described the overall response as "positive and heartwarming". Martyn's brother Dan Hett even gave his seal of approval on Twitter.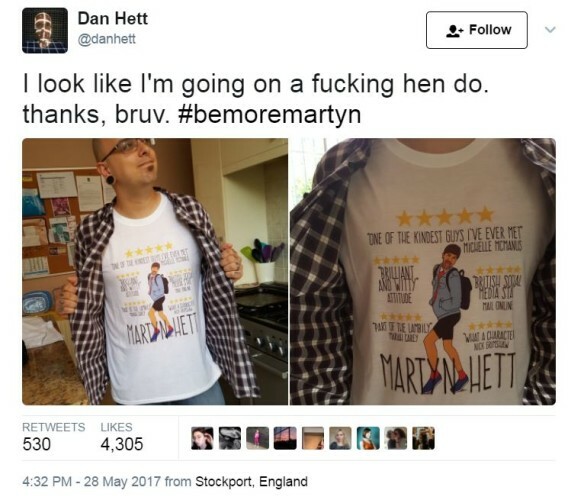 Dan Hett / Twitter Dan Hett / Twitter / Twitter
Among those to reach out was Pop Idol star Michelle McManus, who said she was "honoured" to be included on the t-shirts.
I'm honoured to have my name on this wonderful tribute to Martyn. He was loved and adored by all who knew him and I hope we can raise as much money as possible for a truly worthy cause in his memory.
Additionally, James Kavanagh said that Martyn "would literally adore these t-shirts".
And he'd doubly adore the fact that 100s of people will be wearing his face with a massive quote from Michelle McManus about him above it. He was a total light in my life, and I can't wait to own one of these to remember him by.
As for how Holly will remember Martyn?
I will remember him as someone who lived in the moment and saw the joy everything, even the most mundane things. He could create content out of any situation. He was gorgeous, outrageous, hilarious, and so loved.
For more information on the Martyn Hett T-Shirt Campaign, please visit the GoFundMe.
DailyEdge is on Snapchat! Tap the button below to add!