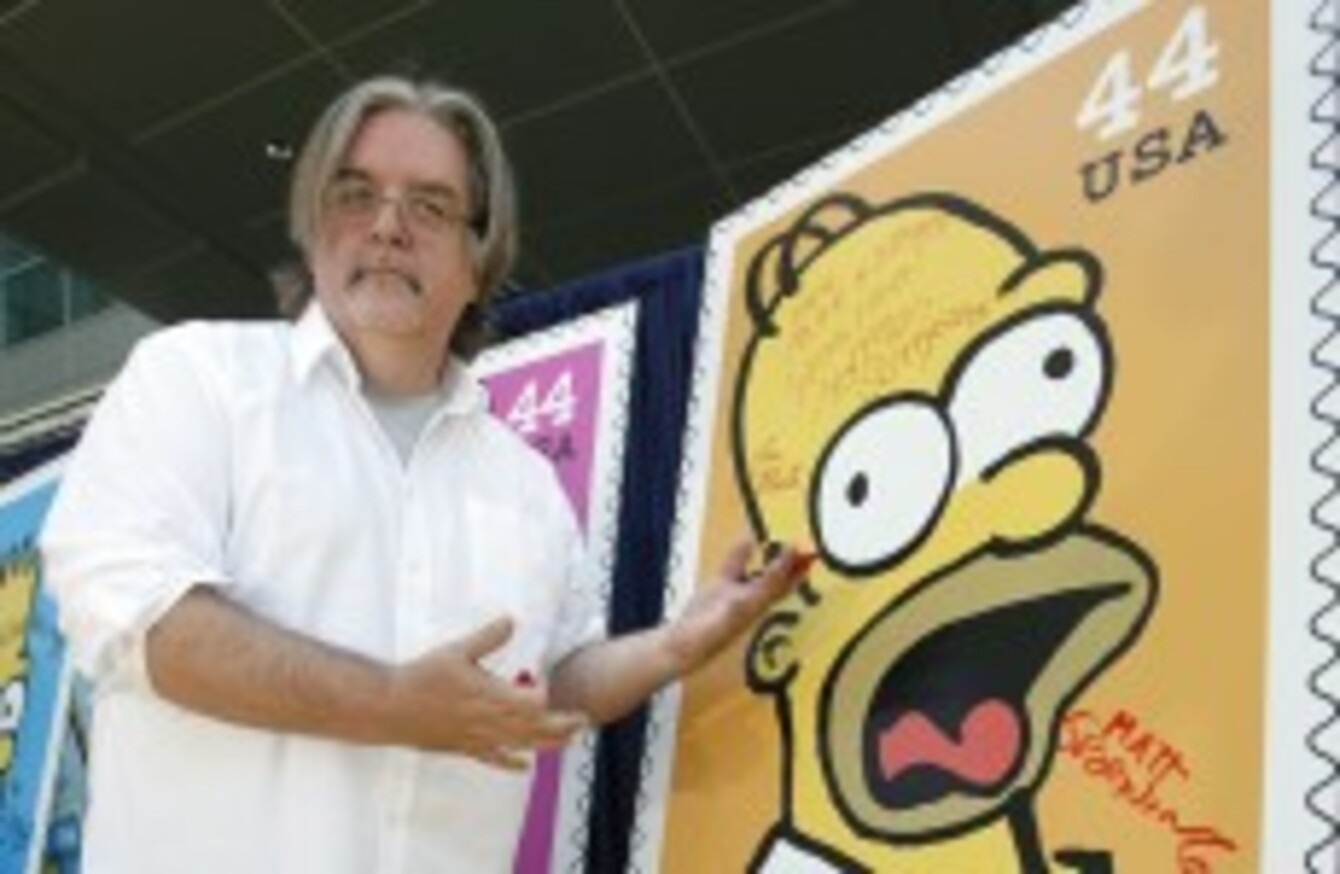 Matt Groening signs a Homer Simpson stamp in 2009.
Image: Damian Dovarganes/AP
Matt Groening signs a Homer Simpson stamp in 2009.
Image: Damian Dovarganes/AP
SIMPSONS CREATOR Matt Groening has finally revealed the true homeplace of the Simpsons – almost 25 years to the day after the family first hit TV screens.
In an interview with the Smithsonian magazine, Groening revealed that the Springfield city inhabited by the yellow-skinned favourites – while not itself being modelled on any particular city – is named after the Springfield in his home state of Oregon.
"When I was a kid, the TV show Father Knows Best took place in the town of Springfield, and I was thrilled because I imagined that it was the town next to Portland, my hometown," Groening said.
When I grew up, I realised it was just a fictitious name. I also figured out that Springfield was one of the most common names for a city in the US. In anticipation of the success of the show, I thought, 'This will be cool – everyone will think it's their Springfield.' And they do.
The disclosure marks the first time that Groening or any of the programme's chief producers have disclosed the true origin of the name of the city, though they remain insistent that the characteristics of the town itself is not modelled on any particular Springfield, but rather that it is modelled on an "Anytown, USA" basis.
It's much more likely that many of the features in the TV Springfield are actually modelled on Groening's hometown of Portland, though: the Portland Tribune noted ten years ago that both cities share a gorge, a nuclear power plant, a polluted river, and diverse ecologies from woodland to mountain areas.
Groening named the Simpsons' home street Evergreen Terrace after the street he grew up on himself, to parents named Homer (named after the poet) and Margaret (née Wiggum), and with sisters named Lisa and Margaret ('Maggie') – all of whose names were used in the family.
He has previously admitted that he had contemplated naming Bart Simpson after himself, but later opted to choose 'Bart' as an anagram for 'Brat'. Bart is modelled on Groening's elder brother Mark; his remaining sibling, an elder sister named Patty, lent her name to one of Marge's elder sisters.
Having already borrowed the names of his family members, Groening allowed the rest of the show's writers to choose a name for Grampa Simpson – only for the writers to suggest the name 'Abraham', which was also the name of Groening's own grandfather. Groening has since named his own two biological sons Homer and Abe, after his father and grandfather.
The Simpson family will mark a landmark anniversary later this month: they first appeared as a short feature on Fox's The Tracey Ullman Show on April 19, 1987 – 25 years ago next week.