EARLIER THIS YEAR, Mayo News tragically missed out on the opportunity to make a rather excellent pun.
Here's some background: earlier this year, a driver was charged with having green diesel in his jeep. (It's illegal to have green diesel on public roads.) The driver in question claimed that it was put there by his nephew, who was "out of his head" on cannabis.
The driver's name? Noel Jinks.
And this is the headline Mayo News went with at the time.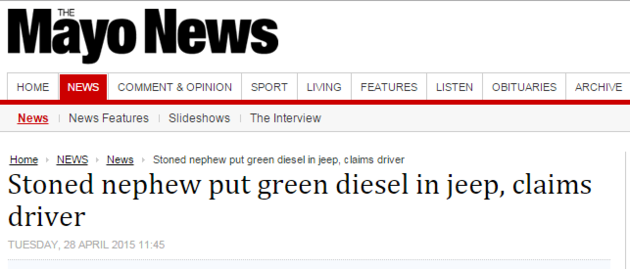 "Stoned nephew"
THE MAN'S NAME WAS JINKS! HIS NEPHEW WAS HIGH!

DailyEdge.ie DailyEdge.ie
However, we are delighted to say that, five months later, Mayo News has seen the error of their ways.
This week, the driver in question was convicted of driving on a public road with agricultural diesel in his vehicle.
And the headline?

Mayo News Mayo News
And all is right with the world.
gif-database / Tumblr gif-database / Tumblr / Tumblr