EVER GONE TO McDonalds and wished your burger could be a little more… you know… varied?
You're not alone. So food blogger Nick Chipman went to the Golden Arches, ordered every single one of the 43 bread-and-protein combinations on the menu, and put them all into one superburger he dubbed the 'McEverything'.
Here's what it looked like: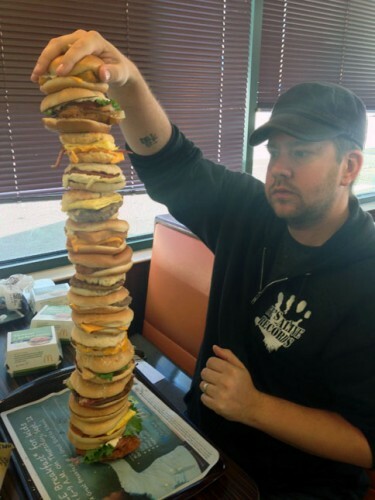 Dudefoods Dudefoods
Considerable planning went into this feat. In order to include all the available burgers, Nick had to arrive at the franchise (in Wauwatosa, Wisconsin) just as breakfast service was crossing over with normal daytime service.
The full McEverything cost just over $140, or roughly €100.
Nick writes on his site Dude Foods:
After all 43 sandwiches were finished and sitting at my table I got to work putting the McEverything together. I originally anticipated it only being a couple of feet high, but as you can see from the pictures it ended up MUCH taller than that.
He held the thing together with bamboo skewers. And that wasn't even the biggest challenge: Nick writes that the toughest part was "not eating any of the sandwiches until it was complete."
We salute you, Nick, for your commitment to this giant burger. But we can't quite forgive you this:
… with all the leftovers I have I've got all my breakfasts, lunches and dinners covered for the next week or so!
You can read Nick's full account at Dude Foods.