THE ROYAL VISIT is officially underway as Meghan Markle and Prince Harry have arrived at Dublin Airport.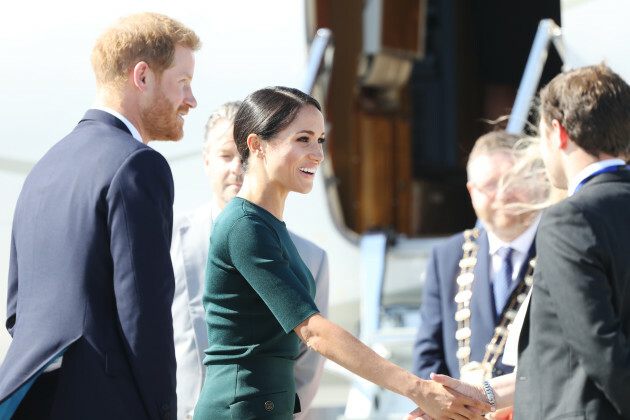 Tom Honan / Julien Behal Photography Tom Honan / Julien Behal Photography / Julien Behal Photography
Meghan and Harry will be in Ireland for the next two days where they will take in all the sights that Ireland has to offer including Croke Park (or Crows Park if you're the Sun's Royal correspondent) and they'll also be meeting Michael D. Higgins.
It's also expected that Meghan will be given information regarding her Irish relatives. Genealogist Lorna Moloney found that Meghan has Irish ancestry from Ballinasloe which was discovered by Lorna through public records.
The couple turned up dressed for the occasion with Harry sporting a green tie and Meghan wearing a deep green Givenchy guna which is a nice touch. They're heading to the British ambassador Robin Barnett's house where Prince Harry is expected to make a speech but first, they're meeting Taoiseach (or tea set) Leo Varadkar.
All set for the Royal couple to arrive! Fabulous occasion and fabulous weather! #RoyalVisitIreland pic.twitter.com/rW3QSuoIX9

— British Embassy (@BritEmbDublin) July 10, 2018
Some people are very excited for the visit and have got their merch ready to go.
Crowds gather for himself and herself #RoyalVisitIreland pic.twitter.com/SIGjncUXrx

— Hugh O'Connell (@oconnellhugh) July 10, 2018
If you can see them, it means you're friends now.
Megan & Harry just drove by me 😲 we are basically best friend's now #RoyalVisitIreland #PrinceHarry #MeganMarkle

— Emily Savage (@SavageEmily) July 10, 2018
The big question on everyone's lips is, will Meghan return to Diceys?
Can we all take a moment for the fact that the last time Meghan Markle was in Dublin she was slinging €2 drinks in Diceys. #NeverForget pic.twitter.com/EVw4arn2A0

— Caolan Mc Aree (@Caolanmcaree) July 10, 2018
DailyEdge is on Instagram!