MICHAEL FLATLEY IS now a painter, guys.
If you were watching last night's Late Late Show, you may have gotten a sudden urge to spend some big bucks on one of these beauts.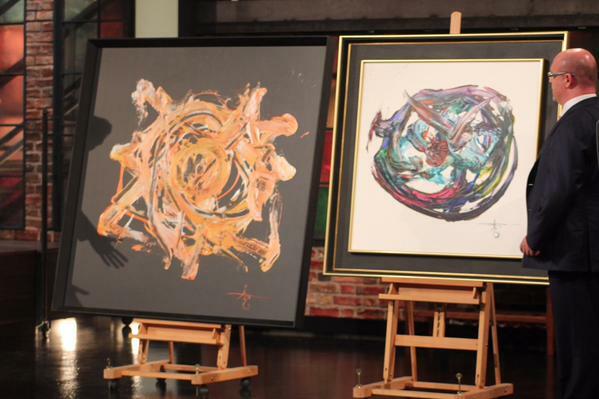 RTELateLate The Power and the Kestrel RTELateLate
Or not.
Irish art dealer Morgan O'Driscoll was on hand to showcase the Lord of the Dance's canvas footwork to Ryan and his audience. Yes, Flatley doesn't paint his art, he dances it.
Of course he does.
O'Driscoll explained that he dips his feet in the paint, goes into a deep concentration and dances using the 'beat in his head'.
He apparently took up painting as a form of relaxation, but now he's capitalising on it, with two of his pieces up for auction on Monday in the RDS for up to €90,000. The Power's guide ranges from €70,000 to €90,000 while The Kestrel's price is estimated between €30,000 and €40,000. A previous painting of his nabbed €25,584 last year.
The Late Late Show / YouTube
The whole thing didn't go down well with the Irish public
And perhaps the most Irish response of all…
C'mon Flately, less of the painting more of the heaving chest.
Thejournal Thejournal