As a migrant living in Ireland 3 years ago, loving this country, fighting for women rights beside my Irish & migrants sisters, I need your YES. It's our choice, it's our healthy.
We need support and healthcare HERE, not abroad#WhoNeedsYourYes #repealthe8th #Togetherforyes

— Señora Chichera♀ (@PastelDeCaracol) May 14, 2018
WE HAVE HEARD a lot of voices throughout this referendum, some welcome and some not so welcome. Pretty much everyone has an opinion on the issue and quite a few aren't afraid to share it.
But there are some people who the 8th Amendment affects disproportionately who we haven't heard from or rarely hear from. They're not on posters or leaflets but they're there, campaigning along side as much as they can.
Migrant women including asylum-seekers are some of the most vulnerable people in our society and the 8th Amendment only exacerbates that vulnerability.
We are #MERJ, a group of migrant and ethnic minorities speaking for ourselves. Migrants and ethnic minorities are more disproportionately affected by the 8th amendment and we are standing together for #Repeal ✊

VIDEO: https://t.co/ldsX2GMwE7

— MERJ Ireland (@merj_ireland) April 12, 2018
We saw that in case of Ms Y, an asylum-seeker who was raped before she arrived in Ireland and became pregnant. She did not wish to continue the pregnancy but because of the 8th Amendment and her status, she could not travel to get an abortion.
Instead she was forced to continue the pregnancy and to have a C-section against her will, even after threatening to take her own life which is a condition under which a person can obtain an abortion under the Protection of Life During Pregnancy Act 2013.
That is the Ireland we're living in right now. An Ireland that is forcing people to stay pregnant against their will and punishing them continuously when they've done nothing wrong.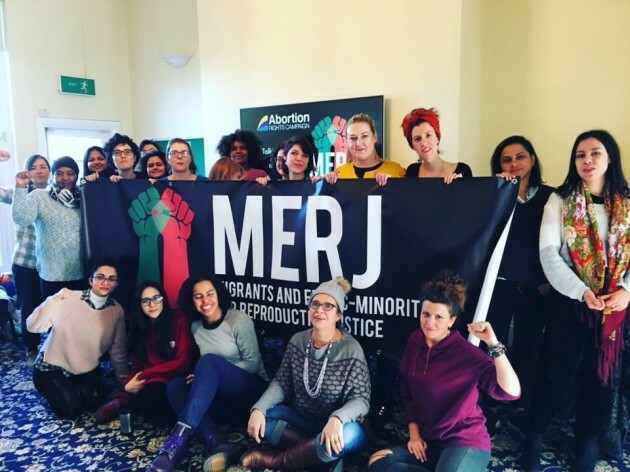 Ilaina Khairulzaman / MERJ Ilaina Khairulzaman / MERJ / MERJ
MERJ (Migrants and Ethnic-minorities for Reproductive Justice) are just one organisation who are campaigning for the removal of the 8th Amendment to be repealed because of the many barriers that migrant and ethnic minorities face to bodily autonomy. Ilaina Kharirulzaman is one of its members campaigning for a yes vote.
I'm campaigning for the ability to consent to procedures during pregnancy and childbirth, to decide what is best for us in our unique circumstances, to know that my access to healthcare would not be impacted by a pregnancy, to not have to fear my life may be at risk if there was a complication during a pregnancy.
We all know that people can travel to procure an abortion if they can afford to but course cost is the key factor here. Anyone adult living in Direct Provision receives €21.60 a week to live on. The average cost to travel to the UK for an abortion is €1,400  which is beyond a lot of people let alone someone living on €21.60 a week.
As well as that asylum-seekers in Ireland cannot leave the country without consent from the Minister for Justice and Equality. However, there is no formalised system for someone to get this consent meaning they're basically trapped here, meaning they have less control over their own bodies than the average Irish citizen.
The 8th amendment disproportionately impacts migrant women. #together4yes wants every pregnant woman in Ireland to receive the best possible care in Ireland, no matter what her status, with the support that she needs and the opportunity to make compassionate healthcare decisions. pic.twitter.com/5lBm9wjzlD

— Together for Yes (@Together4yes) April 30, 2018
We saw this in the case of Aisha Chithira, a Malawi born woman who settled in Ireland. She had a history of fibroids and became pregnant. She decided to have an abortion having miscarried twins at 30 weeks and feared complications having had a child already by C-section. She could not procure this procedure in Ireland and so had to wait a month to get a visa to travel to the UK.
At 22 weeks, she was at a late stage in the pregnancy and her fibroids made the procedure more complex. Ms Chithira complained of dizziness and pain but she could not stay overnight in the clinic and so left to stay in her cousins house. She had suffered a tear to her uterus and bled to death overnight.
Had she been able to procure an abortion in Ireland, she would probably be alive today. Having to wait for a visa to travel to the UK heightened the risk of complications for her and ultimately caused her death. How many more times are we going to let this happen?
As a migrant who loves Ireland and has chosen to make this her home, I need your Yes. I am your friend, colleague, neighbor, teacher, fellow volunteer. I am also a wife, daughter, daughter-in-law, sister, cousin, and above all, person. #whoneedsyouryes #Together4Yes #Repealthe8th

— Sonia for Yes (@sblgpln) May 13, 2018
But why do we not seem to care about these stories? Ilaina believes that visibility is the key reason.
We aren't the majority in this country, so we're an afterthought. Yet some of the worst cases of people impacted by the 8th have been migrant women – such as Ms Y.

40% of all maternal deaths

 are of migrant women. It's a case of privilege, a case of internalised (in some cases obvious) racism, of thinking that people of this country are only your people.
Often migrants are alone which is terrifying by itself, particularly if you don't have the language and are trying to obtain citizenship here. You don't know the circumstances of how someone has ended up in Ireland. As we saw with Ms Y, the 8th Amendment only makes things worse for people who become pregnant when they don't want to be as Iliana explains.
Many of us are alone here, with no support to turn to should we need assistance or resources to travel. Some of us have language barriers on top of already challenging circumstances. For many of us, our access to basic healthcare – in some cases, where our lives are at risk – is determined by whether we can afford it, dependent on our visa status, our passport, our language.
We're at Jigsaw discussing reproductive justice and abortion laws in our own countries. #TogetherForYes #RepealThe8th #NoBorders pic.twitter.com/ERRmq7xLZB

— MERJ Ireland (@merj_ireland) May 12, 2018
You might be thinking, 'why doesn't someone just order them abortion pills?'. Again there is a cost to that as well as the threat of 14 years in prison if you are found to have procured an abortion on Irish soil.
If you're someone seeking permission to live here, you're not going to put your immigration status in jeopardy by ordering abortion pills online unless you absolutely have to. What sort of reasonable country puts people in that position? It's 2018 and yet our abortion laws make it seem like we're stuck in the 1800s.
Let me be clear, removing the 8th Amendment will not fix the dire direct provision system that we have established which together with the 8th Amendments causes so many of these issues.
But it will make being a pregnant migrant person or asylum seeker in Ireland that little bit easier. Once it's removed, we must then go about dismantling direct provision and making Ireland a better place again.
geek girl psych / Twitter geek girl psych / Twitter / Twitter
Removing the 8th amendment means migrant women and pregnant people will no longer be told that "This is Ireland" and to just accept it. It means migrant women and pregnant people will no longer be silenced, ignored, tortured, or killed behind the protection of the 8th amendment. It means removing one of many barriers migrants face in regards to access to abortion and decent reproductive healthcare in Ireland. It is the first major step – but we still have so much work to do to ensure that ALL people will have equal access to decent reproductive healthcare in Ireland.
We don't want anymore Ms Y, Savitas or Aisha Chithiras. We want compassion and we want healthcare and most of all, we just want a safer Ireland for everyone and especially for the people who need it most.
DailyEdge is on Instagram!