EVERY WEEKDAY MORNING, DailyEdge.ie rounds up the best of the day's celebrity dirt from the top to the very bottom.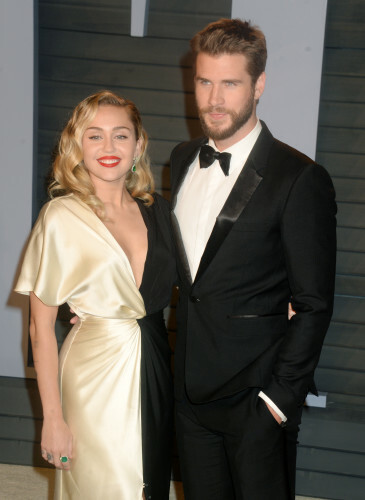 Van Tine Dennis / ABACA Van Tine Dennis / ABACA / ABACA
Miley and Liamo are no more.
The Wrecking Ball singer is reported to have called off her wedding to the actor over a row about kids.
A source told OK! Australia that while Liam was ready to have children with Miley, she isn't yet ready to become a mum. And this has been causing some problems for the A-list couple.
The source said: "[Liam] wants kids and doesn't want to keep putting it off but it's not quite the timeline Miley had in mind… He is left heartbroken.
Miley put off plans for the wedding and Liam was growing tired of it… They haven't been getting along in recent months."
They also added that Miley "didn't really want to get married". Yikes.
The pair met when they were filming The Last Song back in 2010, and got engaged for the first time in 2012. But they split up the following year, and they were spotted dating other people. The pair rekindled their romance in 2016, and seemed to be going from strength-to-strength ever since. (Heat Magazine)
DailyEdge.ie reported it last month, and now fans are more convinced than ever that Beyoncé is up the duff with her fourth child.
Tour footage has seen her mimic her 2011 VMAs performance where she closed with 'Love on Top', an unforgettable mic drop and baby bump rub.
Peep the video below and see for yourself.
Hmm.
She's also been dropping hints (á la Kim K), involving the number 4. Four … Fourth child? Maybe?
WE NEED TO KNOW. (Instagram)
Louis Tomlinson has come under fire from fans for taking a job judging this year's X Factor, instead of focusing on his "solo career".
The former One Direction star will join Simon Cowell, Robbie Williams and Ayda Field on the judging panel this series.
Taking to Twitter, Tomlinson said he wanted to address those fans worried that the job would effect his own music career as he's yet to release a solo album after signing a deal last year.
As I said in the press conference, the album is still definitely my priority. It doesn't change any release time or anything like that me doing the show."
I just thought, I've come from the show and it made a lot of sense for me to go on. And I've always been interested in mentoring that's why I've done things in the past with my label so it's something that's been on my mind for a number of years now.
As soon as I got the assurance that it wasn't going to effect any of my music and actually it was going to help it then I could seriously start thinking about it."
The tunes Louis! Please think of the tunes!!! (Mirror)
And all your other celebrity dirt…
DailyEdge is on Instagram!