MINDY KALING WELCOMED a baby girl into the world last Friday, and she's called her Katherine (which will become important later).
It's been a busy week for her, with the new trailer for the all-female Ocean's 8 dropping as well.
A little-known fact about Kaling is that she *loves* the movie You've Got Mail (and romcoms in general). Here she is speaking to Vulture about it back in 2010:
I love You You've Got Mail. I think people forget about the great ensemble cast: Greg Kinnear and Parker Posey are in fairly tiny roles and are such heavyweights. Dave Chappelle has, like, six lines. But, for me, the secret weapon is Meg Ryan's fashion. She plays the owner of a bookstore, but dresses like a female comedy writer. Nothing is very fitted, everything is four sizes too big. It's Diane Keaton slouchy clothing on a really pretty girl who went to Sarah Lawrence.
[The first time I watched it I was 18 and] I was very intimidated by New York and I didn't know it very well, and this movie really helped me, it made me fall in love with the city — it's such a love letter to New York. I went to all the places in the film. And I decided that I love the Upper West Side. I remember watching it during Christmas and thinking, 'I wonder if I'll ever have a really cute boyfriend like Tom Hanks, and sing carols around a piano?'
Her friends, knowing her love of the movie, threw her a special You've Got Mail party yesterday – and the menu went all out
Shopgirl's pasta, Gingerbrinkley cookies, Fox Books-el Sprouts and NY152 Black and White Cookies were just some of the You've Got Mail references thrown in there.
The party was a replacement for Mindy and her friends' annual Christmas do – she'd had a "busy week" after all:
I usually do a holiday dinner with the young women that work with me but I've had a busy week! So they brought the holiday dinner to me. It's a You've Got Mail Norah Ephron-themed holiday dinner, cooked and orchestrated by @asekar95 and @yo_its_hmo and it's happening TONIGHT at my house. Look at this menu! Look at these Nora Ephron deep cuts! (Maybe for dessert we will have coffee… Patricia? Patricia's amazing. Patricia makes coffee nervous.)
And the baby's name? Katherine Kaling.
Sounds very similar to Meg Ryan's character Kathleen Kelly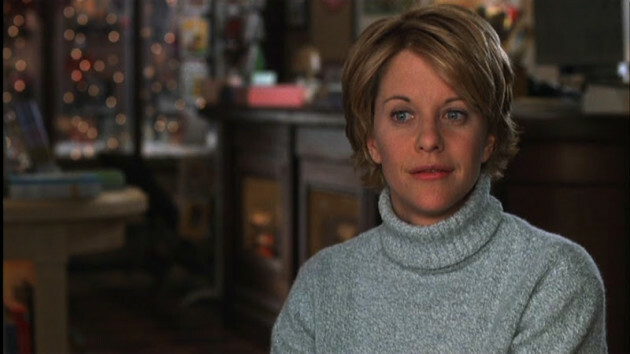 Coincidence? Maybe. But it's not hard to imagine a deliberate link given Mindy's love for You've Got Mail.
Fair play to her friends for putting on the best party to welcome her home.
DailyEdge is on Instagram!