WHAT A YEAR 2012 has been. We won't lie – it has been tough at times.
But there was more to it than austerity budgets, ghost estates, crushing sporting disappointments and frustrating political decisions.
These were some of the moments this year that restored our faith in Ireland:
1. Katie Taylor won an Olympic gold medal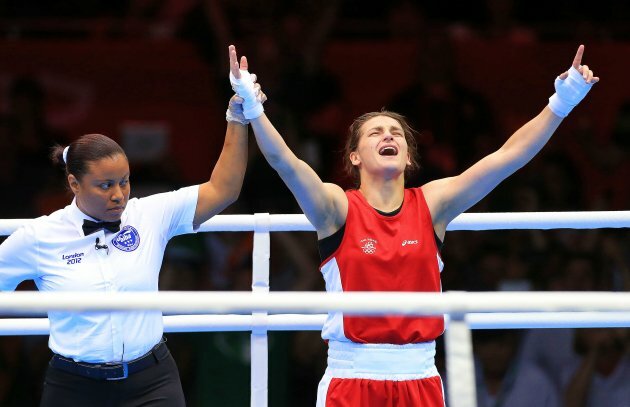 (Pic: ©INPHO/Dan Sheridan)
She also made this girl's day afterwards
(Pic: Mark Stedman/Photocall Ireland)
And the President's
(Pic: Laura Hutton/Photocall Ireland)

But let's not forget the amazing Irish crowd at the final bout
(MalachyBrowne/YouTube)
Or Sean Ban Breathnach's emotional commentary
2. Joanne O'Riordan inspired us all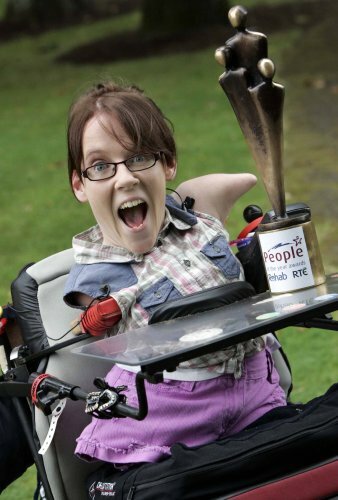 (Pic: Mark Stedman/Photocall Ireland)
From her United Nations speech, to her challenge to the tech community, to making a documentary about her life, to appearing on the Late Late Show, Joanne showed us that there are no barriers when you have determination and humour. Oh, and did we mention she won a People of the Year award?
3. This Irish cat who is also a DJ
He might ruin your records, but you'd totally hire him for a house party
4. Peace rallies in Belfast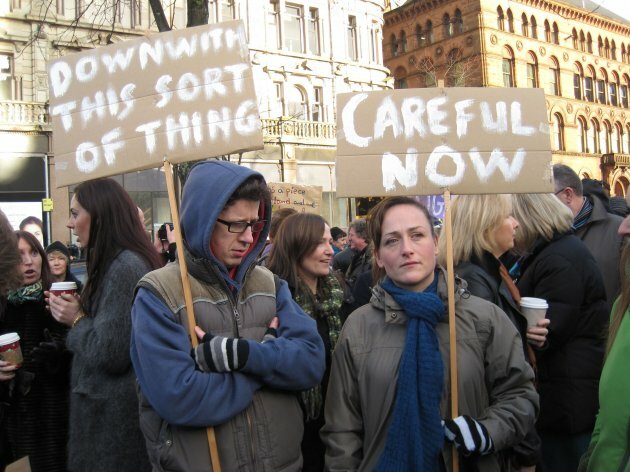 (Pic: Lesley-Anne McKeown/PA Wire)
In the wake of unrest over the flying of the Union flag at Belfast City Hall, people banded together in the name of peace.
5. The Irish men who brought the Down With This Sort of Thing signs to a Poznan riot
6. The Euro 2012 ticket that was lost and then returned to its Irish owner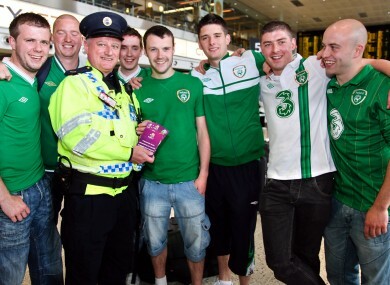 Ronan Davis lost his tickets in the airport, and by the time they were found he was already on the plane to Poland. He was finally reunited with his precious tickets after Champion Sports and Dublin Airport stepped in.
7. Our amazing Paralympics team - including record-breaking Jason Smyth (left) - had the craic with Enda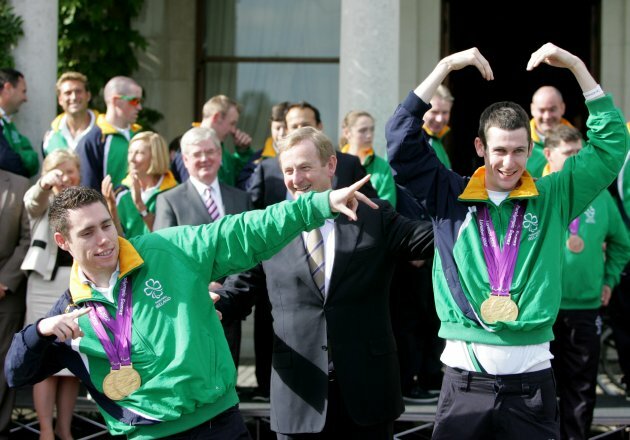 (Pic: Sam Boal/Photocall Ireland)
Smyth set a new world record in the 200m final, with a time of 21.05. Boom!
8.  The incredible story of the elderly dog reunited with his family

(Pic: Albie Roberts)
Aran was reunited with his Scottish family in Carrick-On-Shannon... but that wasn't the only amazing bit of this story. (We were responsible for many a tear shed on public transport on 18 October, sorry readers)
9. Aon craic? Níl
(DruidsProductions/YouTube)
10. The Vita Cortex workers who held a sit in over pay for 160 days - and won.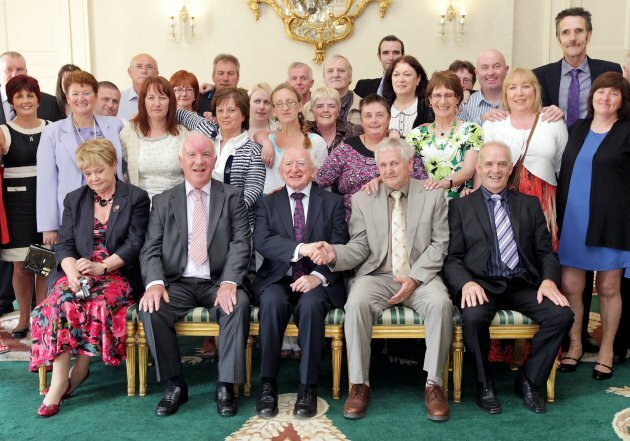 (Pic: Mark Stedman/Photocall Ireland)
They even spent Christmas in the plant, but received their redundancy payments after living in the factory for months. And when it was all over, they were congratulated by the President.
11. The flag that said Angela Merkel Thinks We're at Work

(Pic: INPHO/James Crombie)
It went on to raise €20,000 for charity.
12. The protests against disability cuts that made the Government change its mind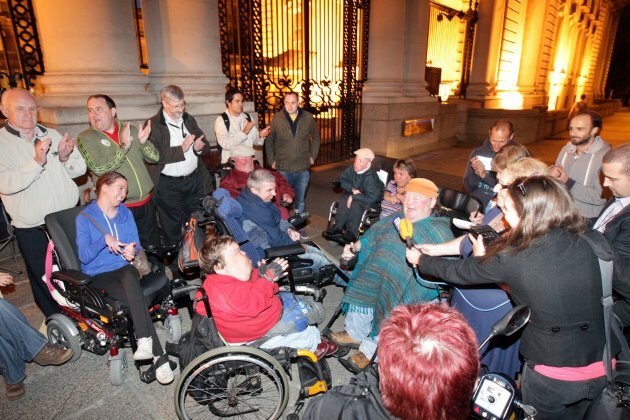 (Pic: Mark Stedman/Photocall Ireland)
People with disabilities wanted their voices heard over the decision to cut Personal Assistant Hours - and they were listened to.
(Pic: Sasko Lazarov/Photocall Ireland)
13.Vincent Browne took on the ECB over bondholders

(MrMonty0/YouTube)
14. Justice for the rabbit thrown into the Liffey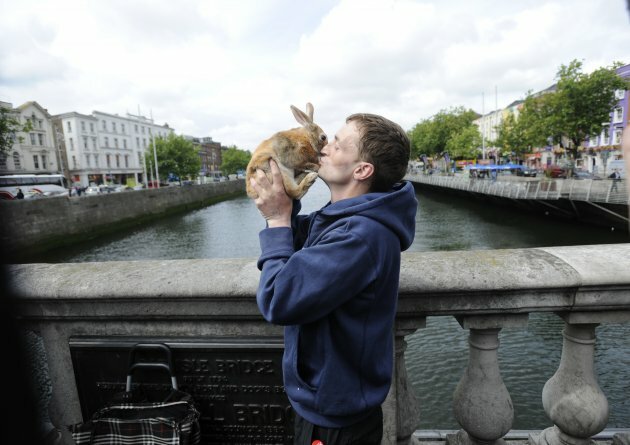 (Pic: Sasko Lazarov/Photocall Ireland)
John Byrne heroically rescued his companion rabbit Barney after he was thrown into the Liffey in 2011. In December John and Barney finally saw justice, when a man was sentenced to four months' detention for the act.
15. Dozens of puppies were rescued from animal cruelty, like this one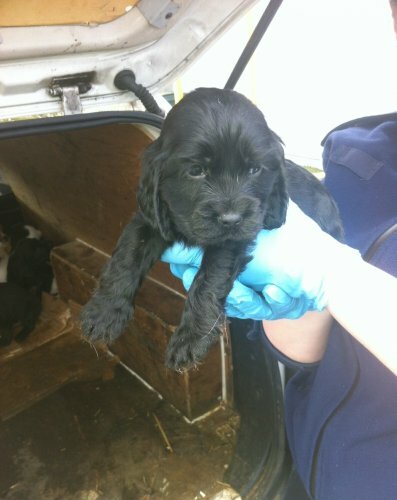 (Pic: An Garda Síochána)
Not just these puppies, but these puppies too. And people donated more than €7,000 to the charity that rescued them.
16. Hugh from TheJournal.ie met Michael D
And all was alright with the world.