AS ANOTHER YEAR draws to a close, it's time to reflect on the 12 months gone by.
It's easy to get caught up in the bad stuff, but we're here to remind you that 2013 was a year of love, romance, hope and joy.
Here are nine of the most heartwarming Irish tales from 2013.
The Tipperary students whose tribute to their teacher went to No 1 on iTunes
RTÉ - Ireland's National Television and Radio Broadcaster
Pupils from Presentation Secondary School in Clonmel composed and recorded the song My Hero as a tribute to their teacher Alice Strain, who died in a tragic car accident. The song hit the top spot on iTunes earlier this month.
The little girl who was inundated with help and goodwill messages after her wheelchair was stolen
Gavin Tracy Gavin Tracy
Five-year-old Lauryn Tracy (above) was left without her pink wheelchair after the family car was stolen from outside the Tracy's home in Enniscorthy last October. A fund to replace the wheelchair was set up after readers contacted TheJournal.ie asking where they could donate.
The man who met an Irish woman in a nightclub, then was reunited with her after a nationwide search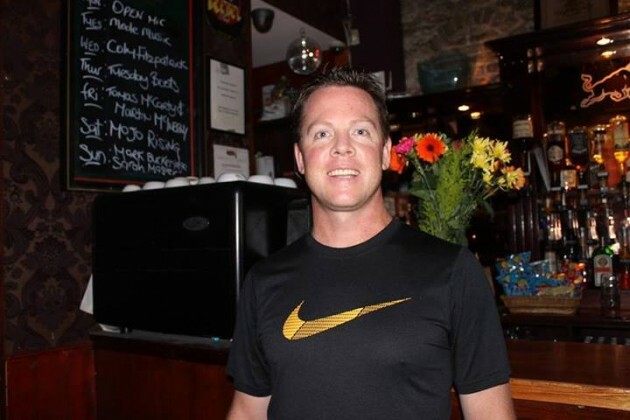 Christopher Robertson Christopher Robertson
Christopher Robertson from New Zealand and a mystery Cork woman hit it off on a night out in Galway earlier this month but never took each other's details. After appearing in media all over the country, he found her and the pair went on a date. Cute.
The couple who left this lovely engagement note for the staff of a Dublin restaurant
Brasserie 7 Brasserie 7
In November, staff of the Dublin restaurant Brasserie 7 found this note scribbled on a napkin – it says: "Such was the awesome ambience and sensational service, I felt deeply in love and proposed to my girlfriend…She said yes!"
This heartbreaking sign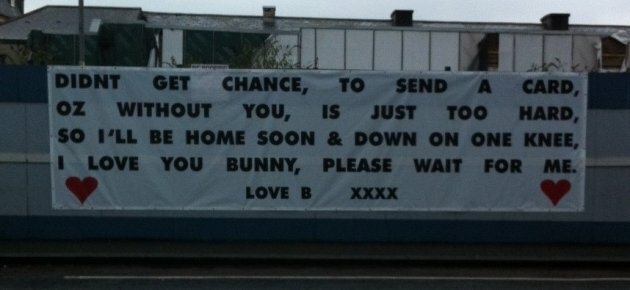 Conor Behan / DailyEdge,ie Conor Behan / DailyEdge,ie / DailyEdge,ie
This sign was strung up on Bride St in Dublin on Valentine's week – it appeared to be a proposal from someone who has emigrated. We don't know if B did actually propose to Bunny, but we certainly hope they're still happy together.
The moment Majella O'Donnell shaved her head for charity live on TV
RTÉ - Ireland's National Television and Radio Broadcaster
September saw Majella O'Donnell, cancer sufferer and wife of crooner Daniel O'Donnell, decide to shave her head live on the Late Late Show in aid of the Irish Cancer Society. The resulting rush in donations shut down the charity's website – but they still managed to raise €400,000.
The pensioner couple who returned to visit Ireland, 50 years after meeting for the first time on a CIE bus tour
John T Ohle Photography John T Ohle Photography
Irish woman Norrie first met Chicagoan Bill on a CIE bus tour in 1962. In August of this year, three children and six grandchildren later, they returned to Ireland to celebrate their 50th wedding anniversary. Aww.
And Domhnall meeting his hero Robbie Keane on the Toy Show.
RTÉ - Ireland's National Television and Radio Broadcaster
Easily the highlight of this year's show, the look on Domhnall's face when Robbie Keane appears would melt the heart of the most seasoned of Grinches.