NETFLIX HAS BEEN knocking it out of the park with its original offerings lately, most recently with its baking competition series Nailed It!
Inspired by the craze of people trying and failing to make elaborate cakes found on the internet themselves, Nailed It! pits three home bakers with a terrible track record against each other. Competitors take part in two challenges in which they attempt to recreate such masterpieces, to win the prize of $10,000.
So, basically, it's like when it all goes to shite for one contestant on The Great British Bake Off … For the whole show.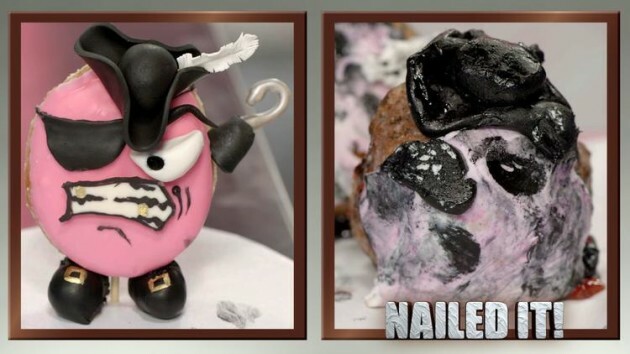 Yeah, that's supposed to be a pirate on the right, just FYI.
The first challenge is called 'Baker's Choice', where the contestants pick one of three existing confectionery treats and try to recreate it. The winner of this challenge gets a special prize and also gets to wear the golden chef's hat.
In the second challenge, 'Nail It or Fail It', the slate is wiped clean and contestants are asked to recreate a showstopping cake from scratch. They each get a 'panic button', which allows them to get three minutes of assistance from one of the judges. The loser of the first challenge also gets a button which, depending on the episode, allows them to 'freeze time' for their fellow contestants or have the host attempt to distract their competitors, in order to give them a small advantage.
You might recognise host Nicole Byer.
She's a comedian, and has been a guest judge on the most recent season of RuPaul's Drag Race.
But the real star of the show is the absolute monstrosities the bakers manage to make.
Netflix Netflix
Netflix Netflix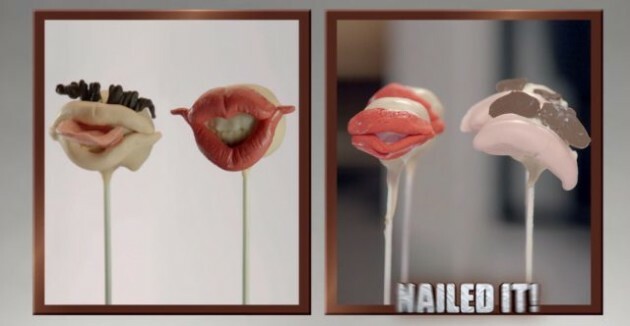 Netflix Netflix
Somewhere, Mary Berry silently weeps.
Each episode is 35 minutes long, making it perfectly binge-able, with all six episodes of the first season now available on Netflix.
I mean …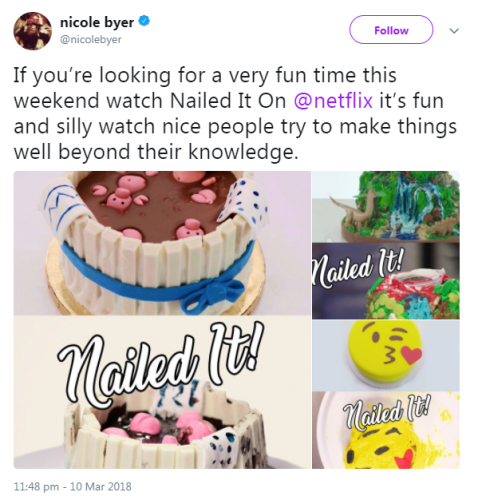 DailyEdge is on Instagram!