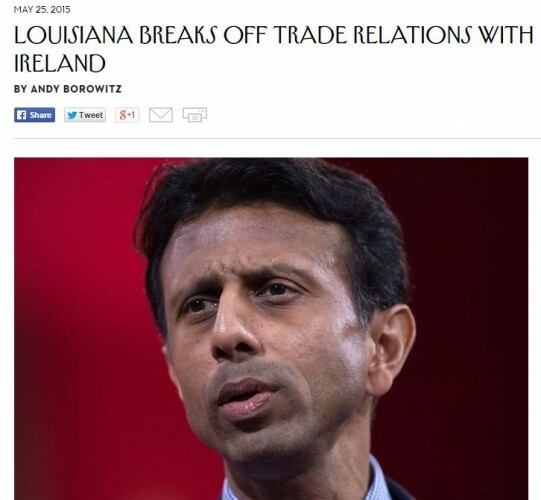 IS LOUISIANA ENDING trade relations with Ireland following the legaslisation of same sex marriage?
Not so fast.
Yesterday, The New Yorker published an article entitled with the headline Louisiana Breaks Off Trade Relations with Ireland.
The short article stated that Governor Bobby Jindal had used emergency powers to ban all Irish products from the state of Louisiana as he opposed same sex marriage.
The article also attributed this quote to Jindal:
Every time someone takes a sip of Guinness, a part of straight marriage dies.
As that quote might suggest, the piece was a satirical article written by the magazine's resident satirist Andy Borowitz.
However, the fact that it appeared in The New Yorker led many irate people to tweet the article, thinking it was real.
The article was also shared over 1,000 times on Facebook with many expressing disbelief and anger.
In people's defence, it's easy to see why they may have fallen for it: Governor Bobby Jindal recently signed an executive order that permitted businesses to protect their religious freedom.
The bill opened a loophole that permits businesses to deny services to members of the LGBT community on the basis of their sexual orientation.