EVERY WEEKDAY MORNING, DailyEdge.ie rounds up the best of the day's celebrity dirt from the top to the very bottom.
Remember the lovely birthday tribute Niall Horan paid to his supposed secret girlfriend Hailee Steinfeld last year?
Well, you might have noticed that there's been no such social media PDA this year for her 22nd birthday – and that might be because it's all over between the pair.
Apparently, Niall has been seen on dating app Rayu, which is essentially Tinder for celebs. Well for some. 
An insider told Goss.ie: "Niall has been acting single over in London lately, so people were getting suspicious that he's back on the market."
Regardless, Hailee seems to have had a whopper birthday, captioning an Instagram of herself: "Went to sleep in LA and woke up in HONG KONG on my 22nd birthday!! So much to celebrate this year and so much to look forward to next year.
"Thank you all for the abundance of love! You make me the happiest."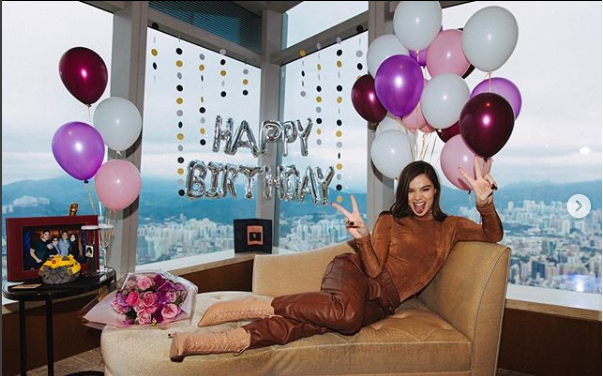 Hailee Steinfeld / Instagram Hailee Steinfeld / Instagram / Instagram
No bothers Hailz. Hope ur ok hun x (Goss.ie)
Christian Bale's revealed Donald Trump previously mistook him for Bruce Wayne. Yes, as in, the fictional character behind the fictional superhero, Batman.
Sure we've all been there. The Vice star, who portrayed the wealthy American playboy in 2005, 2008 and 2012, told Variety about a conversation he had with the now-president during which there was a case of mistaken identity.
While filming The Dark Knight Rises in 2011 at Trump Tower in New York City, the Oscar winner, who was dressed in character at the time, recalled the businessman inviting him for a chat.
"I met him, one time. We were filming on Batman in Trump Tower and he said, 'Come on up to the office.' I think he thought I was Bruce Wayne because I was dressed as Bruce Wayne," Bale said.
"So he talked to me like I was Bruce Wayne and I just went along with it, really. It was quite entertaining," he shared, adding, "I had no idea at the time that he would think about running for president."
If only he'd had a bit of foresight, he could've stuck DT on a massive ship with an equally massive explosive, saved the world and gotten the girl. Pity, that. (Variety)
Holly Willoughby decided to #TreatHerself when I'm A Celeb wrapped filming by getting a £19,000 flight home, complete with butler and private chef.
According to reports, the This Morning host booked herself and her three children into a 'suite' on an Etihad Airlines plane – which has been dubbed a 'penthouse in the sky'.
As well as the aforementioned help, she'll have her own separate bathroom and shower, living room and bar area, in case some of those in-flight movies get a bit too much.
"This was Holly's present to herself," a source told Daily Mail. "She is thrilled that the show has been such a success and she's had such great fun with Dec."
If I had to put up with the public slagging my outfit every week, I'd be inclined to do the same, TBH. (Metro)
And all of today's other celebrity dirt?
Lily Collins has spoken about how ex-boyfriends have ghosted her in the past. (Daily Mail)
Joe Alwyn is planning an absolute stinker of a proposal for Taylor Swift, so let's hope she's not reading this. (InStyle)
I'm A Celeb winner Harry Redknapp's admitted that his son Jamie's divorce was "a big blow". (OK! Magazine)
DailyEdge is on Instagram!