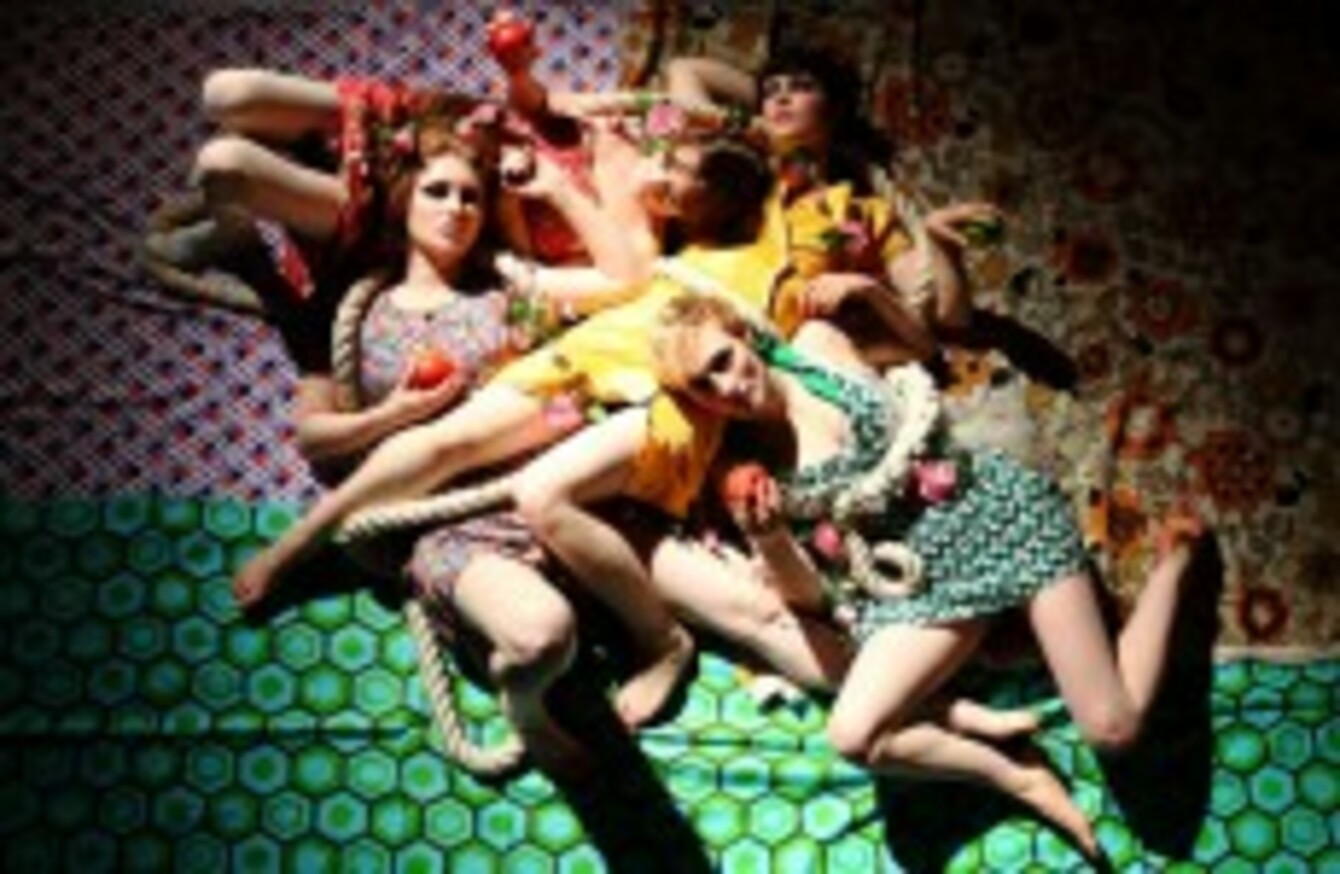 Image: ABSOLUT Fringe 2011
Image: ABSOLUT Fringe 2011
THE ABSOLUT FRINGE 2011 has over 100 shows playing out across Dublin until 25 September. Each day, TheJournal.ie will bring you our readers' reviews of the pick of the crop and everything in between. You'll get the chance to get in on the act yourself with our daily reader review tickets giveaway!
Today's review:
(The Complex, Smithfield)
Mark Malone's review: "Regard all art critics as useless and dangerous": As I sat down to write a review of PaperDolls' Fringe performance I couldn't help thinking of a quote I'd first read on the cassette sleeve on Manic Street Preachers Generation Terrorists . The album is a critique of capital and is filled with a rage towards unblinking acceptance of alienation of the self from our lived world. So me, a dangerous critic? Not very likely but quite possibly a useless one. But anyway as someone who loves clubbing and dancing, I can't seem to shake off a dissonance between my own pleasure in dancing and sometimes feeling profoundly illiterate at dance performances. I often felt like I don't have the language or something. So it was with a little trepidation I headed into the show.
As myself and my play date wandered curiously around a constructed maze of differing textured walls within the performance area of The Complex in Smithfield, I was thinking of a conversation I'd just had with one of the community of people who give their time freely to run The Complex. As we took our seats in a full amphitheatre setting, fringed with projection screens and surround-sound speakers I was still a bit wound up be having heard that Tesco were planning on shutting down this community project to open up a store. Looking at the aerial circus ropes, silks, hoops and dance poles that are centre of focus before the show began, that seemed like a really stupid and counter-productive thing to be doing. The Celtic Tiger still gnawing away at its withered legs.
Paper Dolls begins with a quiet ambient track with Emily Aoibheann (the other performers are Elaine McCague, Karen Anderson and Niamh Creely) coming centre stage walking along the outstreched rope across the stage floor. Wearing a carnivalesque basque-cum-lightshade,  this set the tone of a show that modulates between the playfulness of childish exploration and a dark solemness.
Without a need to set forth a narrative, it has a brooding energy that makes your muscles ache and heart jump. Whilst I can't be sure of the intention of the artists it seemed like the visuals of blinking eye, multiplying as they did, reinforced a sense of collective voyeurism bodily exertions of the performances, something which created, for me at least, a sense of tension, added to by the surround sound use of multiple points marking the edges of a audience all staring inwards.
They don't give the safe passes out for nothing and I was a little worried about the lack of a soft landing as each of the four artists took stage for an aerial piece on first the ropes, then poles, silks and hoop. The ease and fluidity with which all four climbed and held and moved in the air was pretty amazing. I jolted more that once in moves where one or other rolled or dropped, showing no fear when I had my heart in my mouth. Having fallen off scaffolding a few times myself I've a healthy mistrust of gravity, something none of these four artists have.
The interplay between the performers was given increased depth by a score that ultimately fused with the aerial performances and visuals to the extent you felt completely immersed in stimulated sensations. At the beginning of the show the sound levels may have been just a little bit low so that the sum of parts was just that. But that only became apparent when the performers, visuals and sounds tended towards a unified experience.
A heady synth bass filled the space as merging and contrasting color lighting burst with the same frenetic energy as the dancers themselves. The tone and momentum of the whole performance suggested in advance that this was how things could end, but the actual experience strove to push at limits of what you could take in and succeeded in being dizzingly intoxicating. It was at that point that I think felt that Id finally got something about dance performance id previously missed. The immersion in sensations is the experience. So it was a genuine delight to come away from Paper Dolls feeling both really wowed and that I'd learnt something. So hats off to the four women of Paper Dolls and the crew who helped pull it together.
And that's kinda key too. If it wasn't for the people working together to create common experiences and public spaces like The Complex, ordinary folks like me wont get to experience and learn from the creative arts. And thanks to them for showing what can be done with the space, I'll happily come out and support The Complex. We need spaces like this. We don't need more Tescos. Not that one more person will make all the difference but every little helps.
In three words? High Wire Energy